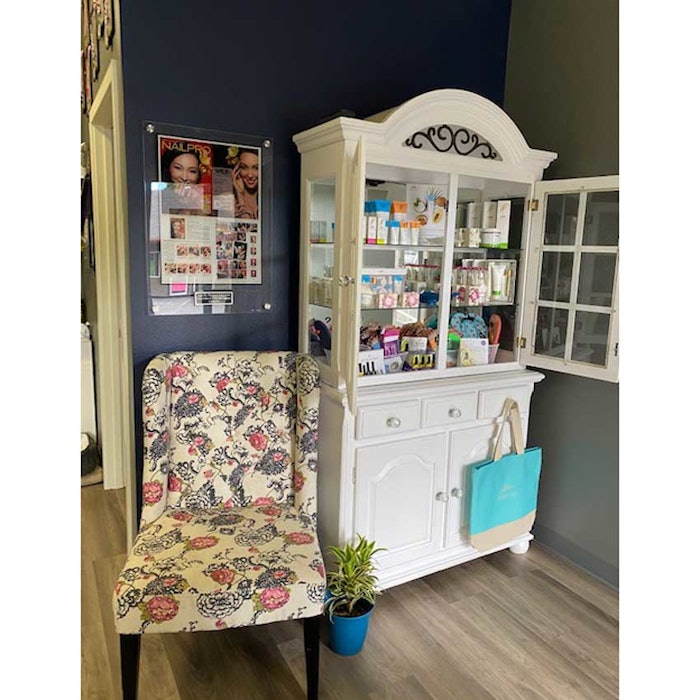 After weeks of sheltering in place, taking nail classes online, Zooming with fellow nail techs and placing endless calls to the unemployment office, I did a thing. A VERY BIG thing. I decided to open my own salon—in the middle of a worldwide pandemic!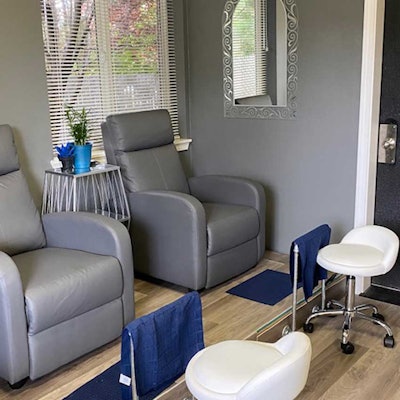 I was looking for the perfect spot. It had to suit my personality as well as my clients' needs. Two weeks after the state allowed nail salons to reopen, I finally found it: The 800-square-foot space I had been eyeing for more than two years was finally available—and, boy, did I take it! Then, about five minutes after I signed the paperwork: I panicked. What was I thinking? This would take all of my savings. The future was still so uncertain. What was going to happen with the economy? Will customers return to the salon? I'm single and have no financial help. What if it all fell apart?
Then I took a moment to recenter myself. Since I had already jumped into the deep end (renting the space), my only option was to figure out how to swim. I spent hours looking at IKEA furniture online, trying to figure out how to modify everything the way I wanted my workstation to function. I also wanted to lease out two other stations since I had enough space, so whatever I came up with, I'd have to duplicate it.
Going to IKEA was a bit scary. After all, I'd been staying home for so long; I had just started seeing a few clients again. And now there I was. Standing in front of a huge store full of people. But I pulled on my big girl pants, put on my mask and stood in a line that wrapped around the entire building to get what I needed.
Once I got the furniture for the salon, I needed to build a platform for three pedicure stations. I would measure one direction, then go to Home Depot to have the wood cut. I'd then go back to the salon, place it where I wanted and measure the next part. The guys at Home Depot had quite a laugh as they watched me go back and forth: getting the wood cut, then back to the salon to screw it into place and back to the store again. It took me about five trips just to build the platform. I may not be efficient, but I'm certainly determined. And I did it All BY MYSELF! I'm still so proud.
I ordered three massage recliners online. They were delivered right to my door, as were the foot basins. Since the chairs were just regular recliners and the basins didn't require any plumbing, installing them was pretty easy.
Sadly, nails is one of the many industries that suffered in the pandemic. Many manufacturers, particularly those in California, lost sales as the salons stayed closed and nail technicians stopped working. However, every dark cloud has a silver lining: As a result, I was able to get some great deals for retail and back bar product with no minimum buy-in costs.
The final step was to apply for my establishment license. Oregon's Board of Cosmetology is licensed by the Health Department, and it remained closed to the public. I was worried that this was going to make things very difficult, and I didn't want to waste more time without a salon. But I found that I was able to make an appointment, and fortunately after that, the process was very fast and easy.
I've now been open for four months. I have two fantastic newly licensed nail technicians that I really enjoy working with. They are also licensed in aesthetics, so we're working together to add spa services to the menu. As a matter of fact, I'm writing this after spending the day putting the finishing touches on the treatment room, and I hired a part-time massage therapist. My clients have been incredibly supportive with what I've accomplished. I can honestly say that this adventure has been the best decision I've ever made. While certainly challenging, overall, it's been so much fun to watch my own salon grow and develop its own unique personality!
 Shannon McCown is a licensed nail technician, educator and now a salon owner, based in Bend, Oregon.