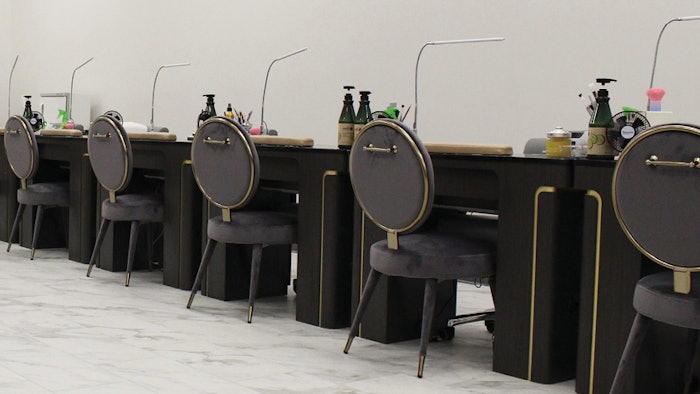 Courtesy of Resort Nails
Naeemah Johnson and Mimi Lim welcome Nailpro to Resort Nails in Ardmore, Pennsylvania.
+Details
Owner: Naeemah Johnson and Mimi Lim
Est.: December 2022
Staff: One salon concierge and nine nail techs
Benefits: We offer weekly training employee discounts and bonuses and host professional development days.
The Backstory
I have been a licensed cosmetologist since I was 17 years old. Very early on, I worked in my mom's hair salon until I took over ownership in 2009. In my early years as a salon owner, I tried on several different occasions to add nail services on to the salon service menu, and it never really took off the way I thought it would. The plaza where my new hair salon is located gets a lot of foot traffic, and we would get asked a lot if we offered nails. On a hunch, I asked the landlord if any more space was available and secured the last spot after a very promising meeting with my now business partner Mimi Lim.
The Look 
I am a mix between gaudy and minimalist at heart! The overall aesthetic of the salon is clean, bright and pretty mixed with a few statement pieces. My inspiration for the salon was actually a hip hotel/resort vibe. We have plants – both live and artificial – bright pink chairs for the press-on bar and widescreen TVs that stream our work and a hip playlist.
Signature Services
We offer acrylic, dip, gel, poly gel and press-on application. We created destination themed spa mani and pedi services. The most popular is the Hawaiian Jelly Pedicure, which features a flower-infused jelly foot bath and a gel pedicure. Our guests also love the Dubai, which includes a 24K gold foot masque. Myknos features a fresh lemon soak foot bath, and Bali features a Green Tea infused foot soak and a hot stone massage.
The Goods
We offer and use a variety of brands to suit our diverse clientele base. We have Tuesday in Love Halal Polishes, OPI, DND, Valentino Beauty Pure, Ice Gel imported from Japan and Chanel. We love Valentino Beauty Pure acrylic powders and gel colors by OPI. We also retail our salon brand of healing cuticle oil and sugar scrub.
What's Next
We have been in business for only seven months, so our goal is to hire three more nail techs and grow our membership club and team training. We will also begin testing for our polish product line.
Up Close With Master Nail Tech and Managing Partner Mimi Lim
What was your first job in the nail industry?
My first job in the nail industry was at a local Philadelphia salon. I had the task to create pink and white full sets. It's a challenging task for someone in the nail industry because you have to create the perfect French with acrylic powder.
What inspires you?
My clients are my inspiration. I love it when they bring in nail inspo, and I am able to recreate it for them. The smile on their faces keeps me going and inspires me to do my job.
What was the most challenging thing that happened while opening your salon?
The most challenging thing about opening a nail salon is the setbacks. We plan and have our estimates about opening, but there is always room for setbacks and delays opening a business.
I can't discuss my salon without mentioning…
the diversity of our staff, our press-on nail bar and wide range of services, such as poly gels, acrylics and gel x.
Cool for the Summer
How does your salon celebrate the summer season, when many clients may be planning vacations? Are there any special services you offer?
The great thing about summer vacations is that most women and men also want their nails and feet to be beach and brunch ready. For the month of June, we created a South Beach Ready Man-icure and Pedicure for men. We offer them complimentary beer, add crystalized salt to the foot soak and give them a coconut foot scrub. We enjoy highlighting our destinations, and our guests look forward to it.
What summer nail trends do you expect to see your clients asking for most?
French and white nail polish has been a go to for a few years now .We have been introducing the clients to chrome and polygon sets, which they love.
What are your current favorite summer nail trends?
We love a shiny chrome finish to any nail set.
Visit Resort Nails:
Website: resortnails.com
Instagram: @resortnailz
46 Greenfield Ave, Ardmore, PA 19003