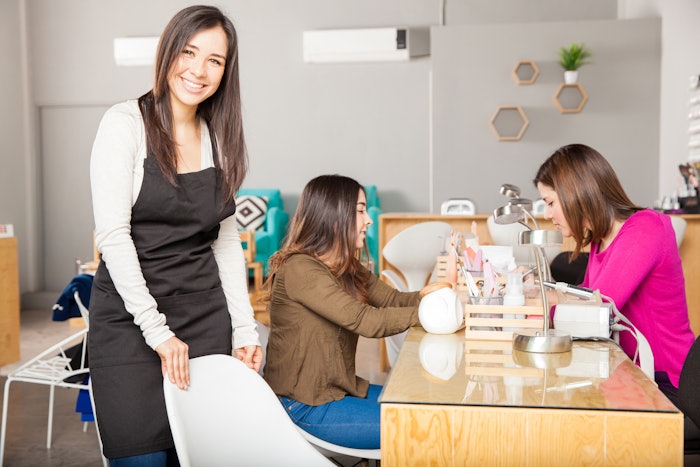 Dreamstime
Luxury salons provide high-end treatments and exceptional customer service in an aesthetically pleasing environment, all but guaranteeing an unforgettable experience for clients.
You don't have to break your budget to attract the luxury salon customer. Here are five easy ways you can bolster customer satisfaction at your salon. 
Create an Excellent Environment: Many customers will gladly pay extra for your services if you provide little luxuries like filtered water and a calming ambience. A reverse osmosis water filter is a great investment. Keep your workspace clean and comfortable and ensure that you maintain a welcoming ambiance. Your clients will feel valued and happy as a result.
Be a Customer Service Rockstar: Your customers will come back to you once you prove that you reliably provide excellent service. The secret to attracting premium clients to your salon or spa is to build a system that guarantees the delivery of excellent services. This is the fastest way to keep your customers satisfied, and it will keep your business growing and profitable. Your customers will value that you pay attention to detail.
Digitize Your Business: Create SEO-optimized website  to build you brand online or, at the very least, create a social media presence for your brand. Post breathtaking photos of your salon to give potential clients a taste of your business and make them excited to keep their appointments. Inform your clients of new services using blog posts and email lists. Share staff bios so your team can build relationships with their customers and customers can know what to Answering all cutover questions and inquiries thoroughly to help you better understand what your clients need and how to keep them satisfied. 
Provide Discounts: Once you have successfully retained a few good clients, you can give your regulars special discounts to show them how much they mean to you, like gift cards for a free third treatment. You could also discount or provide coupon codes for retail products. Occasional deals and discounts encourage loyalty among your customers. Communicate value, and you will build customer loyalty among your clients.
Create a Fantastic Offer and Ask for Feedback: Greet each client in the waiting room and talk about the services you offer. Invite out their inner adventurer by offering them your newest services. Make follow-up calls or send follow-up emails to remind your clients to book their next appointment. Finally, ask for feedback on your services to make your clients feel seen and heard.  
Improving your salon conditions to bolster customer satisfaction needn't be complicated or expensive.  Listen to your team, implement their inspiring ideas, and see your growth multiply.
About the Artist: Ana Cage is a passionate nail artist and uses spare time to write and inform people about beauty treatments based on her experience. 
Follow us on Instagram and subscribe to our free daily newsletter to receive the latest news for nail professionals.