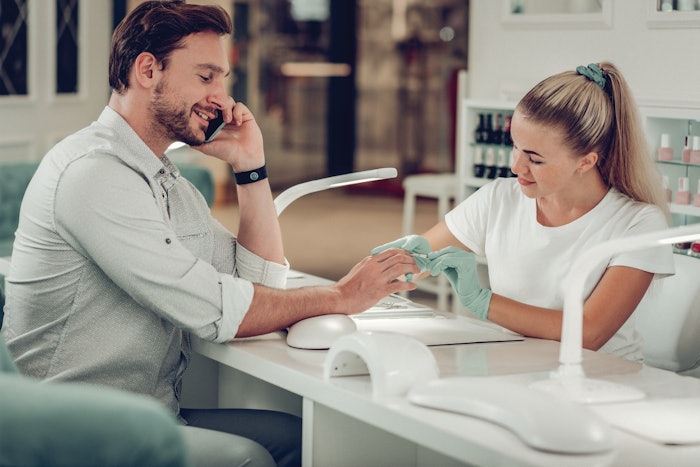 Salon-hopping men are now far from novelties, but their numbers still seem to increase every year—along with the range of services they're willing to try. In 2019, The Wall Street Journal proclaimed that today's "young men invade nail salons" for treatments like pedicures, while Business Insider reported in 2020 that nail services among XYs (including color and art) are on the upswing as part of the growing men's personal care market, which is projected to reach $81 billion by 2025.
True, men may have different needs in the salon environment, but techs who make them feel comfortable and catered to will be rewarded with a highly desirable clientele. "I worked unisex in the past, but I love working exclusively with men now," notes Anna Rogers, owner of Studio One Eleven, a salon and spa for men in Wilmington, Delaware. "They're much more open to suggestions than women, and they're the most loyal!"
Read on for expert advice on how to service this lucrative—and still-growing—market.
Setting the Scene
A welcoming environment can make the difference between a male client who feels right at home or never returns. John Coats, owner of PROSE Nail Salon in Phoenix, Arizona, believes his business' non-gender-specific environment encourages men to visit and makes them feel more comfortable during services. "We see a tremendous opportunity to service men at our nail salon," Coats explains. "The men who come into PROSE are drawn to our clean and odor-free environment, which makes them feel at ease—as do our high-quality, nontoxic products."
Once male clients are in the chair, nail tech Timothy Zhen Wei Ho, based in Raritan, New Jersey, stresses the importance of simply making them feel at home. "Engage in conversation with them, and just generally be friendly—the last thing we want to do is make them uncomfortable," Ho says. "Before the service, talk to them about whether this will be an ongoing routine or just a one-time visit." That information will help guide your approach. For example, Ho usually offers one-timers a simple gel manicure, while return clients may be more suited to overlays.
Crystal Hoang, nail artist at Crystal's Nail Scene in Lake Elmo, Minnesota, agrees that male clients want the same basics as women: happy employees, welcoming voices and clean surroundings. "Product-wise, men like smells, too!" Hoang adds. "Lotions, soaps and cuticle oils don't have to smell 'manly' or like strong cologne in order for them to enjoy the product. A product that works and has a nice clean scent is sufficient for both genders."
Rogers adds that while men want to be pampered, they also like to get in and out. So, though she has offered beverages like wine and beer in the past, she has found they're more apt to grab snacks and water bottles for convenience. Finally, Rogers stresses that men most appreciate information and consistency. "We educate them on what services and products they need, and they'll try them," she says. "Performance and continuity are really key, and they do listen carefully to suggestions—so I don't sell them anything they don't need." In other words, position yourself as an expert offering results-oriented treatments, and you can land a client for life.
Service Savvy
Many men are just as interested in maintaining grooming rituals as their female counterparts, but they may also let their regimens fall by the wayside. Thus, as a wellness-centric brand, PROSE Nail Salon educates men on the importance of regular self-care. "Men often overlook taking care of their body, particularly their hands and feet, which can lead to dryness and ingrown nails," Coats explains. "Since opening our doors, we've definitely seen an increase in the number of men that come in for manicures and pedicures. Men don't realize how rough their hands and feet have become and usually reschedule after seeing instant results."
When men discover that taking care of their hands and feet elevates their appearance and leads to smooth skin and healthy nails, these services become an essential part of their grooming routine. Then, to maximize profits, PROSE offers spa-worthy mani and pedi add-ons, like the Extended CBD Massage, which is very popular with men.
Shel Pink, founder of SpaRitual in Van Nuys, California, also advocates men's mani and pedi services to maintain skin health on hands and feet. "I recommend a hand facial for overworked hands," she says. "Hand health is important for everyone, and the hands are an often-overlooked part of our self-care rituals." Pink suggests a manicure service with exfoliation, followed by applications of hand serum and hand salve to hydrate, nourish and protect from environmental stress. For pedicure clients, she recommends retailing lotion or balm for daily self-administered foot massages in the evening, just before bedtime, to soften tough skin overnight.
Meanwhile, Glosslab, a membership-based nail studio in New York City, focuses on waterless services and hygiene as top priorities to entice men and women alike. "Our salon chairs are designed to be comfortable for both men and women, with adjustable footrests to accommodate all sizes," adds Rachel Apfel Glass, Glosslab founder. "Our most popular men's services include pedicures, manicures, callus removal, a shine and buff service and now even nail art."
The lesson: Offer a range of services to men, not just a one-size-fits-all option. Nail tech, former salon owner and Madam Glam brand ambassador Lauren Hoehn, based in Bradenton, Florida, notes that some male clients simply want to clean up their hands and feet, while others want full-set gel nail art. "In my salon, we offer couples events or daddy-daughter pedicures, so men would feel comfortable taking care of their hands and feet," Hoehn explains. "When performing a regular manicure, we'd use gel products to repair any nail with an issue. Topping it off with a matte top coat made it look just like the other nails."
Hoehn also used soak-off gel polishes for male clients so they had the option of home removal if they didn't want to return to the salon regularly. "I see diversity in terms of the nails' finishing—some guys like a shiny clear coat, and some like it matte, but not super matte," Hoehn adds. "But we also had male clients who came in with their own ideas for nail art—and in those instances, the sky is the limit, just as it would be for a female client!"
About the author:
Tracy Morin is a freelance writer and editor based in Oxford, MS.
For a list of must-have male-approved products to offer in your salon retail space, check out NAILPRO's May/June digital magazine.