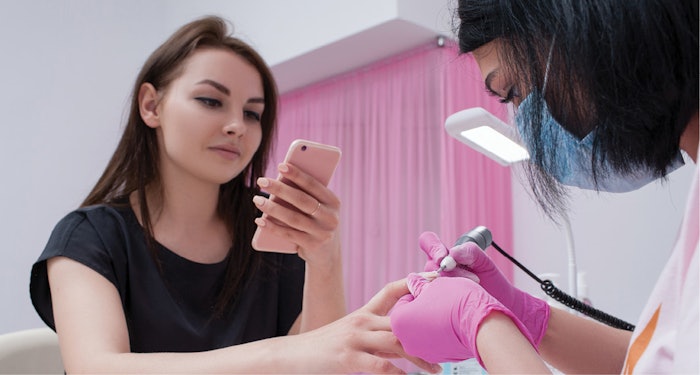 Booking appointments, sending reminders, alerting clients of important policy updates and sharing special promotions can be a time-consuming process for nail techs—time that's better spent generating revenue. That's where utilizing a text messaging service can provide a huge advantage, streamlining administrative tasks while boosting customer retention. "I depend on my text messaging service to provide successful customer service to all of my clients," says Jade Tang, owner of the Imperial Room in Newport Beach, California, who uses the Square Assistant text messaging service included with Square Appointments. "It's helped me create more time for myself since I have to wear many hats running my own business."
Text messaging is inherently more efficient than manually communicating with customers by phone or email, but it has other benefits as well. "Text messages are less intrusive than phone calls, and the open rates are higher than with emails," says RJ Horsley, president of payment processing company SpotOn, which offers an appointment-scheduling software solution for service-oriented businesses like salons. Plus, it can help salons cement their relationships with clients. "Think about it: Salesmen call, marketers email and friends text," says Kenneth Burke, director of marketing for Text Request, an SMS service provider for businesses. "Text messaging boosts loyalty and revenue while making your life easier."
With COVID-19 mandating the closure of salons around the country and significant changes to how they do business, it's more important than ever for nail technicians to stay in regular contact with their clients. (See thesidebar "COVID-19 Communications" for advice on how to use text messaging to interact with clients during the pandemic). Read on to learn about the many ways in which you can use text messaging services to maximize profits, reduce administrative work hours and keep clients coming back.
Book and Confirm Appointments
While there are a range of options to choose from when it comes to selecting a text messaging service, the appointment booking process will be the most seamless and efficient when messaging is integrated with appointment scheduling software, says Horsley. "This allows automation, meaning text message confirmations are automatically delivered after a client books an appointment and reminders are automatically sent out leading up to the appointment." Another benefit of this type of integration and automation is 24-hour booking capability. "With Square sellers, we've seen that 57 percent of appointments are booked outside of business hours," says Willem Ave, general manager for Square Appointments. "Square Appointments gives you the option to leverage Square Assistant, a smart, automated messaging tool that helps your clients confirm, cancel or reschedule appointments 24/7." Enabling customers to receive quick responses regarding their upcoming appointment ensures that customers aren't waiting around for a callback or other type of confirmation.
Even basic text messaging services can provide some relief from administrative burdens, especially for independent techs. "If you're a small business owner or independent contractor doing your own booking, there are many great free or inexpensive text messaging services that are beneficial to appointment bookkeeping," says Tang. "These services get the job done without breaking the bank." Miya Adams from The Nail Ritual at Prizm in Oakland, California, uses the text messaging functionality of Google Voice to book appointments and communicate with clients. "I needed a texting service that had a separate phone number that allowed me to keep track of my clients in one place," says Adams. "That way, I could separate my work and personal life. I use the texting service to message clients about booking appointments because I book them manually. They're able to text me using my number located in my Instagram bio."
Reduce No-Shows
One of the biggest issues salons face is no-show clients, resulting in lost revenue and reduced staff productivity. Automated text message reminders can reduce no-shows by as much as 40 percent, says Horsley, however, it's important to include a call to action for optimal results. "For example, asking the client to reply back with a 'Y' for yes allows you to confirm the appointment and prevent downtime," says Horsley. When should you send out an appointment reminder? "A good rule of thumb is to send it 24 hours in advance. If you send it too early, clients forget, and too late results in a no-show," says Ave.
Fill Empty Appointment Slots
Maintaining a full appointment book can be a challenge, but doing so ensures that you're maximizing profits. Text messaging is an effective means to alerting clients of last-minute appointment openings. "If a client cancels at the last minute, salons are stuck with an empty slot and face a loss of income," says Ave. "With Square Appointments, salons can see empty slots on their calendar and work to refill them." Agrees Burke: "Things happen, and people are going to no-show. Get them back on the books with a quick 'Hi, we missed you!' text."
Send Marketing Messages
Using text messaging to inform clients about new and seasonal services encourages them to return to the salon while increasing loyalty. You can also send messages to promote secondary revenue streams, like gift card and retail sales. Make sure that you're considerate of your clients' preferences for receiving marketing messages, though. "Texting clients promotions about deals and new offers is great, but make sure they want to receive those messages," cautions Burke. "Clients should be able toclearly and easily opt in or out of promotional messages."
Communicate Updates About Your Business
If your salon experiences a sudden change, for example a major policy update or a change in business hours, text messaging is a quick and effective way to push the news out to your clients. "If you're thinking about emailing clients for something, you probably want to send them a text, too," says Burke. "Stats show people will engage seven times more with a text than an email."
Answer Client Queries
Beyond basic communication, text messaging provides a personalized and convenient way to interact with clients in a way that they're comfortable with. "I use texting to message my clients—or vice versa—about nail art inspiration for their next set if it's going to be something elaborate," says Adams. "And if I'm busy or on my day off when they contact me, I send them a quick text letting them know that I got their message and will respond to them in full when I'm free."
Another way to keep the lines of communication open is to let clients text you from your website, says Burke. "Sometimes clients will text you just to book an appointment," he says. "Often, though, they have questions they need answered before they schedule. They'd rather text you those questions than call or email."
While text messaging is one of the most effective means of communicating with clients, there are a couple of general best practices nail techs should keep in mind. First, remember that clients are bombarded daily with an onslaught of information coming at them from a variety of sources. "Watch the frequency of automated texts sent in a short period of time to avoid annoying clients," says Tang. In addition, keep text messages clear and brief. "Messages should stay under 160 characters, as smart chatbots utilize SMS messaging," says Ave. "With these constraints, salons should only include necessary information about a client's appointment like date, time and location if the salon has more than one."
Lotus Abrams is a freelance writer and editor based in the San Francisco Bay Area.