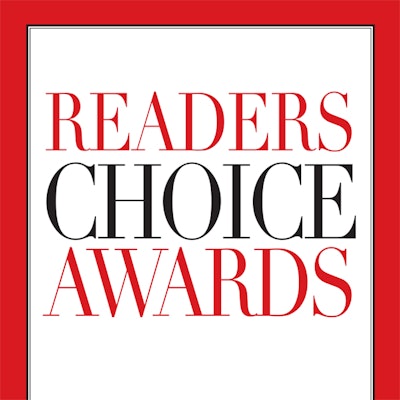 The key to a successful nail career and services that last is product—quality options, innovative formulations and solutions that stand the test of time make all of the difference in your work. So, we asked you—the industry experts—what your must-have products were for 2019. From manicure staples and pedicure products to nail art essentials and top tools, check out your favorite products to take into the New Year!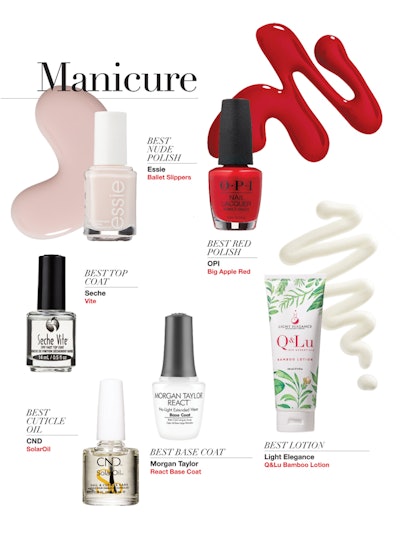 Manicure
Best Nude Polish: Essie Ballet Slippers – This timeless pale pink polish is a favorite on runways, red carpets and in the salon.
Best Top Coat: Seche Vite – A cult favorite, this super shiny topper dries quickly, boasts durable coverage and prevents yellowing.
Best Red Polish: OPI Big Apple Red – Just like New York City itself, this classic, creamy, highly pigmented red never fails to stun.
Best Cuticle Oil: CND SolarOil – Regular use of this jojoba- and vitamin E-infused oil promotes stronger, healthier nails and hydrated cuticles.
Best Base Coat: Morgan Taylor React Base Coat – This long-wear formula provides radical color adhesion for up to 10 days of wear.
Best Lotion: Light Elegance Q&Lu Bamboo Lotion – This brand-new lotion uses shea butter, grape seed oil, sunflower oil and bamboo extract to impart moisture to dry skin without any greasy residue.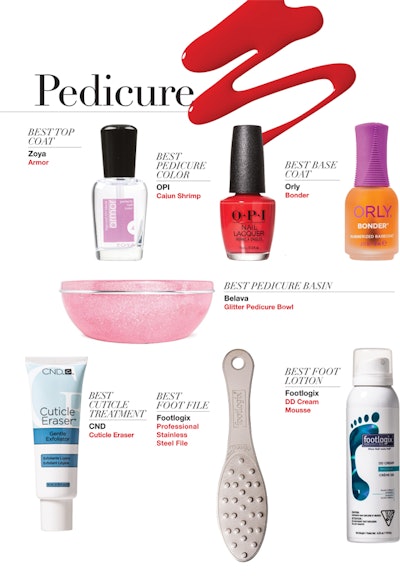 Pedicure
Best Top Coat: Zoya Armor – A must-have pedi topper: The ultrastrong yet super flexible, chip-resistant formula provides brilliant shine while imparting UV inhibitors to prevent yellowing and fading.
Best Pedicure Color: OPI Cajun Shrimp – This spicy coral shade remains a favorite toe hue due to its deeply pigmented formula and high-shine finish.
Best Base Coat: Orly Bonder – This uniquely rubberized adhesion formula binds polish to the natural nail for extended wear.
Best Pedicure Basin: Belava Glitter Pedicure Bowl – Fan favorite Belava disposable liners slip easily into this brilliantly sparkling pedicure bowl that's both lightweight and roomy, ideal for mobile pedicures.
Best Cuticle Treatment: CND Cuticle Eraser – The gentle yet effective formula, made with a creamy blend of alphahydroxy acids, micro-exfoliates and moisturizes cuticles for smooth skin around the nails.
Best Foot File: Footlogix Professional Stainless Steel File – Say goodbye to rough heels with this lightweight, double-sided file that can be used multidirectionally without shredding the skin. Then, easily disinfect or sterilize it for use on the next set of feet.
Best Foot Lotion: Footlogix DD Cream Mousse – This lightweight, hydrating, whipped mousse formula not only locks in moisture and absorbs instantly, but it also boasts antiaging and antimicrobial benefits.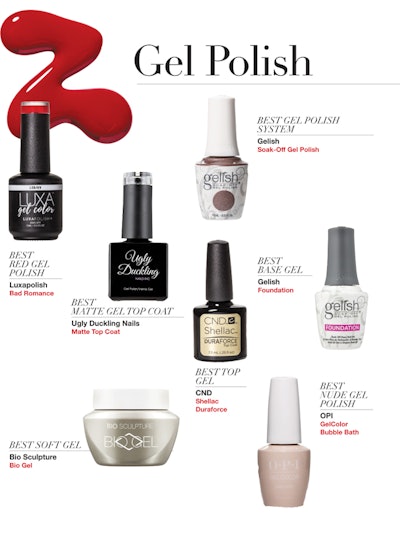 Gel Polish
Best Gel Polish System: Gelish Soak-Off Gel Polish – With more than 180 shades to choose from, ranging from sheer to opaque, delicate nude to jet black and subtle shimmer to high-impact glitter, the first brush-in-bottle gel polish system is still a nail tech favorite for its chip-free formula that boasts up to three weeks of wear.
Best Red Gel Polish: Luxapolish Bad Romance – This classic blue- red cream from boutique brand Luxapolish has quickly become a fan favorite for its high-impact hue whether worn shiny or matte.
Best Matte Gel Top Coat: Ugly Duckling Nails Matte Top Coat – Endorsed by top nail artists internationally, this ultra-mattifying gel topper is a favorite for its velvety finish—that stays that way.
Best Base Gel: Gelish Foundation – This fast-curing base coat bonds to the natural nail to ensure durable, long-lasting gel services.
Best Soft Gel: Bio Sculpture Bio Gel – The inventors of soak-off gel maintain their top spot thanks to a 10-free formulation that combines the strength, durability and sculpting capabilities of hard gel with the soak-off benefits of soft gel for a product that protects the health of the natural nail.
Best Top Gel: CND Shellac Duraforce – This must-have top coat is beloved by nail techs as much for its protective capabilities— particularly for thin, weak or damaged nails—as it is for its scratch- resistant, mirror- shine finish.
Best Nude Gel Polish: OPI GelColor Bubble Bath – The sheer candy- pink hue is as ethereal as floating bubbles, making it a must for
every occasion because it goes with practically everything.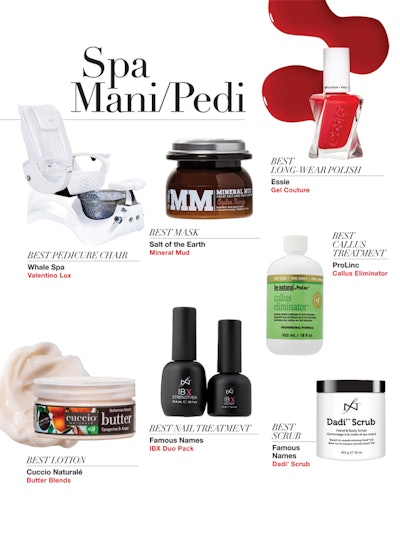 Spa Mani/Pedi
Best Pedicure Chair: Whale Spa Valentino Lux – Made with top grain stain-resistant, antimicrobial Enduro Italian leather and the premium Caresst Massage Mechanism, this chic, luxurious chair even boasts an iridescent, textured glass basin.
Best Mask: Salt of the Earth Mineral Mud – This detoxifying mud mask adds luxury to any service with kaolin clay to purify and nourish skin for luminous results.
Best Long-Wear Polish: Essie Gel Couture – The two-step system provides gel-like shine in more than 100 shades inspired by haute couture fashion.
Best Callus Treatment: ProLinc Callus Eliminator – Techs never fret when faced with hard, stubborn calluses thanks to this fast-acting formula that makes smooth skin achievable in only three to five minutes.
Best Lotion: Cuccio Naturalé Butter Blends – This intensely hydrating cream—sans oily residue—imparts "time-release" moisture to skin for a luxurious addition to any spa service.
Best Nail Treatment: Famous Names IBX Duo Pack – This two-part system is unmatched in its ability to revive weak, brittle nails while allowing them to grow stronger and longer. Formulated with nourishing jojoba and avocado oils, as well as other protein-building ingredients, it can be used alone or under gel polish to reduce nail damage and breakage.
Best Scrub: Famous Names Dadi' Scrub – Formulated with coconut oil and safflower oil, as well as proprietary Dadi' essential oils, this sugar and salt scrub gently but effectively exfoliates to reveal glowing, rejuvenated skin.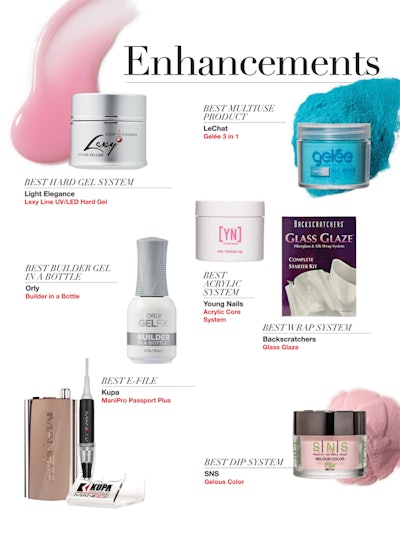 Enhancements
Best Hard Gel System: Light Elegance Lexy Line UV/LED Hard Gel – This hard gel takes top honors for its thick-viscosity formula that makes building and sculpting easy and high-quality resin that holds its shape while maintaining flexibility.
Best Multiuse Product: LeChat Gelée 3 in 1 – This inventive system rolls three services into one product: gel, acrylic and dip. Versatile Gelée provides lasting color in a gentle, strengthening formula.
Best Builder Gel in a Bottle: Orly Builder in a Bottle – This lightweight, self-leveling builder gel adds strength, length and flexibility with an easy-to-apply brush and bottle for crystal-clear results.
Best Acrylic System: Young Nails Acrylic Core System – A must-have for acrylic devotees, the Young Nails Core acrylic system utilizes exact particle blend technology, delivering consistently natural-looking enhancements with superior adhesion.
Best Wrap System: Backscratchers Glass Glaze – Wrap aficionados reach for Glass Glaze to repair, strengthen and protect nails with strong fiberglass or silk fibers.
Best E-File: Kupa ManiPro Passport Plus – E-filers adore this indispensible and lightweight portable machine— complete with a battery-powered control box for up to 10 hours of use. The newest iteration boasts Bluetooth technology and different colored "jackets" to suit your mood and style.
Best Dip System: SNS Gelous Color – The world's first dipping powder remains a staple thanks to its commitment to healthier nails via its formula fortified with vitamins A, D, E, B5 and calcium.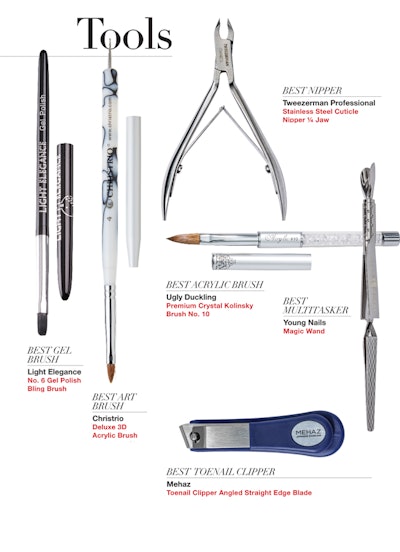 Tools
Best Nipper: Tweezerman Professional Stainless Steel Cuticle Nipper 1⁄4 Jaw This durable, stainless steel tool is ergonomically designed to trim cuticles and hangnails with precision.
Best Gel Brush: Light Elegance No. 6 Gel Polish Bling Brush – This three-stroke brush features beveled edges to allow for fast, smooth application of gel paint, polish, builder gel and glitter gel.
Best Acrylic Brush: Ugly Duckling Premium Crystal Kolinsky Brush No. 10 – Crimped at the ferrule, the kolinsky bristles maintain a tapered point for crisp smile lines, thin cuticle application and fill maintenance, complete with a large belly to dispense liquid into product as you work.
Best Multitasker: Young Nails Magic Wand – This handy three-in-one hybrid tool combines a pusher, scraper and reverse pincher for super speedy services.
Best Art Brush: Christrio Deluxe 3D Acrylic Brush – This double-sided brush boasts acetone- and monomer-proof kolinsky bristles and a rounded metal tip—perfect for executing 3-D nail art designs.
Best Toenail Clipper: Mehaz Toenail Clipper Angled Straight Edge Blade – This heavy-duty, stainless steel clipper is ergonomically designed for less wrist tension during use and features a straight-edge blade that can be adjusted for right- or left-handed techs.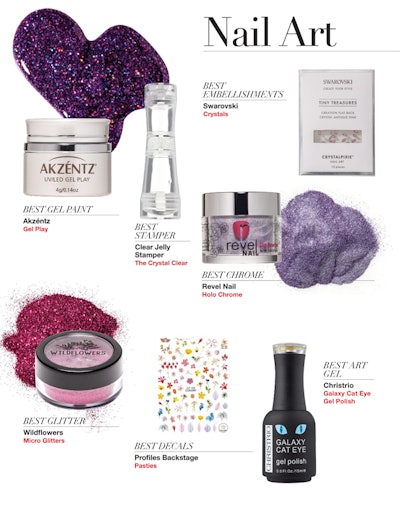 Nail Art
Best Embellishments: Swarovski Crystals – A client's set is never fully dressed without Swarovski crystals—available in traditional stones as well as caviar beads and charms in virtually every imaginable color, shape and size.
Best Gel Paint: Akzéntz Gel Play – This highly pigmented soak-off gel paint comes in a slew of color options, including creamy hues, high-impact glitters and shade shifters—everything you need to create intricate nail art.
Best Stamper: Clear Jelly Stamper The Crystal Clear – The original clear stamper makes creating nail art easy thanks to its transparent design and easy-to-use grip.
Best Chrome: Revel Nail Holo Chrome – Available in eight shimmering shades, these fairy dust-reminiscent powders can be used as either dip or chrome for eye-catching results.
Best Glitter: Wildflowers Micro Glitters – Available in 24 holographic hues, these solvent-resistant glitters are literally the icing on the cake when it comes to nail art.
Best Decals: Profiles Backstage Pasties – With nearly 50 nail decal design options—from flowers and leaves to snowflakes and snakeskin—they are an artist's go-to for seasonal nail art stickers.
Best Art Gel: Christrio Galaxy Cat Eye Gel Polish Applied over black gel polish, the 12 highly pigmented shades create a mesmerizing effect with the aid of the included magnet wand.
[Images: Courtesy of Armando Sanchez; Brooks Ayola; manufacturers]
This story first appeared in the January issue of Nailpro magazine. To receive the magazine, click here to subscribe.