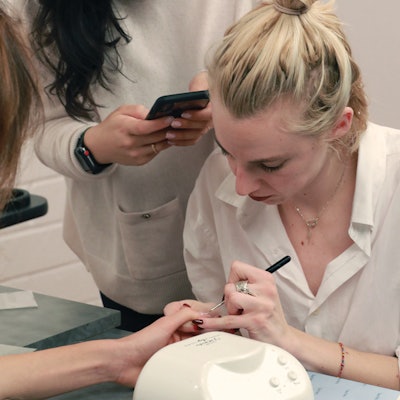 Social media has quickly become the No. 1 place for nail artists and salons to promote themselves online. However, getting people's attention there has also become increasingly difficult. Most businesses have seen their organic reach decline despite their best efforts. You've probably noticed that your followers aren't liking and commenting on your posts as much as they used to. Even when they do engage, it can be tricky to turn online engagement into real bookings and customers. The challenge is to figure out exactly what to post in order to maximize your Facebook and Instagram pages and grow your business.
The best way to stand out on social media, get better engagement on posts and turn online fans into paying clients is through video marketing, as this medium is quickly becoming the most-consumed form of content online. Video provides the perfect means to connect with your followers as a real person instead of just a business. On top of this, social media platforms, particularly Facebook, tend to reward video content with more views. Videos consistently get better reach, so more potential clients will see your posts.
"I decided to focus on video marketing because I knew how important it was for me to be the face of the business, since I was no longer working in the salon," says Jessica Kidner, owner of Polished Beauty in Adelaide, Australia. "I wanted to position myself as the expert owner of the salon, and video is the easiest way for me to do that. By putting myself out there, people trust us more as a business. I also built relationships with our fans by talking directly to them on video."
Ready to increase engagement on social media, gain more customers and fill your appointment book? Here's how to easily create professional videos that your clients will love.
Make a Video Content Calendar
The best video content is planned out in advance rather than created on the fly. Planning out your calendar will help motivate you and ensure that you never run out of ideas. First, decide how often you want to post videos to social media (once a week is a great place to start), and then make a list of the topics you want to cover.
RELATED: Nailpro's Instagram Followers Share How They Celebrate the Holiday Season
If you can't figure out what to shoot, Maylin Herazo from D'Vellos Beauty in Panama suggests looking at your calendar for inspiration as well as your own service menu. "First, we look at the month approaching," says Herazo. "Is there a holiday or event coming up? If so, we'll do a video for our services and designs around that. We also switch up our videos to promote different types of services since we have so many. More than anything, we want our videos to be educational about topics that interest our customers."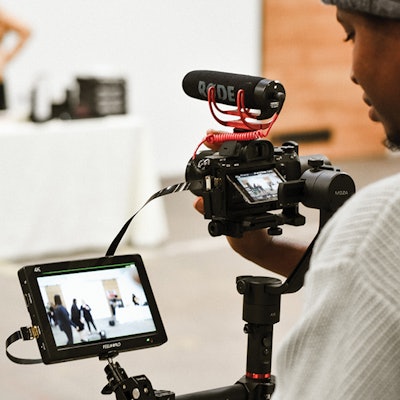 Gather Your Equipment
The nice thing about video on social media is that it doesn't need to be perfect—far from it! Oftentimes, the raw, unedited videos get the most attention. You can definitely get away with using a smartphone to shoot your videos, as long as it's a newer model and has decent video quality. It also helps to have a mount to securely hold your phone while recording so you can be hands-free.
The biggest thing you need to watch out for in your videos is the lighting. Either shoot with a direct source of natural light coming through your windows or use a ring light or some bright lamps. The last thing you want is a dark, blurry video.
Film Your Video
Often, the biggest thing holding people back from getting on camera is shyness. Don't let that stop you from filming. When you have a free moment, just start shooting! Start with shorter videos until you get more comfortable on camera. Also, remember that your followers genuinely want to see you. They want to connect with you as a human being, so don't hide yourself on Facebook and Instagram. "Our clients want to know about all of our services, so we use videos to share the benefits of them, as well as to show our team performing some of our key services," says Herazo.
RELATED: Five Industry Icons Reflect on Their Lives and Remarkable Careers
Edit Your Video
Depending on where you post your video, it may not even need to be edited, for example on Facebook Live or IGTV. If you decide that you want to edit your videos to make them more professional and polished, there are a few apps available that will make the process easier, such as Quik, FilmoraGo and Lapse It. Even with little or no editing, video can have a huge impact. "All I use for editing is iMovie on my iPhone; it's not techy, but it works," says Kushla Mckay from Sculpted Nails in New Zealand. "I also do Boomerang videos showing new nail colors and time lapses of us doing nails, which our clients love to see."
Maximize Engagement
The last thing you want is to put a lot of time and effort into creating great videos and then have no one watch them. It's important to post the right videos to the right platform to get the most engagement and interaction. Your main options for posting videos on social media are your Instagram feed, IGTV, Instagram Stories, Facebook and Facebook Live. Which platform you choose depends on where your audience spends the most time and how long your videos run.
Videos for Facebook or Facebook Live should generally be the longer ones; 5 to 20 minutes is the ideal length, as users spend more time watching videos on Facebook than on Instagram. If your audience is on Instagram more than Facebook, you can share short videos on Instagram Stories, or longer videos on your main feed and IGTV.
Finally, don't forget about Facebook advertising, which can work really well combined with videos, says Kidner. "I advertised our mani/pedi combo by talking through the promo on video," she says. "We did this as a boosted post on Facebook, and it was one of our most successful ways of advertising. We noticed a lot of activity and online bookings with that promotion."
Video truly is the future of online marketing, and if you want to keep up, you need to invest time and thought into crafting those videos. Whether they're fun, educational or just a means to introduce yourself, they're the perfect way to capture your ideal clientele's interest and excitement on social media. "The use of video in our social media has definitely taken us to another stage in our business," says Herazo. "And our customers absolutely love it!"
– by Stephanie Mitchell
[Images: Unsplash]
This story first appeared in the December issue of Nailpro magazine. To receive the magazine, click here to subscribe.