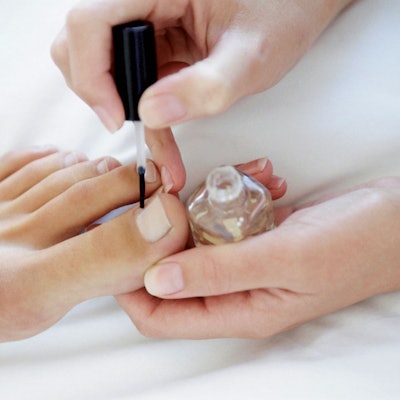 Strappy sandal season has arrived, but clients who are missing a nail may not feel confident exposing their toes. Offering toenail reconstruction services can give these underserved clients a much-needed self-esteem boost, as well as raise your salon's credibility. Not to mention, learning how to properly perform toenail correction, build a prosthetic nail or protective covering, or construct a corrective "brace" for ingrown toenails can provide an income boost.
Clients missing a toenail may be embarrassed about their foot's appearance and often don't know where to turn. While it's not always the most beautiful imagery to promote, advertising this service can serve as a boon for your business. To ensure clients feel comfortable before beginning a toenail reconstruction service, Lu.nu.la Nail Lab owner and certified master pedicurist Angela Taylor always asks questions and conducts a thorough consultation. "By touching their feet almost immediately, I establish that I'm confident, educated and able," says Taylor. "Once I've determined if I can, in fact, build a new toenail, I usually make a joke about having seen much worse— even if it's not completely true." Taylor, who practiced ballet for many years, which is notoriously rough on the feet, understands how common it is for toenails to fall off—whether due to injury or illness. "If you remind clients how much abuse feet take and the many issues you see daily, they relax knowing they're not alone," she says.
"Nail reconstruction is the only nail service that can make you over $100 in 15 minutes—a significant increase in income," says Athena Elliott, industry educator and owner of Houston-based Spathena. Once you're proficient in the technique, set your menu prices. Taylor charges different prices for reconstructing a big toenail from scratch, reconstructing a toenail with more nail and smaller toenails.
RELATED: Why You Should Consider Offering Waterless Nail Services
Here, learn how to get clients back into their summer sandals with this gel toenail reconstruction guide and product list.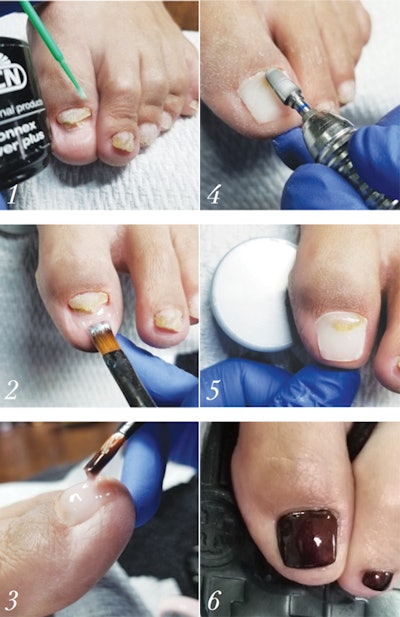 1) Just like with any enhancement service, you want to reconstruct the toenail first before immersing the foot in water. Prep and cleanse the toenail. Then, apply a small amount of air-drying bonding agent onto the natural nail plate and anywhere soft keratin is present. Allow the bonding agent to dry completely for at least two minutes.
2) Use a cats-tongue brush to apply a thin base of gel specifically designed for reconstructing toenails to create the desired shape and length. Cure for 60 seconds under an LED lamp or two minutes under a UV lamp.
RELATED: Learn How To Recognize and Treat Trigger Finger
3) Apply a second layer of gel to the center of the nail, and allow it to self- level. Then, gently float the product across the nail for the desired shape and thickness. Cure.
4) Carefully trim the sidewalls with cuticle nippers. Use an e-file or traditional file to finish shaping the nail.
5) Remove any dust. Then, apply light-cured sealant to smooth and shine the new nail.
TIP! If finishing with gel polish or hard gel, skip Step 5, and just smooth the nail's surface with a soft buffer.
6) Remove the inhibition layer, and proceed with polish and top coat.
TIP! Send clients home with an antiseptic and antifungal spray or dropper to protect and care for their new prosthetic nail.
Implement these nail enhancement essentials into your reconstruction services!
1. FUZION NanoFlex
2. MIA SECRET Kolinsky Nail Brush No. 4
3. KUPA MANIPro Passport
4. LIGHT ELEGANCE Lexy Builder Gel
5. LCN Barefoot Kit, lcnprofessional.com 6. ARTISTIC NAIL DESIGN Gel Brush No. 7 Square
– by Angelina Lewis
This story first appeared in the May issue of Nailpro magazine. To receive the magazine, click here to subscribe.
[Images: Courtesy of Armando Sanchez; LCN; Getty Images]