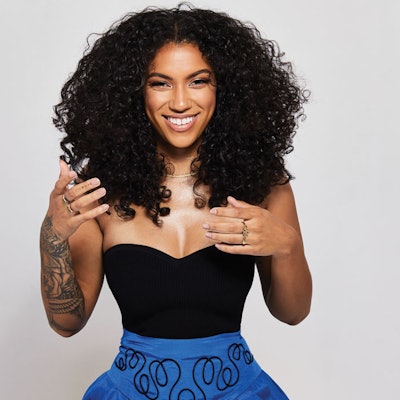 Blending fashion-forward, runway-inspired hues with a vegan, 5-free formulation, Pear Nova's colorful line of polishes, which launched in 2012, is quickly gaining devoted fans. Founder Rachel James, who has a degree in fashion merchandising from the International Academy of Design and Technology in Chicago, as well as experience working as an esthetician, stylist, makeup artist, personal shopper, fashion editor and model, launched the brand with the aim of uniting her diverse expertise in beauty and fashion. NAILPRO sat down with James to find out what makes this entrepreneurial powerhouse tick.
What was your mission when you launched Pear Nova?
"Back in 2012, I had just graduated from the International Academy of Design and Technology with a degree in fashion merchandising, and prior to that I was in beauty school, so I really wanted to create a product that I thought sat perfectly within both industries. I made sure to formulate a high-quality lacquer that was safe to use both at home and at the salon."
What influenced you to create Pear Nova?
"My hometown, my background, my peers, my education, my network, the books I've read, music I've danced to, places I've traveled to, foods I've tasted, art I've admired—everything I've seen through my eyes is what inspires Pear Nova."
RELATED: Guest Artist Alec Hinz Creates Wild-West Runway-Inspired Tips
Where do you find inspiration for each seasonal polish collection?
"It changes with each season. The all-nude BRWNGRLMGC collection was inspired by not always being able to find the right nude shade for medium to deep skin tones. I chose to name the BRWNGRLMGC colors after women who have been influencing the masses, like Diana Ross, Frida Kahlo, Cleopatra and Michelle Obama. The most recent collections, All Thai'd Up and Thai Dye, were inspired by a magical trip to Thailand. I've developed collections based on Chicago neighborhoods, self-care and menswear, but I make sure each color palette can inspire a woman's wardrobe so that the ideas always return to fashion."
What's your favorite shade?
"Currently, my favorite is Feelin' My Tiger Stripes, which is a bone color with slight gray and purple undertones. It's perfect for these cooler months and a great pedicure choice for people who normally wear white on their toes."
RELATED: The Pros and Cons of Operating in a Salon Suite
Pear Nova is a committed advocate for domestic violence victims; can you tell us more about your efforts to raise awareness?
"One of my favorite domestic violence awareness charities is Break the Silence Against Domestic Violence (BTSADV). I had the honor of being a team captain for their annual Angel Run, which funds scholarships for students impacted by abuse, as well as funding programs for Angel Families. Since October was Domestic Violence Awareness Month, Pear Nova donated 10 percent of proceeds for the entire month to BTSADV to help further spread awareness and aid. Both my social media and the Pear Nova social media pages, which have a total following of more than 200,000, are used to spread awareness by posting domestic violence statistics and information on how to get help if you are in an unhealthy relationship. The reaction to the social media posts has been amazing. I find myself connecting with many different women all over the world who have either lost a friend or family member to domestic violence or are survivors themselves. You can even catch me with purple hair in October just to get my point across!"
What are your goals for Pear Nova in the future?
"I can't say too much because I'm working on something major this year, but I would love to expand deeper into the beauty and fashion industries. I never wanted Pear Nova to only be a nail polish line—I want it to cross all of my passions."
–by Lotus Abrams
This story first appeared in the February issue of Nailpro magazine. To receive the magazine, click here to subscribe.
[Images: Courtesy of Pear Nova; Armando Sanchez]