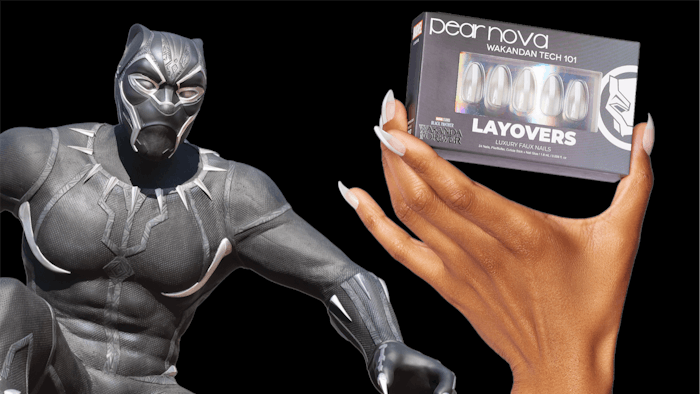 Pear Nova to release its first collection of Layovers, luxury press-on nails, inspired by Marvel Studios' Black Panther: Wakanda Forever 
Pear Nova founder and CEO Rachel James was inspired to create a nail collection that embodies the resilience, vibrancy and innovation of the Wakandan culture.
The collaboration features three sets of Layovers showcasing custom nail designs by minority artists and creatives. Each set has 24 almond-shaped nails, one nail file and buffer, one cuticle stick and one nail glue. 
"As a boy-Mom turned Marvel fanatic, I, like so many other people, fell in love with all the elements of Black Panther," says James. "From Wakanda's rich culture to female governance, I was completely inspired by their world and everything in it. In creating our first collection of Layovers, I wanted to pay homage to the story that inspired so many and express the adoration I felt for Black Panther and Wakanda."
Sets in the Pear Nova x Black Panther: Wakanda Forever Layovers collection include: 
Vibranium Claws: Vibrant blue nails featuring an iridescent green, gold and blue design in a black frame, symbolizing Wakanda's most precious metal, vibranium. 
Wakandan Tech 101: A transparent nail base boasting a bold white streak and grey tip illuminating contemporary and modern themes in a nod to Shuri's lab, Wakandan technology and the scientific advancements behind the Black Panther's coveted claw necklace.
Rituals + Royals: Matte-finish nails featuring multi-colored brush strokes in pink, orange, green and red, inspired by Wakanda's all-female special forces, the Dora Milaje.     
The Pear Nova x Black Panther: Wakanda Forever Layovers collection drops this month.