Notable nail techs take us behind the scenes, sharing everything from how they broke into the industry to their celebrity crushes.
Deborah Lippmann @deborahlippmann
New York-based manicurist to the stars and founder of the Deborah Lippmann nail color and care line.
Big Break: "I was friends with makeup artists Bobbi Brown and Laura Mercier back in the early days of their careers, so from the start I had my finger on the pulse of what was hot in beauty. The world of nails was very different when I moved to New York in 1993. Hardly any base or top coats existed, and nobody put treatment [ingredients] in their products. I launched my own brand to create the kinds of polishes I wanted to use."
Most Memorable Nail Moment: "I worked on the first-ever 'VH1 Divas Live,' and swapped Mariah Carey's nail color to match each costume change. It was thrilling, exhilarating and super stressful!"
Proudest Moment: Being honored as a Nail Visionary at CosmoProf Worldwide Bologna in 2010, along with industry icons, like Aveda founder Horst Rechelbacher.
Go-to Product: "Deborah Lippmann The Stripper, for removing polish."

Favorite Nail Technique du Jour: "Unexpected nail duets: hot pink and hot coral, black and white, buttery yellow with a tip of light pistachio green for spring."
Celebrity Crush: "Lupita Nyong'o. We play with looks and make statements. I haven't yet found a color in which she doesn't look amazing."
All-Time Fave Nail Look: "A reverse French manicure in red and white—before that was a trend!—for Sophie Dahl's Vogue Italia cover shot by Steven Meisel."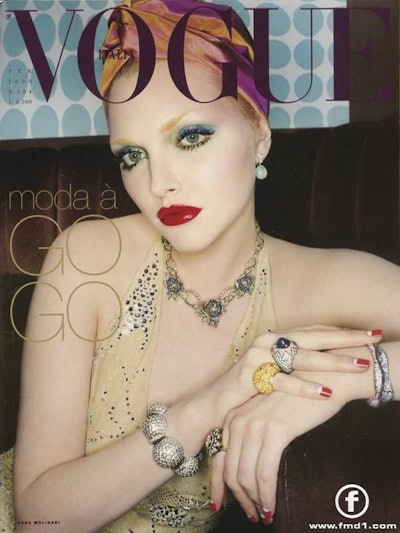 Master Tech Tip: "From base to top coat, let each individual layer dry for two minutes before applying the next one. Few take the time, but it's how you achieve the truest, longest-lasting color."
Worst Rookie Mistake: "While working at my first fancy salon, I gave a manicure to a client who kept putting her purse in front of my product cart. Every time I tried to shift it away, she moved it back. Toward the end of the service I grabbed my polish remover and it sprayed all over her custom-made crocodile Hermès bag. We both sat in silent horror, watching the color drain out of her one-of-a-kind clutch."
Jenny Bui @nailson7th
Indisputable "Queen of Bling," owner of Bronx, New York-based Jenny's Spa and Cardi B's go-to manicurist.
Big Break: "I was born in Cambodia and escaped the Khmer Rouge genocide with some of my family before moving to New York and going to cosmetology school. Life was hard, but I always loved doing nails, especially tribal designs and floral bling. No one knew me before VH1 reality star Yandy Smith came to the Harlem salon where I used to work. She loved my nails and told me to put photos of them on Instagram. At the time, I didn't even have an account!"
Most memorable Nail Moment: "The first time Cardi B came to my salon in 2013. She was only 20, still on her way to becoming a star. Fame doesn't matter to me; as long as you like my work, that's what I care about. Cardi B now says I'm like her second mom, and that was the first day we became friends."
Proudest Moment: "This one. It's a long way from where I started."
Go-to Product: "Jenny Secret Top Coat."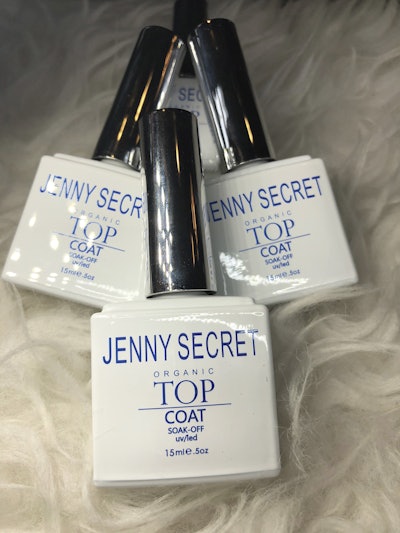 Favorite Nail Technique du Jour: "Acrylic stiletto nails studded with Swarovski crystals."
Celebrity Crush: "Who else? Cardi B!"
All-Time Fave Nail Look: "Cardi B's nails for this year's Grammy Awards. They took two hours to create. I love how the ivory stilettos and multicolored jewels complemented her white Ashi Studio dress."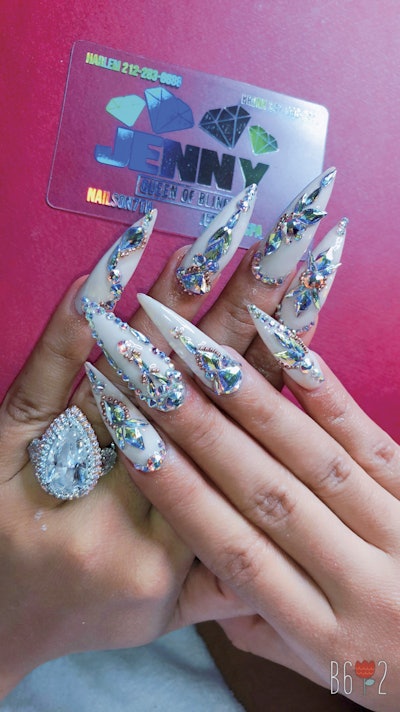 Master Tech Tip: "Take time to apply acrylic: too thick, it lumps; too thin, it lifts."
Worst Rookie Mistake: "Making my acrylics too thin. To get better, I practiced nonstop on my own hands—sometimes to the point of bleeding!"
Pattie Yankee @pattieyankee
Industry consultant, founder of Patricia Nail Lacquer and owner of Manhattan's Pattie Yankee Manibar.
Big Break: "I used to follow my mentor like a puppy dog, almost always doing work for no pay. One year she got stuck in a snowstorm and couldn't make it to her Dashing Diva consulting gig, so she asked me to fill in. The company hired me the following week to work on training manuals for their international franchise salons. My career with Dashing Diva took me around the world, and I may never have had that opportunity if I weren't so hungry to learn."
Most Memorable Nail Moment: "When Katy Perry invited me to Philadelphia for the Democratic National Convention and I got to meet Hillary Clinton. I felt so blessed to be part of such an important moment in history. Any tech could have been chosen for the event, but because I had established a relationship and built trust with Katy and her team, I was the one selected. It's a time I'll treasure forever."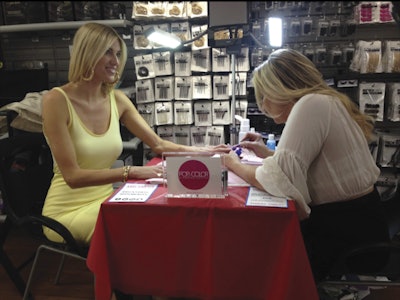 Proudest Moment: "Appearing on the Court TV show 'Bloom and Politan' to lend my expert opinion regarding the meaning behind a broken acrylic nail, and how that might have influenced the outcome of the Phil Spector case. It was fun and exciting to be part of an ongoing national trial, and I felt it lent credibility to our industry at a time when nail techs weren't as respected as they are today."
Go-to Product: "CND Scrub Fresh, for prepping nail surfaces pre-service."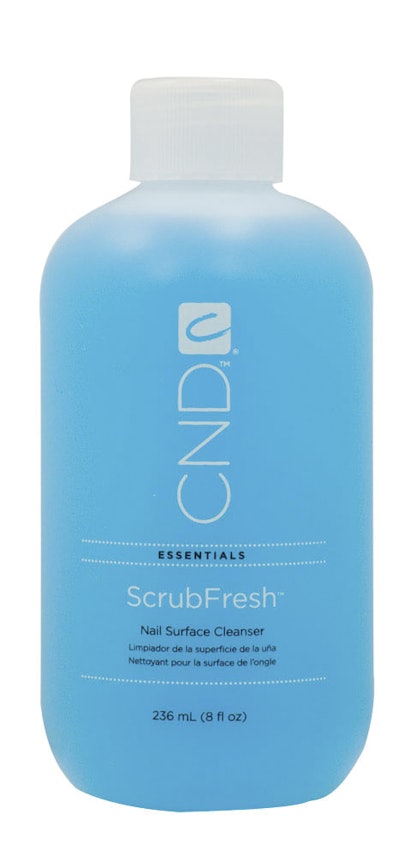 Favorite Nail Technique du Jour: Gel polish manicures.
Celebrity Crush: "Katy Perry. She'll go for anything and everything when it comes to nails, and then surprise you the next minute by being understated."
All-Time Fave Nail Look: "Katy Perry's mani for the 2013 Met Gala. She wore Dolce & Gabbana, and her look was inspired by Joan of Arc. I used iridescent foil as the base on top of gold polish from my line, and then created a medieval cross with square studs and real rubies in the center.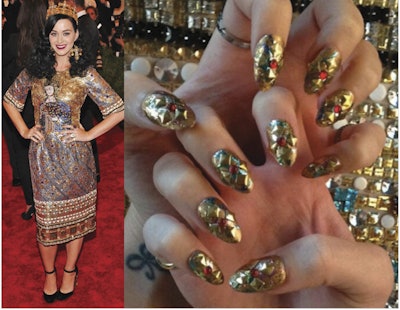 Master Tech Tip: "Always carry backups of the crucial tools and products you need to perform services when on set or with a private client."
Worst Rookie Mistake: "I tend to be a nervous blabber, so I used to fill silent manicure moments by divulging too much personal information [about myself] to clients. That backfired more than once—and even put a strain on my marriage. Customers can become friends over time, but now I tell new techs to always start by treating them like clients."
Jin Soon Choi @jinsoonchoi
Editorial manicurist based in New York, owner of the JINsoon spas and founder of the JINsoon nail line.
Big Break: "The New York Times ran a seven-page spread of my nail art in 2001, before nail art was the phenomenon it is today. After that, I started getting hired to do lots of beauty campaigns, and I began working with photographers like Steven Meisel, with whom I still collaborate on a regular basis."
Most Memorable Nail Moment: "I worked with Beyoncé for the Austin Powers in Goldmember music video, but no one informed me that I had to prepare nail art on tips before the shoot—I found out on set. Beyoncé didn't want any glue, so I quickly used Swarovski rhinestones to create designs on tips that were pre-polished and pre-glued with water-soluble adhesive. She loved them!"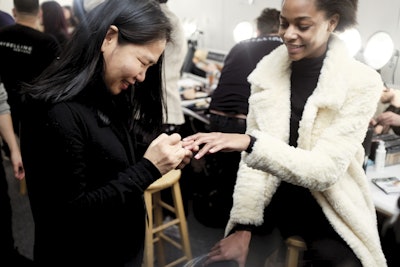 Proudest Moment: "Launching my eponymous nail polish line. It's the culmination of all my professional efforts to date."
Go-to Product: "JINSoon Top Gloss, for giving fresh life to old polish."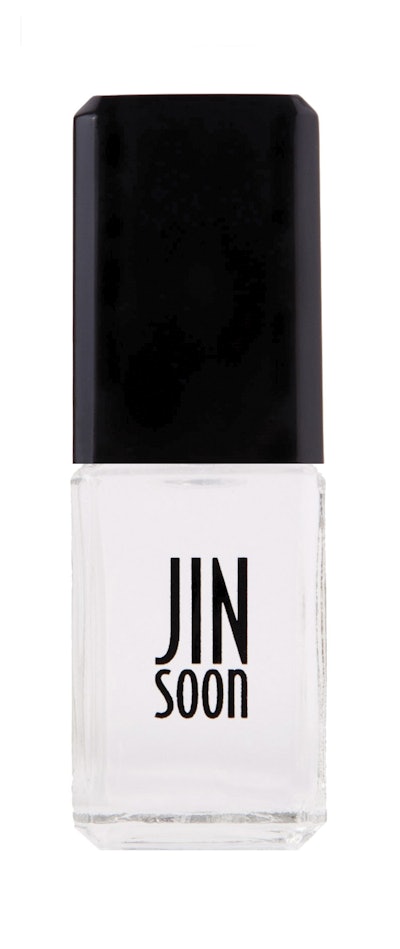 Favorite Nail Technique du Jour: "Simple, modern art that requires only basic tools, like a dotter or thin brush, to create color blocks, moon shapes or abstract paintings."
Celebrity Crush: "Selena Gomez. I really love her as a person; she's very sweet and kind. She also has beautiful nails and simple yet diverse taste when it comes to painting them."
All-Time Fave Nail Look: "A Kandinsky painting and an American flag I created for The New York Times Magazine. It was very meaningful to interpret and replicate those two iconic images on nails."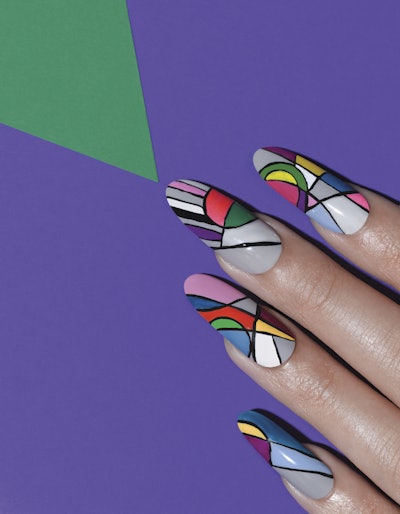 Master Tech Tip: "Trim nails by following the shape of the overall nail plate, rather than the exact line of the free edge. Often free edge nail lines are uneven, so if you file conforming to that line, your shape won't be balanced and consistent."
Worst Rookie Mistake: "Over-cutting cuticles, which can lead to infection."
–Francesca Moisin
Can you relate to the Fantastic Four? Let us know in the comments below!
[This article was originally published in the July 2018 issue of NAILPRO]