Breaking into the music business is no easy feat, but an unfiltered, in-your-face attitude helped rapper Cardi B. rise to the top of the charts with her hit single "Bodak Yellow." The Bronx native has that same risk-taking, no-holds-barred attitude when it comes to her nail art. Just ask long-time manicurist and friend Jenny Bui, who has varnished Cardi B.'s tips for the past five years. "She's always been into nail art and loves a lot of bling," Bui says, noting that the first manicure she ever created for the rapper was decked out in Swarovski crystals.
Since then, Bui, a 21-year nail tech and owner of Harlem, New York-based Nails on 7th Ave., has created a myriad of wild looks for the hip-hop performer, ranging from oversized, piled-on gems to lengthy stiletto tips featuring tiny photos of Cardi B.'s rapper boyfriend Offset. When it comes to brainstorming Cardi B.'s nail designs, Bui says it's a collaborative effort, noting, "Sometimes she tells me what she wants, but oftentimes she lets me be creative." If the rapper's Instagram feed is any indication, the two make an exceptional team, as Cardi B. posts "nailfies" on a regular basis and always shouts out her favorite tech.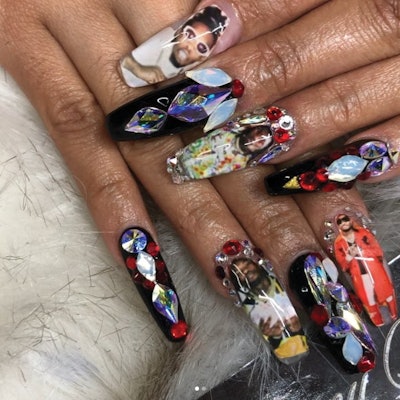 Even though Cardi B.'s career has skyrocketed over the past year, Bui says that she remains down-to-earth and still comes into the salon for her regular appointments, which last anywhere from an hour and a half to two hours, every three weeks. As for the most memorable mani she's created for the rising star, Bui says her favorite look was a set of nude nails for the 2017 MTV Video Music Awards. "I remember when she came in for those. I hugged her tight and told her I was so proud of her," says Bui. "When I first met her five years ago, I told her she'd hit it big—and look at her now!"
This article was originally published in the January 2018 issue of NAILPRO.
[photos: (Cardi B.) David Becker/Stringer; (Nails) Instagram/@iamcardib]