Introducing a new service to your nail salon menu is a great way to refresh your offerings and attract new clients, but doing so involves more than simply printing new menus. Nail salon owners should consider a number of important factors before diving in, from demand to investment costs to training. Even trending services that appear to be in high demand can make poor additions to your service lineup if the products are expensive or the time required will edge out other, higher- margin services. "Ultimately, launching a new service should make your job easier or provide something new and exciting for your clients—and make you money in the process," says Chelsea King, a celebrity nail artist in Long Beach, California. Before you pull the trigger on adding a new service, consider these seven important factors that can make or break a successful launch.
1) Demand: Assess the desire for the new service from your salon's perspective first. Don't simply assume that a service trending on social media is a good fit for your business or clientele. Find out what other salons are doing in your area, and then ask your clients if a particular service appeals to them. Make sure to see if they'd be interested in adding it to their current routine or if they would swap it out for their current service—an important distinction! If a new service will be a wholesale replacement for an existing one, there should be compelling reasons to make the switch (such as more organic ingredients, shorter service times or easier application)—otherwise, it's a lot of trouble and expense for no bottom-line benefit.
RELATED: How to Take Control of Your Relationship With Social Media
2) Cost: Cost per service, or CPS, represents the total cost of all products used to do a single appointment. "Cost per service is very important," says Suzie Moskal, founder of Suzie's Nail Career Education and co-owner of Nail District in Langford, British Columbia, Canada. "Prices of products are always changing, and if you don't change with them, you'll be working for less as time goes on." Brand representatives are a great source for this information because the brand itself determines the CPS before deciding to bring a product or service to market. "Aside from just the product used, consider your overhead and training costs, too," says King. If a service will cost more to perform than what you'll earn, you should pass.
3) Time: Knowing the average appointment time is crucial to determining pricing, says Katie Lee, education coordinator for Young Nails. Resist the temptation to estimate. "I like to time myself on services to get a general idea of how long things take me, and then I add about 15 minutes in between for some wiggle room and clean up time before the next client," says King. Also, consider how the appointment timing will fit within your regular schedule. If your regular clients are used to arriving every hour, on the hour, then a new service that takes 15-20 minutes could disrupt your usual flow or leave vacancies in your book that you can't fill.
4) Products: Sometimes a tech's familiarity with a brand or system drives the decision to add a service, but often, it's the other way around. Regardless of the service, there will be a lot of options to choose from. "I try all types of brands before deciding on a system," says King. "I also consider how easy it is to buy, if there's information online, the range of products and colors, etc." Trial kits allow techs to experiment at a lower cost. Moskal recommends choosing a system you can master. "At the end of the day, most clients don't care what system or products you use; they just want the best nails."
RELATED: How to Make the Most Out of Live Streaming on Social Media
5) Price: Many techs skip ahead to thinking about the price of a new service before doing all of the required research. However, service pricing should only be done once you know product and supply costs and have a good idea of how long the service will take. King looks at another service she currently offers for comparison, and then adjusts the price slightly if the products are more or less expensive. Research what comparable local salons are charging, but avoid basing your prices solely on what everyone around you is charging, cautions Moskal. "If other salons aren't charging higher prices, it could be because they aren't that great," she says. In the end, you deserve what you're worth. If it's impossible for a particular service to cover your standard fees, before long you'll dread seeing the service appear on your appointment book.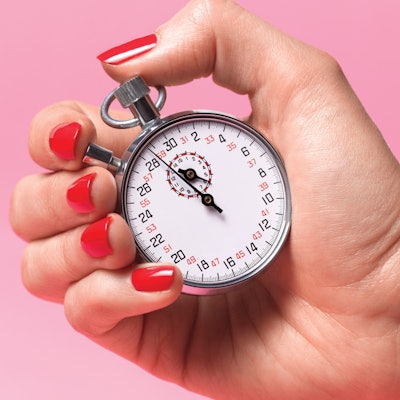 6) Training: Clients, in general, don't come to be your guinea pig. Therefore, you must be proficient before you launch your new service. "A predictable lag in business is the perfect time to unveil a new service," says Middletown, Delaware-based nail artist Celine Cumming. She suggests using the winter months, from January to March, when there are fewer holidays and client engagement is slow.
"This gives techs time to get comfortable with the new service when it's less hectic in the salon," she says. Take advantage of brand resources, such as online tutorials and video demos, and, if possible, attend the brand's formal service training—even if there's a fee and/or travel is required. Displaying a certificate at your station that shows you're service- certified will give clients confidence that you can do the new service well. Continue to practice on friends, family and long-term clients. "It's a great way to get more practice, and they'll be honest if they like it or not," says King.
Facebook Live Video: Hand Painted Nail Art with Young Nails 
7) Promotion: A new service doesn't have a fighting chance to be successful if no one knows about it. Before you run to the printer to update your menu, consider a soft launch. "When I introduce a new service, I start on social media," says King. "It's not permanent and it doesn't cost money to advertise there. Once I'm 100-percent happy, and my clients are too, then I get materials printed. There's no point spending money on new menus if you aren't positive you'll keep the service." Take clear, bright photographs and be sure to tout the benefits of the service in your posts—like how well a product wears. For example, "Check out my new service; it's lasted four weeks on this client with no lifting!"
Keep in mind, it's always easier to launch a new service to clients you already have than to build a new clientele, says Moskal. Talk about the service during regular appointments and, if applicable, wear the service yourself. Think carefully before offering introductory prices or special offers. Discounted pricing can lower the client's perception of the service's value, and she may expect lower pricing in the future. If you wait until you truly master the service before the launch, there's no reason to offer a discount, says King. However, offering a future discount for referrals can be a good strategy because the client will be paying full price initially and referring friends based on their satisfaction with the service at that price.
After a brief amount of time has passed, the new service's earning potential and staying power should become clear. Use this information to make decisions on costlier promotional investments, like permanent signage or print advertising that will reach an untapped audience. When you've put in the time upfront to assess the demand and profitability of your new service, and invested in effectively promoting it, you're sure to reap the rewards: new clients and revenue.
New Service Checklist
– Do Research online and in the local area and poll clients and friends to assess if sufficient demand exists for the service.
– Compute the average cost per service (CPS), average salon pricing and estimated time to complete a single appointment.
– Decide on the price for the service, and determine if there's acceptable profit potential to make the investment. Consider that this new service may replace current services for some customers.
– Read reviews and test products to select the product or system you'll use. Rely on brand reps and fellow techs for information.
– Attend brand training and hone your techniques by practicing on friends and family until you can consistently perform the service in the same amount of time using the same amount of product per appointment.
– Purchase adequate products and supplies, accounting for increased demand immediately after the new service launches, but resist the temptation to overbuy.
– Do a soft launch, offering the service to existing clients and promoting it on social media. Offer referral incentives, but avoid introductory discounts.
– Once you've decided to keep the new service, reprint salon menus and signage, add the new service to your salon's website, and invest in paid advertising that will target customers beyond your existing clientele.
–by Leslie Henry
[Images: Getty Images, Armando Sanchez]