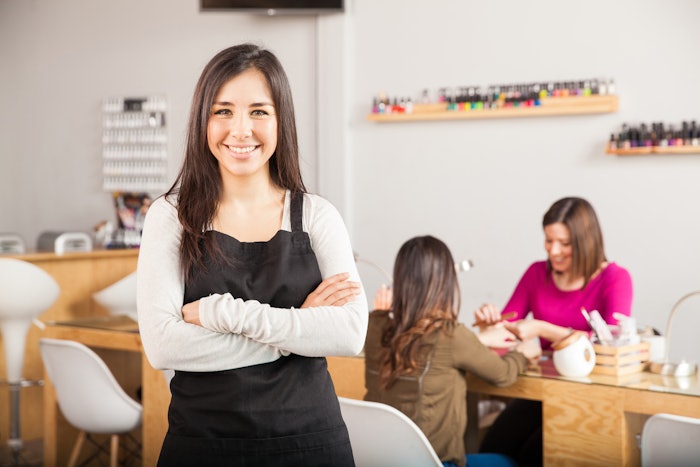 Texting during a nail service. Kids racing around work stations. No-show clients demanding another chance after a fifth missed appointment.
The list of "what if" scenarios that could derail your salon's business runs long, but if you put sufficient standard policies and procedures into place, you help establish an organized, safe, fair and empowered work environment where everyone—staff and clients—can thrive.
"Policies define boundaries and outline expectations for owners, staff and clients," says Coriana Burke, owner of Black Cherry Nails in Coquitlam, British Columbia, Canada. Ruth Kallens, owner of Van Court Studio in New York, agrees: "Policies equate to structure, which everyone needs. By enforcing rules, we set and manage expectations for both clients and talent."
With everyone on the same page, you leave little room for insubordination, confusion and conflict. Plus, establishing policies has an unexpected—but attractive—benefit, according to Burke: "Much like your salon atmosphere and professionalism, [policies] tend to attract the clients you want and weed out the ones you don't," she says.
So, when focusing on clients, what policies should you draft to keep your salon peaceful, professional and profitable? These successful nail pros weigh in on what works.
1. Tardiness
Late clients can derail the rest of your bookings for the day, but should you turn them away? The consensus: Salons should offer a grace period (anywhere from 5 to 15 minutes), and anything later requires rescheduling and a late-cancellation fee. Candice Idehen, owner of Bed of Nails Nail Bar in New York, clarifies that tardy clients who show up within the grace period will have to accept an abbreviated service to keep the rest of the day on schedule. "This policy keeps the day running smoothly and ensures everyone is respectful of other clients' and your staff's time," agrees Burke. 
Idehen does remain somewhat flexible with clients who don't simply show up late, but call ahead to notify the salon of their unintentional tardiness.
"If the client gives us notice that she's going to be late, we will accommodate her another day free of charge if we can't fit her in the same day at a different time," she says. "This allows us the opportunity to retain a client, show her our business ethic and stay on schedule."
2. Late Cancellations and No-Shows
Every time a seat isn't filled, you lose money, which makes no-shows and late cancellations particularly painful, as you're left with little recourse to make up that lost compensation. Whether you want to enforce a two-strikes rule, charge the client in full for every missed appointment or crack down on service desertion using both, you need to have this policy clearly communicated to clients from the get-go.
"I think this policy is probably the most important one that anyone in the beauty industry can have because it very clearly outlines that this is the salon owner's or tech's business and income, and it shows her time is valuable," Burke says.
Establishing a required time period for notice of cancellation (our pros cite anywhere from 3 to 24 hours) gives you time to fill that slot; anything less incurs a cancellation fee (Burke charges $20 while Idehen charges 50 percent of the service fee) to be paid prior to rebooking the next appointment. Of course, some pliancy in your policy should be expected since it's impossible to cover every contingency.
"There are situations and circumstances where we waive this particular policy, but they're rare and have to be valid reasons," says Idehen.
No-shows are given less favorable treatment; missed appointments typically incur a 100-percent service fee and must be paid in full prior to rescheduling the next appointment. Katy Hancock, owner of Sugar N Spice Nail Salon in West Valley City, Utah, and author of Start to Success: A Nail Technician's Guide to the Industry, also adopts a two-strikes-and-you're-out policy.
"You don't want to attract clients who constantly cancel, reschedule or don't show," she reasons.
Her policy message: Cut your losses with repeat offenders before they have the chance to dupe you again.
3. Payments, Gratuity and Refunds
In order to collect no-show and late cancellation fees, you may want to keep clients' credit card information on file. The best way to do this: Require credit card information to book an appointment and let clients know this information can be used for quicker check-outs in the future, as well as to cover any future fees, says Idehen.
For gratuity, Kallens favors allowing clients to tip using their credit cards. "It makes for a seamless client experience," she reasons.
Idehen's policy states that gratuity will only be accepted as cash, unless the client rented out the salon for a party or event, in which case a credit card payment is permissible because the gratuity is included in the service charge.
Why cash tips? "They help reduce the back-end burden for the business," Idehen explains. "This makes each technician responsible for managing the business side of declaring their tips for tax purposes."
Refunds are a harder nut to crack. While Burke doesn't offer refunds, Idehen feels a policy that spells out specific circumstances where a refund would be awarded helps keep you in the clear.
"Refunds should be offered in the event that there is service breakdown on the part of [the salon]. If there are issues with service within a few days of her appointment, we'll offer the client the opportunity to come in for a repair or offer a refund if the client is unable to return. We do offer discounts on the next service if a client isn't satisfied with service as a quality-assurance measure as well," says Idehen.
4. Age Requirements
Unattended toddlers in the salon can disrupt the serene setting you cultivate for your clientele. Some owners, like Burke, enforce a strict "no kids" policy in which no child is permitted in the salon unless she has an appointment and is accompanied by an adult not being concurrently serviced. Because preteens and teens are at that age where a manicure or pedicure is considered "cool," you'll likely be servicing minors at some point. Implementing a policy requiring written consent from an adult for services on any child under 18 helps protect your salon against any parental recourse—and you may even want to go one step further.
"In principle, I won't do any artificial nail enhancements on anyone under 16, and the parent or guardian is required to come in to sign a waiver on her behalf [if she's aged 16 to 17 for this type of service]," Burke says.
5. Cell Phones
We live in the age of the smartphone; there's no getting around that. But cell phone calls can thwart the rhythm of a service while texting can ruin a manicure in real time. Enforcing a "no phones" policy probably won't fly.
"Each person is at the salon for a different reason, and some are multitasking, hard-working business folk who need to get things done and have sharp deadlines," says Hancock.
Rather than scrap phone use altogether, Hancock recommends a policy that requests clients keep their phones on silent/vibrate—especially if the salon space doesn't include private rooms—to maintain a quiet environment. As for texting, the hope is that clients' hands will be too busy getting pampered to be distracted.
6. Pets
Pets are cute, but many owners like to draw a line at gratuitous fido appearances in the salon. A few reasons: Other clients could have allergies or—even worse—a fear of dogs. However, salon experts agree that a case-by-case approach to a general "no pets" policy is prudent. Hancock allows for service dogs ("I'd have to really look at the need basis," she notes), while Idehen says that only very small dogs kept in carriers would be considered.
"We have to be respectful of all guests and maintain the salon environment," she reasons.
7. Health History and Illness
Asking a client for her health history (think: diabetes, a current pregnancy or medications) allows you to safeguard both the client and you against any possible health complications due to services rendered, as well as arm staff with any necessary information in case of emergency (such as seizures).
"For salon safety in general, you must ask about fungus, skin conditions and allergies, too," adds Kallens.
It's best to keep track of these answers in a client file; Hancock and Burke include health history sections in their client consultation form and salon waiver, which clients fill out during their first appointment. "
I always tell my clients when they're filling out the waiver and personal info form not to leave anything out, even if they think it's not a big deal," Hancock stresses.
Her rationale: Even minor issues, like medication, can impact the service quality and how products interact with the client's nails.
"In most cases it may not matter; however, some medical issues are extremely important. It's better for clients to disclose information than not," she says.
As for clients who cough and sniffle their way into the salon, Burke believes imposing a policy that requires clients to cancel their appointment and reschedule in the event that they're sick is a no-brainer. For stubborn clients, make clear in your "sick day" policy that they may be asked to wear a mask or even turned away.
Burke spells out the impact carelessness can have on staff and clients in her policy: "Illness in the shop results in canceled appointments and spreads it to our families, as well as exposing those who may have compromised immunity."
8. Privacy
When you ask for a client's health history and credit card information, it's imperative to assure the client that you'll keep her information secure. That means making sure you have a transparent policy in place that explains whom has access to the information and how it's used.
"Only upper-level management, which includes myself, the receptionist and salon manager, has access to client information," says Idehen.
She notes that her computer and booking system both require traceable log-ins, allowing her to see what was accessed and who accessed the information.
Hancock adds that any proprietary information, such as the client's personal preferences for her services, as well as her demographics and health history, are on a professional need-to-know basis only.
"The information is never sold or shared; it's always kept private for their protection," she says. "That's my golden rule."
This article was first published in the March 2018 issue of Nailpro.