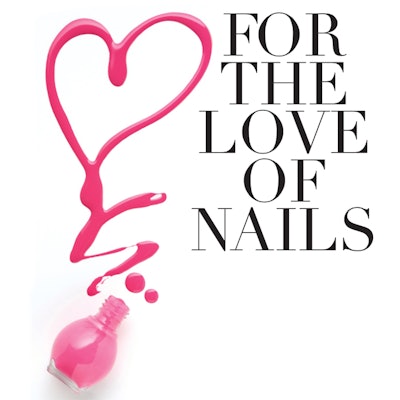 Just in time for Valentine's Day, nail artists dish on all the details of how and why they fell for their favorite job.
It's February, and amour is in the air. But couples aren't the sole targets of Cupid's arrow. When it comes to love for one's profession, nail artists are an impassioned bunch. In fact, according to our 2017 NAILPRO Essentials survey, 56 percent of independent nail technicians report being "very satisfied" with their career choice. So, how did those relationships first blossom? Was it a slow burn or love at first sight? Were there bumps along the way, or were these always matches made in heaven? We spoke with a dozen industry pros about their greatest love of all: nails.
"I was 19 and working at an insurance company when a girlfriend asked if I wanted to go to nail school, and I said 'Sure!' I'd always loved polishing my own nails, but I knew nothing about the industry. To me, enhancements meant Lee Press-On Nails, which I'd seen on TV. My own first set took eight hours to complete and fell off the next day. But I took courses and began competing, and it's been an amazing ride. Nails have taken me to incredible places around the world over the last 33 years," says Carla Collier, owner of Nail Perfect in Tehachapi, CA.
"My sister was a girlie-girl who loved getting her nails done. I was the opposite— into power tools. But, the summer before high school, I decided I wanted acrylic nails. My mom wouldn't allow it, so I mixed bak- ing soda with crazy glue and made my own set! My relationship with nails is the same today as it was 30 years ago: As long as I'm learning, I don't get bored. That's why after success- fully competing with acrylics for 10 years, I switched to gels. Now I develop new techniques to share with fellow techs," says Amy Becker, owner of Masterworks by Amy Becker in Cedarburg, WI.
"From early childhood, I was a nail-biter. I stopped in my late 20s and thus, my obsession with nice hands began. I started watching YouTube nail art videos; Robin Moses and other bloggers were huge catalysts in driving me to pursue this career. Since day one of nail school, I'm happy to say it's been smooth sail- ing. Being artistic is in my blood, and I love getting to be part of my clients' lives," says Amber Dunson, nail technician at
Salon 927
in Bossier City, LA.
"For as long as I can remember, I loved polishing my nails and pushing back the cuticles. My obsession grew in beauty school after I realized I was good at acrylics. Later, when courses became too expensive, I began the New England Networking Event for Nail Professionals to bring education to me," says Darlene Donovan, owner of Nail Creations in Derry, NH.
"I was 5 years old when I peeled the bubblegum- pink varnish from my Barbie nail set and stuck it on my dad's fingers. That was my first experience with polish. I started cosmetology school straight out of high school, but true love for this work sparked only after being a tech for five years, at which point I had more creative freedom. It's not always easy, but I know this is a relationship built to last," says Stephanie Baptista, nail technician at The Patio Hair & Nail Design in Carmel, CA.
"My mother grew beautiful nails, and I always wanted long ones like hers. She and my three older sisters taught me that a lady keeps her toes neat and clean. I was 8 years old when I started self-polishing regularly. At first, nails were a hobby and a good way to pay for college—I didn't understand it as a career until 2000, when a failing marriage and small kids at home forced me to reshape my life. Now, I'm proudly able to mentor young women entering the industry and teach them valuable business skills," says Kristina Ann Carlson, owner of Tickled Pink Nail Boutique in Yuba City, CA.
"As a child, my grandmother used to paint my nails. She had pale pink polishes and one bottle of sassy red, which I always wanted but was never allowed to have because she said red wasn't for little girls. In my teens, I started fashioning my own polka dots and stripes, then got adventurous with glitter tips. When crazy colors became the rage, I had to have them all. Nails have made my life complete," says Deanna Stelmaschuck, owner of
The Soho Studio
in Fairview, AB, Canada.
"As a tomboy growing up, I once walked by a nail salon and thought 'Who'd want to do that for a living?' Then one day, I started painting my nails on a whim, and the more I liked it, the more tutorial videos I watched online. After receiving positive feedback to images posted on Instagram, I decided to get my license. Now, there's nothing else I'd rather do full-time. Every nail is a blank canvas waiting for an artist to turn it into a masterpiece," says Jacqueline Cruz-Otero, nail technician at LifeSpa in Fort Washington, PA.
"I got my first professional manicure when I was 12 years old, and I'm still good friends with that tech. During beauty school, my passion for this industry deepened as I started doing manis for ladies at my local nursing home. I realized the impact I could have on making other people feel good," says Amalia Gallo, nail technician at Mirbeau Inn & Spa in Plymouth, MA.
"Thanks to a BFA in jewelry and metalsmithing from Rhode Island School of Design, I was able to use my creativity professionally—but my nails were always broken or raggedy, and I didn't like how my hands looked. One day, I sat down with polish and started painting skulls with crossbones and Mr. Popper's Penguins. Instantly, I was hooked. I launched a blog to document my progress. Now I do it all: layers and varying textures, heavily themed designs, cartoon characters and portraits of super-busy fashion prints," says Kelly Ornstein Zavatsky, senior nail artist at
Juniper Natural Nail Bar
in Seattle, WA.
"Being on a competitive gymnastics team as a kid meant I wasn't allowed to wear polish, but I remember going to my aunt's house and painting her nails. That's when I first fell in love with this craft. Later, I worked in TV production doing hair and makeup, until one day they couldn't find a manicurist—which is how I added 'nail tech' to my title. Now, I collaborate with my daughter Phoebe on manicures for photo shoots, awards shows and New York fashion week," says Rochelle Dingman, owner of Shear Fashion Salon in San Jose, CA.
"Toothpicks were the first tools I used to create nail designs of Frankenstein's head surrounded by little ghosts. That sparked a creative side I didn't know existed. Originally, I wanted to be a journalist, but as a side gig to pay for college I entered cosmetology. Before graduating beauty school,
I had my first nail technician job offer. I love the sparkle in clients' eyes when they consider glitter choices or look at their freshly manicured hands as if they're
made of gold," says Hannah Lippke, nail artist and corporate brand ambassador for
Light Elegance
, based in Bend, OR.
–by Francesca Moisin
[Images: top – Getty Images and each nail tech]
This article was fist published in the February 2018 of NAILPRO