This Southern California nail salon invokes the mantra "Treat Yo Self" to ensure clients have a relaxing environment.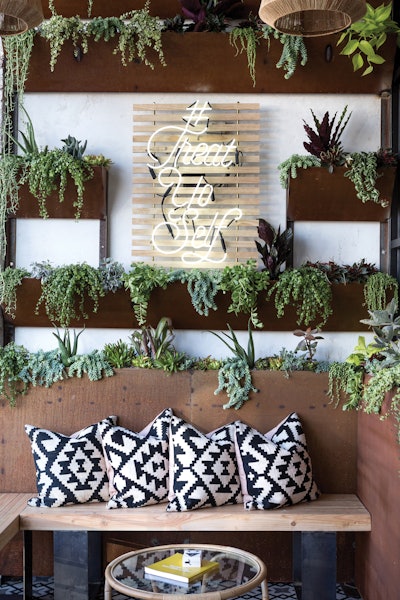 Distinction 
What really sets Base Coat apart is how we offer our services. We provide a relaxing day spa environment by promoting self-care, because at the end of the day, that's the most important thing to us. There's no rushing clients in and out of our salons like many others do; when you book with us, you know that you're coming in to relax. That's why we use the mantra "Treat Yo Self" so much—we have neon signs displaying this saying in all of our locations to remind people how important self-care is. In addition, we strive to uphold the high standards of a clean and safe nail salon environment. We know "non-toxic" is the new trendy term right now, but for us as a brand, we take overall salon health very seriously. Every day we are learning new ways to create a safer environment for our clients and staff.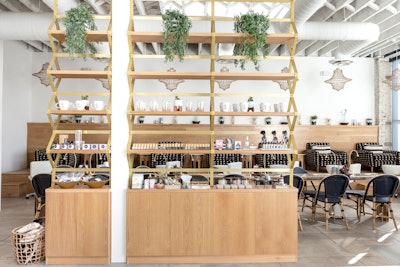 The Look 
The name Base Coat was inspired by the philosophy of our business and brand: Do simple things extremely well. This really inspired our design by stripping everything down to its raw essence. Our vibe centers on a light, minimal, chic, airy space with relaxing decor in an industrial-style setting. Our downtown salon features an exposed white ceiling, seven pedicure stations and eight manicure stations next to a long wooden table. Our show-stealing chairs are covered in African mud cloth and are displayed under modern Moroccan-inspired light fixtures and tiles. Our own brand of nail polish is displayed like an art installation on the back wall and our line of nail care products fills our custom-built brass and lightwood shelves.
Clientele 
We have a wide range of clientele, ranging from the very young 3-to-5 age group to college ladies needing a break from their heavy study load to the busy career woman who needs to unwind from the daily grind. We cater to both moms and soon-to-be moms who just need that one hour to recharge, as well as male clients who are equally in need of relaxing services.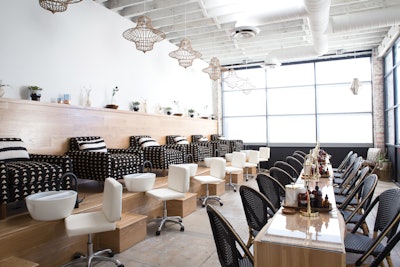 In-Demand Service 
Our most popular nail service is our signature Base Coat Mani & Pedi for $90, which includes an aromatherapy soak, nail shaping, cuticle care, sugar scrub on the feet, a hydrating cream, a five-minute hand and foot massage, followed by either our 8-free polish or natural buff shine.
The Goods 
All of our products are responsibly made, vegan, gluten and cruelty-free. Our branded Base Coat nail polish, that we sell both retail and wholesale, is comprised of 100 thoughtfully curated current and classic colors with options to complement every skin tone. We also custom-formulated a line of creams, scrubs and oils used in all of our services. These products are scented with only essential oils, contain plant-based preservatives and never contain petrochemicals, parabens, sulfates or any other harmful chemicals. We also offer Evo Oxygenating Gel from Bio Sculpture Gel.
Social Media 
Instagram is definitely our most successful social media platform. We are such a visual brand, as are nails in general, so showcasing our personality and work through this platform has been a huge success for us. We are able to gain new clients as well as connect with many like-minded, green-beauty conscious customers, nail technicians and businesses.
Praise 
Our clients always compliment us for not only providing a healthy salon option for them, but also for our relaxing spa-like atmosphere. It's been amazing to see the support, and it validates what we've been doing for the last three years.
Advice 
Owning your own business is very hard and stressful; you're constantly on, day and night.  Always trust your gut about what's best for your business and only hire people who are experts in their fields to help you grow your business—you can't do it all! Surround yourself with people who inspire you daily and, most importantly, practice self-care; it's an integral part of the success of not only your business but also your personal life. Take an hour each day to do something that makes you feel good and recharge. Remember, you cannot pour from an empty cup.
Base Coat Nail Salon Facts:
Owners: Ali Elman, Sarah Simon and Tran Wills
Year Opened: 2016
Address: 704 Mateo St., Los Angeles, CA 90021
Phone Number: 213.935.8330
Hours of Operation: Sun., 11 a.m.- 6 p.m.; Mon., 11 a.m.-7 p.m.; Tue., Closed; Wed.-Sat., 11 a.m.-7 p.m.
Website: basecoatnailsalon.com
What do you think of Base Coat Nail Salon? Let us know in the comments below!
[Images courtesy of Base Coat Nail Salon]
This article was first published in the December 2017 issue of NAILPRO