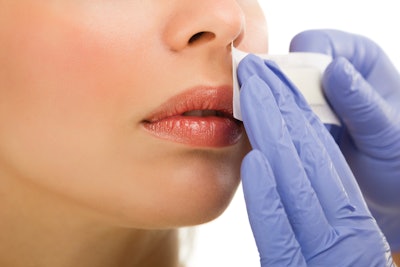 Have your salon's waxing services fallen by the wayside? If so, you could be missing out on the hefty profits they provide when properly promoted and performed. In fact, these services have shown impressive growth in recent years, with positive future potential: Last year, Inc.com reported that the personal waxing and salon industry grew an average of 7.6 percent annually between 2010 and 2015; in 2014 alone, these businesses raked in $11 billion in sales! Ready to ramp up your own waxing program? Here, experts reveal their top tips on how to provide—and promote—these stealthy but steady moneymakers.
Bring the Passion 
The first step to waxing success? Treat waxing with the same importance as other salon services, ensuring that both providers and products are on point. "All wax is not the same—and all waxers are not the same, either," notes Jen McElroy, a master esthetician, freelance brow and lash artist, and owner of Brows by JenMc in Union, New Jersey. "Most of my clients have been with me for 10-plus years, thanks to using the best wax and techniques."
At Boston-based MiniLuxe with 23 locations in Massachusetts, California and Texas, technicians use high-end products with a natural bent in everything from nail services to waxing, and customers are well-educated on their superior supplies. Hence, even though each location hosts 20 to 30 nail technicians vs. two estheticians, waxing comprises 20 percent of business—and growing—with brows and Brazilians leading the charge. "Our natural lines, such as Fur and The Perfect V, are often used in big-city spas, but we're the first in Boston to carry them, and we're in the process of making our own line [of wax] with a private-label company," explains Jillian Dean, technical esthetic director. "Also, when I'm hiring estheticians, we only bring in people who really love what they do. Enthusiasm shows—and when someone loves what they do, they're going to talk about it and educate clients."
Passion also extends to investing in education—for technicians and clients alike. For example, McElroy recommends developing partnerships with wax companies that offer ongoing expertise and training. "Continuing education is crucial to a professional's overall success," she asserts. "Don't forget to showcase your certifications and educate clients on the products and processes you implement so they feel completely confident in your skills."
Mind the Details
Let's face it: Waxing services can be viewed as less pleasant than, say, a soothing spa pedi, so it's important to cultivate an inviting, relaxing environment—and one that instills confidence in your cleanliness. At MiniLuxe, the motto is "clean, simple, beautiful," so waxing areas, from brow bars to "groom rooms," host minimal clutter and pared-down retail, sans hospital-like sterility. With soothing light purple paint as a backdrop to few pictures, elegant rose gold mirrors, and spotless white cabinets, sinks and towels, MiniLuxe's look instantly calms clients. "Another thing that sets us apart: We're very clean, with a three-step sterilization process," Dean notes. "So, even though our prices are a little higher, clients know they're not going to be 'touching' the person who came before them."
McElroy agrees that even well-trained waxers often don't mind the cleanliness of the wax pot or they may overlook the client's individual needs. "Don't double-dip spatulas, and maintain the integrity of the skin," she advises. "For example, does the client have sensitive skin? Waxing is the most personal salon service, and you must pay attention to every detail."
Well-planned design and layout can also boost bookings. For example, MiniLuxe offers brow bars in most locations, in addition to groom rooms, where body services are offered (though privacy-craving clients can request a room for any service). "You can usually see the bars from the front of the salon, and people often say, 'I didn't know you do waxing,'" Dean says. "A lot of salons don't have a brow bar, and it helps people get in and out—no one wants to sit for waxing for more than 10 or 15 minutes."
RELATED: How to Add New Beauty Services to Your Salon Offerings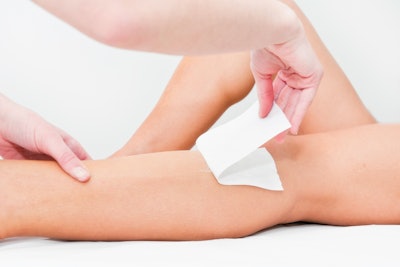 Plan and Promote
Larry H. Oskin, president of Marketing Solutions and Art Beautique in Clermont, Florida, recommends creating an annual marketing calendar for waxing services, mixing up your promos throughout the year. "Create six two-month promotional periods, starting with January/February through November/December," Oskin suggests. "Try to promote your hair removal services seasonally—before summer and winter vacation are usually best, but you can also create extra promotions for Valentine's Day, Mother's Day and year-end holidays."
Additionally, Oskin advises, you can easily promote hair removal services through Facebook posts or other social media sites (try real-life before-and-afters!), as well as on your website and through email blasts, or share advertisements and seasonal press releases with local media. McElroy agrees: "Try random waxing specials with the hashtag #WaxingWednesday," she says. "Promote a different special each week via social media, your website, text message and more." MiniLuxe also maintains a strong social media presence and sends out regular emails to announce promotions, i.e., 30 percent off waxing services.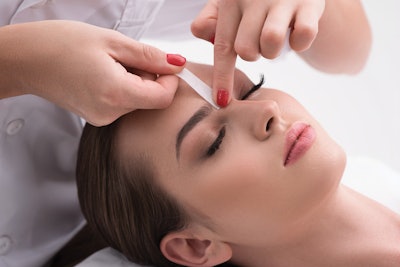 Hook New Clients
For newly opened locations, MiniLuxe attracts business with a bang: In the first week, the staff offers complimentary brow services. "When people walk in, they see nails—and they don't always know we offer waxing as well," Dean explains. "In that opening week, we'll have our waxers out on the floor offering free brow services."
Even for established salons, waxing-themed events can remind clients of this service category, and its relatively low cost makes sampling simple and profitable. For example, host a happy hour event with complimentary brow touch-ups, snacks and refreshments, plus a special offer for attendees (i.e., pre-book your next waxing service for 10 percent off). "Waxing isn't visible to your clientele when it's performed in a private room," McElroy notes. "Hosting a brow waxing event in your salon is the quickest way to transform someone's look." Alternatively, she recommends, reach new clients by offering a "buy one, get one half off" deal for friends when they visit the salon together.
Finally, don't forget about cross-marketing potential within the salon to attract new waxing clients—think promotions that provoke trial. "You can give small, well-designed gift certificates to all first-time nailcare clients, as well as to all non-hair-removal clients, for a $10 discount or a retail product gift with the purchase of their first hair removal service," Oskin says.
Tap the Power of Print
Promote waxing within the salon using window signs, front desk counter cards and station cards, Oskin advises—perhaps including tasteful images that depict great legs or a smooth-skinned body. "List all of your hair removal body and face parts with a clever headline and a simple price list," Oskin says. "You'll be surprised how many clients say, 'I didn't know you offered hair removal services!'"
Even if discounting isn't your thing, fear not; Oskin worked with a Maryland salon that simply posted signage touting "Bare Necessities—Hair Removal!" for two months, twice yearly, which consistently sparked a minimum of 25 percent to 35 percent increases in hair removal services. And don't forget the male market; on a well-designed printed menu (and on in-salon menu signs, if applicable), list all of your hair removal services for women and men. Inc.com, in fact, reported last year that $1 billion of the $4 billion men's grooming market deals with "manscaping"—i.e., hair removal services and products—so don't neglect this potentially important segment!
Finally, Oskin adds, another simple printed item can go a long way toward encouraging loyalty: a VIP Hair Removal Card. "Offer a punch card whereby clients can earn a free hair removal service (up to a certain price) for purchasing 8 or 10 hair removal services at full price," Oskin suggests. "Or offer these clients a free retail product: a bottle of nail polish, a nailcare item to use at home between salon visits or a professional skincare product." You can also offer a discount for bundle packages, i.e., prepay for nine services, get the 10th free. Waxing clients are often loyal clients; reward them accordingly! 
What are your thoughts about adding wax services to your menu? Let us know in the comments below! 
–Tracy Morin is a freelance writer and editor based in Oxford, MS.
[Photos courtesy of Getty Images]
This article was first published in the December 2017 issue of NAILPRO