The Raleigh-based features a soothing atmosphere and client centered services.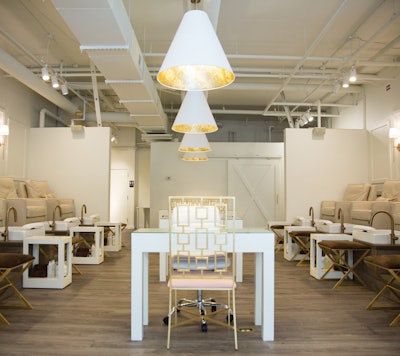 DISTINCTION
At Paintbase, we want to elevate routine nail care. We designed the salons to be stylish and comfortable, and we emphasize cleanliness. We autoclave our instruments and discard any buffers and files after one use. Customer service is also key. We have a designated desk attendant to handle checking customers in and out, we offer beverages when clients arrive and we have convenient online booking. Paintbase also has a membership option that gives clients discounts on services and retail products; our clients love it and it creates brand loyalty. Paintbase is a franchise, and we currently have three locations in North Carolina: two salons in Raleigh and one in Morrisville. We look for areas that offer convenience as well as those areas that are established or primed for growth.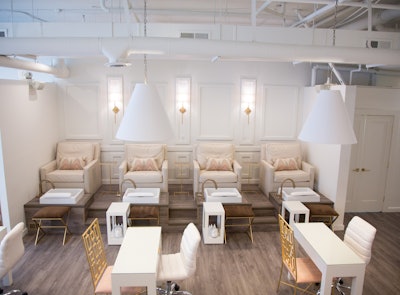 THE LOOK
We worked with the very talented team at MA Allen Interiors in Raleigh, North Carolina, to develop our decor concept. Our salon features a blush and chocolate brown color scheme with gold accents throughout, as well as gorgeous sconces, soft pendant lighting and a beautiful chandelier that adds a touch of glam. The result is feminine, but doesn't scare away our male clients.
Furthermore, exposed ceilings and white walls keep the space open and bright, and our custom pedicure chairs are like oversized armchairs that clients can sink into and relax. We knew that we wanted the space to feel comfortable.
IN-DEMAND SERVICE
We have three different service levels: The Basics, Signature and Luxe. The two most popular services are The Basics Mani and the Signature Pedicure. The Basics Mani, ($20 for regular polish; $35 for gel polish) includes light cuticle care and nail shaping, polish and lotion application. It's perfect for clients on the run. Our Signature Pedicure ($40 for regular polish; $55 for gel polish) includes cuticle and callus care, nail shaping and polish application, plus a pampering sugar scrub and massage.
CLIENTELE
We attract a lot of young professionals and moms, as well as a growing younger client base who are really into nail art and fashion. In fact, our nail art services are becoming increasingly popular, and it's not something that was widely available in our area before we opened. On average, our clients spend $45-$55 on services and visits typically last one hour. Our male clientele includes older gentlemen who are outsourcing their nail care maintenance and young men who enjoy being pampered.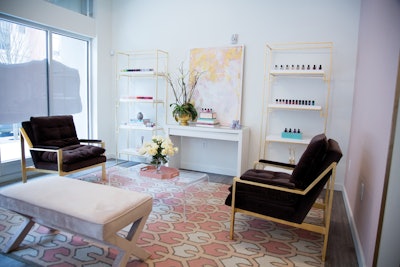 THE GOODS
We use OPI, CND, Smith & Cult, Chanel, Essie and LaPalm. We chose these products for their quality, durability and color section. We also use SugarLash for our eyelash services and St. Tropez for our tanning services; each are well-respected brands, offer quality products and have brand recognition with clients. In addition, we retail Smith & Cult products and St. Tropez's at-home tanning products, and carry other lines, including home goods by Lulie Wallace and hats by Aviate.
SOCIAL MEDIA
Instagram is our most engaging social media platform. It's a great way for us to highlight our nail stylists' talents and showcase our salons. Pinterest also lets us share new nail designs and colors—and we've found that it drives interest in our business. Images of our interiors have widely circulated [the internet] and we frequently field inquiries from potential franchisees who are excited to see a fresh nail [salon] concept.
PRAISE
We believe that there is no reason routine nail care shouldn't be enjoyable. We approached the business from a client perspective, so it's really rewarding when clients tell us that this is [the experience] they've been looking for, too.
ADVICE
Be clear on your mission, and build your brand around that concept. At Paintbase, we didn't reinvent the wheel, we just made the wheel better. We also believe that it's really crucial to play an active role in the salon. Knowing your employees and clients, managing operations and learning the industry is important to growing your business.
Paintbase Facts:
Owners:Heather Brewer & Catherine Fain
Year Opened: 2015
Address: 705 Tucker St, Raleigh, NC 27603
Phone: 919.812.2793
Hours of Operation: Mon.-Sat., 9:30 a.m. – 7:30 p.m.; Sunday, 12 p.m. – 6 p.m.
Website: paintbasenails.com
[Images: Courtesy of Paintbase]
This article was first published in the August 2017 issue of NAILPRO