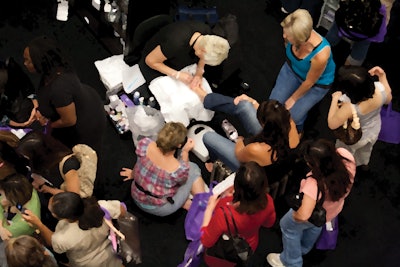 There are many ways for professionals to stay on top of the latest nail trends and techniques. In addition to manufacturer training sessions and hands-on classes held at trade shows, techs are turning to online education, YouTube tutorials or Facebook Live demos. But learning solo takes time and money, and it can be hard to practice a new technique when you can't ask follow-up questions after the class is over. To help techs stay au courant, some salons bring education in-house, hosting outside educators or enlisting the skills and expertise of senior techs. This approach is not only convenient for busy nail pros who may not have the funds or flexibility to travel to trade shows or other workshops, but it may also help hesitant techs feel more comfortable trying something new. "Being in familiar surroundings helps techs be more open-minded about learning," says Ami McClure, co-owner of ProFiles in Cape Coral, Florida. Here, expert advice on running successful in-house education classes.
Scheduling Smarts
When holding in-house training sessions, it's important to take into consideration that techs are working professionals, and the salon can't run without them. When scheduling classes, aim for days that the salon is closed or choose off-peak times to encourage techs to attend (with minimal disruption to the salon).
Amber Edwards, nail director at Mario Tricoci Hair Salon and Day Spa, with 14 locations in the Chicago area, plans one or two classes each month and schedules them on Mondays or Tuesdays when the salon is less busy. "[That way, our staff] can get their continuing education hours and not miss too much business," she says. According to McClure, ProFiles holds classes three or four times a year that include a shorter class on Monday morning before the salon opens or a full-day class on Sunday when the salon is closed. Meanwhile, Julie Tran, owner of Cosmic Beauty Nail Salon in Kapolei, Hawaii, hosts twice-yearly training to study new trends and in-house training about every two months on Sunday evenings, when the salon closes early.
Education costs vary widely, depending on the educator's day rate and whether or not the salon is required to cover travel costs. For example, since Tran's salon is located in Hawaii, which has high hotel and airfare costs due to the distance and desirability of the location, she regularly pays upwards of $2,000 to bring in an outside educator. At the other end of the spectrum, Brooke Papp, head of operations for 20Lounge in Cardiff-by-the-Sea, California, budgets roughly $150-$200 per class. If cost is an issue, some salon owners also enlist senior nail professionals to train junior techs. "Our team of techs have a good camaraderie," says McClure, who adds that ProFiles purchases a lot of product, so as a result, they often get education gratis from manufacturers.
Taking Attendance
When it comes to showing up for class, some owners require techs to attend training sessions, while others make it optional. Techs at 20Lounge are required to attend all classes. This hasn't caused any issues thus far, says Papp, as most techs want to be there. "If you're a nail tech, you're passionate about what you do and you like to learn new things," she says. What's more, since the salon doesn't use traditional pedicure chairs, in-house education allows techs the opportunity to learn in the same environment where they'll be applying their new skills.
At Mario Tricoci Hair Salon and Day Spa, the attendance policy depends on the subject matter. "Classes about a new product are required, so techs can learn [about the] product, pricing and protocol," says Edwards, adding that classes on basic topics, such as acrylic nails, are optional. Additionally, once a service has been available for about a month, Edwards might offer a
refresher course as a review—especially if a menu item hasn't been selling well. "When sales are down, it [often] means that the techs are not comfortable with the service," she says.
At ProFiles, in-house education is also optional. Since classes are held on Sundays when the salon is closed, says McClure, "It's hard to require techs to come in on their only day off." Additionally, not all classes are applicable for every tech. For example, a seasoned tech may not need to attend a basic class, while a newbie tech could be overwhelmed by more advanced techniques. With that being said, classes that provide instruction on a new service often act as an incentive. "If you don't show up for the class, you won't be able to offer the service," says McClure. Still, she estimates that 75 percent of techs opt to attend most classes. As an added incentive, techs get paid their hourly rate for attending.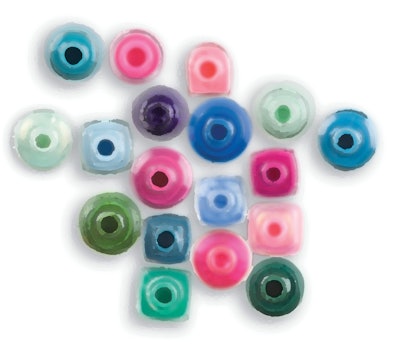 Subject Matter
When it comes to choosing what classes to hold, savvy salon owners listen to what clients are asking for as well as what's trending on social media. According to Papp, 20Lounge hosts workshops once or twice a month to address new nail art looks. "The half-moon [manicure] is so big, especially in Los Angeles, and the glitter trend is huge for us," she says. "We're also playing with different trends for glitter, stripes and reverse fades." Before booking an educator, Papp advises talking to other salon owners about the classes they recommend and why. "It's important to do your research to make sure it's a good fit for your salon and your techs," she says.
Tran agrees that helping techs stay relevant is an important part of training. "With our industry moving so fast, clients come in and ask about a nail product or trend, so we have to keep up our education," she says. "We are always doing training to keep up with the industry." For instance, Tran recently held classes for chrome and foil nail art techniques based on frequent client requests.
In the end, education not only keeps techs excited, but clients, too. "Keeping the passion alive with our techs is so important," says Papp. "[And, when we] show our clients the newest trend or how to care for their nails differently, it creates excitement." 
-Susan Johnston Taylor is an Austin, Texas-based freelance writer who has written for The Atlantic, Entrepreneur and Pizza Today.
What are your thoughts on in-house salon education? Let us know in the comments below! 
[photos: Armando Sanchez]
This article was first published in the July 2017 issue of NAILPRO