Move over video. The newest way to engage your social media audience is live streaming, or broadcasting live video via internet apps, such as Facebook Live, Instagram Live, SnapChat, Periscope, Keek (a new social video sharing app that's reminiscent of the Vine), Klik (an SMS-based video-sharing service) and more. "Live streaming is a way to further connect with your social media followers by offering up-to-the-minute, live content," says Dana Sidberry, a Charlotte, North Carolina-based beauty professional and the owner of Motivation Marketing. "Use it to give your audience a glimpse into your world." Similarly, Becky Shindell, a Philadelphia-based social media manager, describes live streaming as "moment marketing," saying, "It's showing your followers a part of your day in real time."
The social media tool is being embraced by nail techs everywhere. "[Live steaming allows] you to get more personal with your clients and helps them get to know you," says Tan Nguyen, a CND business development advisor and Conroe, Texas-based nail tech "You can also show off the character of your salon to new and potential customers." Additionally, live streaming is being used by nail professionals at events, trade shows and fashion shows, or to broadcast tutorials and product demos. Sean Martin, marketing manager for Directive Consulting in Newport Beach, California, recommends live streaming anything
that "provides a fun and interactive sneak peak into your process, company or culture." Here, expert advice for going live.
Facebook Live Video: Hand Painted Nail Art with Young Nails 
Set the Scene
Once you decide what you want to live stream, it's important to have the right setup. While it's easy to stream with a mobile phone, the tradeoff is lower resolution. Instead, opt for a high-definition camera and invest in good lighting. Once you have your setup, find a stable spot for your video device. "Don't give your viewers motion sickness," says Martin. "Set your phone on a solid surface and live stream a steady shot."
It's also important to check your WiFi connection. All manner of interferences can affect the strength of your connection and, even once connected, your device (if you're using a computer or phone) is always scanning for new WiFi networks, which can cause dips in your connection and speed—and cost you viewers. Be sure to get as close as you can to your router (even place it across the table from where you're streaming if you can) and check that the cables aren't tangled or in danger of being accidentally unplugged during the broadcast.
Most importantly, do a test run before your first stream. "Check for any sound, lighting or encoder problems, and close the other applications on your phone," says Nguyen, who adds, "Be ready 15 minutes early and stream on time!"
Facebook Live Video: How To Apply Young Nails SlickPour Powder Coating System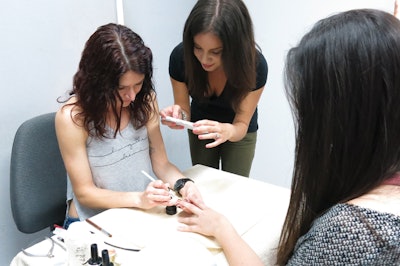 Ready, Set, Action
Once you go live, the first thing you should do is clearly state the purpose of your video, be it a demo or industry event. "Know what your objective is, and keep it short," Sidberry says. Nguyen says to make demos interesting and easy. "If you're just starting out, you won't get advanced followers and you'll lose viewers if you try to do something complicated," he explains. "Instead, go slow and be encouraging and entertaining."
It's also key to interact with viewers. "No live stream is complete without shout-outs thanking new viewers for joining," says Martin. Shindell agrees and notes the importance of allowing viewers to post questions, via the comments section, when doing a demo. "It's quick and easy and gives people the feeling they're right there with you, learning in real time."
Facebook Live Video: How To Use Wildflowers Nails Stamping Gel
Keep in mind, though, it may prove difficult to demo and pay close attention to questions simultaneously, particularly if someone posts something negative. "If possible, have someone else monitoring the comments so they can be addressed in a timely manner," says Shindell.
Experts also recommend backing up your live stream whenever possible so you can archive your files on a website or social media landing page. This way they can be accessed by viewers at any time.
Build An Audience
A successful live stream takes two—you and your audience. So, how do you decide when and where to live steam to generate the most views? According to Nguyen, the time of day is key. "Know your audience's primary time zones and target them at lunchtime and after work," he says. "Remember, most nail pros work until 6 p.m. or 7 p.m., and many are off on Sundays and Mondays."
When it comes to selecting a network, be smart about which one you use. Though Nguyen does use Instagram and Periscope, he prefers Facebook. "On Facebook, you can connect to generations X, Y and Z all at once," he says. "Facebook also allows you to save your videos, so you can go back and edit them." One drawback to Facebook, though, is its algorithms, which filter posts so that they only appear before those followers that interact most often with you. "You may have 500 Facebook friends, but chances are, you only see posts from 50 or 100 of them," explains Nguyen. "You need to connect with everyone by using your professional page to post comments to your connections' feeds regularly. That way, [more people] will see your live streams."
Shindell recommends tracking your viewership carefully. "Facebook notifies you of who's watching and allows you to track that information and send out invites for the next live stream," she says. "I also recommend promoting via email invites that prompt people to put your demo on their calendars." Adds Nguyen, "A couple of hours before you live stream, post about it." For example, Tune in at 2 p.m. to find out how to do this!" As with any branding materials, be sure to insert your logo, or other recognizable images, so viewers don't see your invitation as spam, says Ubani Samuel, a publicist and web broadcaster based in Nigeria.
And remember, you never know who's watching. "You don't know what their needs are or who they might know, so be sure to always put your best foot forward," says Sidberry. Indeed, live streaming is helping to advance the state of the nail industry, says Nguyen, adding, "It raises awareness of what we can do and how vast our fan networks are."
–By Katie O'Reilly
This article was first published in the June 2017 issue of NAILPRO.
[Images: Top image by Getty Images, bottom image by Armando Sanchez]