This Houston-based salon features an elegant atmosphere and soothing services.
DISTINCTION
Paloma is located in the Galleria/Post Oak section of Houston. The area has a high concentration of offices and residential high rises.
Our nail polish offering is unmatched, both in regards to the 5- to 10-free polishes, including SpaRitual and Dior, and the longevity of the lacquer.
In addition, we have worked really hard to set Paloma apart. We offer online booking and confirmation to clients; we don't have TVs, instead we play music that matches the time of day; our pedicure chairs are comfortable womb chairs (that clients often find themselves dozing off in!); and we use portable basins for the pedicures.
We also go above and beyond the state's recommendation for cleaning implements, and all of our lotions, creams and scrubs are certified vegan.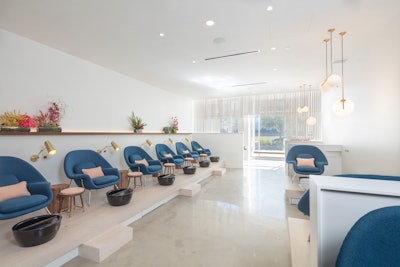 THE LOOK
The inspiration for Paloma's design is our tag line, "Escape to beautiful." Natural materials and textures, combined with refined accents, create an atmosphere that prioritizes both a healthy escape and a luxurious experience. Our brass and wood dowel veil acts as physical transition, separating the entry and reception from the manicure and pedicure stations, while also obscuring glimpses of the outside world once a client steps inside. The custom ombré wallpaper is meant to evoke a sense of seeing the sunrise at the beach. In addition, our chairs are on raised platforms, which provides [a view of the] focal points within the room as well as conversational opportunities at facing chairs. Finally, hidden platform storage and a minimal palette enforce the feeling of escaping from busy urban life.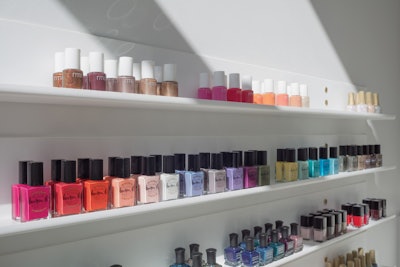 THE GOODS
Our polishes include Lauren B (we have the exclusive in Houston), Deborah Lippmann, SpaRitual, Chanel, Dior, RMS, CND Vinylux and CND Shellac. We also use SpaRitual lotions, creams, scrubs, massage oil and pedicure salts in our services. Additionally, we retail SpaRitual products as well as the Deborah Lippmann cuticle oil that we use in our services, nail strengthening treatments and a selection of nail polishes.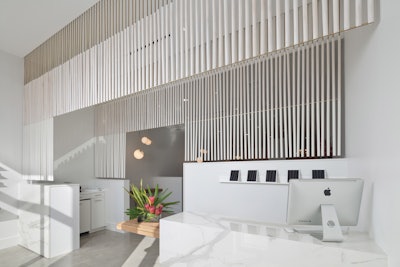 IN-DEMAND SERVICE
The Standard manicure ($30) and The Survivor CND Shellac Manicure ($55) are our most popular services. Each individual service includes polish removal, nail shaping, cuticle care, a hand massage and polish application.
ADVICE
Whether or not you have experience in the industry, don't start a business with "just enough" money—start with more than you'll need, i.e., if you think it will take $100,000 to open your business, be sure you have $150,000 in capital. Also, start recruiting nail techs as soon as possible.
SOCIAL MEDIA
Instagram is our most successful social media channel. In addition to nail art posts, many clients tell us that they come visit because of the images they see of the salon on Instagram.
THE CLIENTELE
Our customers range from 2-year-olds brought in with their moms, to young working professionals, to women in their 40s and 50s. On average, clients spend about $60 per visit and stay roughly 60 minutes. We also have male clients and many of them like that Paloma is not overly feminine.
PRAISE
The best compliment we've received is that our nail technicians like working in a clean environment, being a part of a positive and supportive team, and earning a fair income.
PALOMA FACTS:
Owner: Maryam Naderi
Year Opened: 2016
Address: 1700 Post Oak Blvd., Houston, Texas 77056
Phone: 832.516.9628
Hours of Operation: Mon., 11 a.m. – 7 p.m.; Tues., 10 a.m. – 7 p.m.; Wed. – Thursday, 10 a.m. – 8 p.m.; Fri. – Sat., 9 a.m. – 7 p.m.;  Sun., 10 a.m. – 7 p.m.
Website: paloma-beauty.com
This article was first published in the July 2017 issue of NAILPRO
[Images: Courtesy of Paloma]