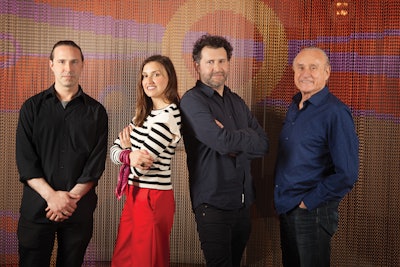 The Pink Family: (from left) Ran, Shanee, Tal and Jeff Pink.
Los Angeles-based Orly International, which recently celebrated its 40th anniversary, is looking ahead to the next 40 years through the eyes of a new generation. While founder Jeff Pink will continue as president and CEO, he has tapped his three children—Ran, Tal and Shanee Pink—to further the company's legacy and continue to grow the brand in the digital age. Ran, 42, is Orly's new content creator; Tal, 40, joined the company three years ago as digital director; and Shanee, 32, started last year as creative director. "It's a different company than before they joined," says Jeff Pink. "They are contributing to the culture, the product and the brand name, and definitely our digital media, which is very, very important." NAILPRO recently sat down with the extended Pink family to talk about the brand's new online look, the latest product launches and how Orly plans to target the next generation of nail fans.
NAILPRO: Orly has been a successful brand for more than four decades. How will you keep it relevant?
Tal Pink: Social media has disrupted the way people learn about brands and the way they connect with the ones that they love. Our big picture strategy is community building—for example, with our new Color Pass subscription service. We saw an opportunity to fill a need for people who want our seasonal collections, but who don't have a local retailer. We did a soft launch for the holiday 2016 season and subscribers got the new collection [sent to them] a month before the public. We're seeing that the first-end user is the Orly super fan and the nail polish addict. When they get the boxes, they post images and tell us how much they love it. The goal is to use Color Pass to reach new customers.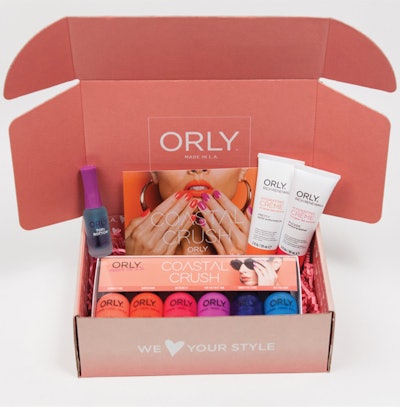 Shanee Pink: The subscription-based box really touches on the younger generation. That was a great idea on Tal's part.
TP: Thank you, Shanee. I had the idea and we pushed it out quickly because we wanted to test it. But Shanee felt we needed to elevate the look. That's where the collaboration really happens because Shanee has such a creative mind and aesthetic.
SP: I wanted Color Pass to look really fun. When you open it, there are the nail polishes, plus a little postcard to mail. As creative director, I'm bringing artistic ideas to everything that we do, from our collection shoots to our Instagram page.
NP: Shanee, can you expand on your role as creative director?
SP: First of all, I want to remind people that Orly is actually a woman. She is my mom and was the muse for the brand when my dad started it. She has her own unique style and we wanted to bring that back to the forefront of the brand: a woman who is sophisticated and elegant, yet fun with a twist. That's what I want to portray in our color collections.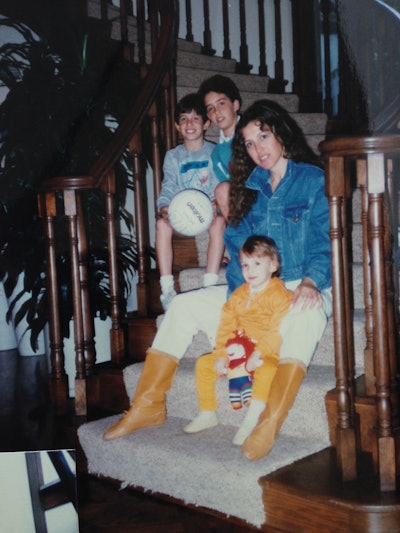 TP: When Shanee joined the company, she really wanted to reposition the brand, and the website is such an enormous part of that. We knew that we wanted to tell the brand's 40-year story and remind people of who we are and why we make our products, and the quality that goes into them. Shanee took the lead on the aesthetic.
SP: I wanted to freshen up the way we look to the world with images that pop and more nail art photos. My Dad invented the French manicure, which really is the first nail art, and we want to own that. We also want to put at the forefront the fact that we are a family business, we are a vegan and cruelty-free company, and we are made in L.A.
Ran Pink: We manufacture in Los Angeles, so we are connected to where the product is made. My father built this place and made it possible for us to have [complete] quality control. We needed to let the world know, and the website is doing that now.
NP: An online presence is so important for brands today. How do you see Orly going forward in that space?
Jeff Pink: The biggest revolution that I've seen in the industry is the digital revolution. When I invented the French manicure in the '70s, it took six years for the public in the U.S. to be aware of it. Can you imagine? Today, within a week, the whole country would have seen the French manicure!
TP: The web is like a double-edge sword. [A new idea] takes a week to get out there, but it might last only a week before something new comes out.
JP: That's right. When you introduce a new product, a week later they say "What's next?"
NP: How are you making sure consumers and professionals think of using Orly first?
RP: Take, for example, our Breathable line. Breathable was not just a new collection, but also a new formulation, and to tell that story we had to think outside the box. We know that the way most video is consumed these days is mobile, so we had to figure out how to catch viewers' attention while taking into account that most people won't have the sound on. We knew it needed to be text focused. So, we used stop-motion photography to tell the Breathable story in a fun way.
SP: Instagram has also been really fun for us. We love to search for what nail techs and artists are doing on Instagram and then we re-gram them. People are so creative and the things they do just blow our minds. We've also been doing some very fun events, including at The Zoe Report headquarters and Soul Cycle in Los Angeles as well as at Coachella. We bring in a custom color cart and people create their own nail polish color, then name and label it.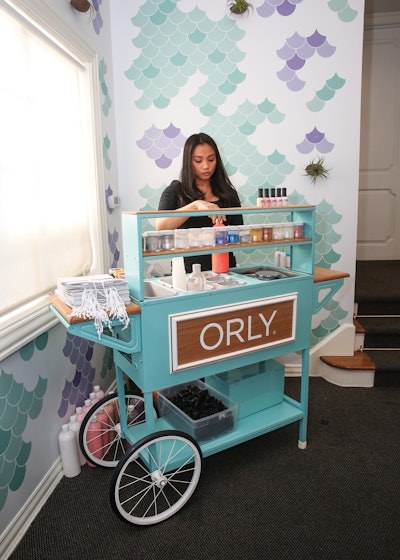 TP: It's about walking away with a color that's all about you and that nobody else has.
SP: Plus, the cart is super cute. It looks like an old-fashioned French ice cream cart, and people can see all the different glitters and the pigments.
TP: It's also an opportunity for us to talk about Orly and get people engaged. They walk away [with a custom polish] and a great story to share.
NP: It seems like you work well together. Have you always gotten along as siblings?
RP: We are very close knit.
TP: And we have all been collaborating for years.
SP: Yes, we have all been in bands together at different times. Tal and I were in a band together, and Ran and Tal played together.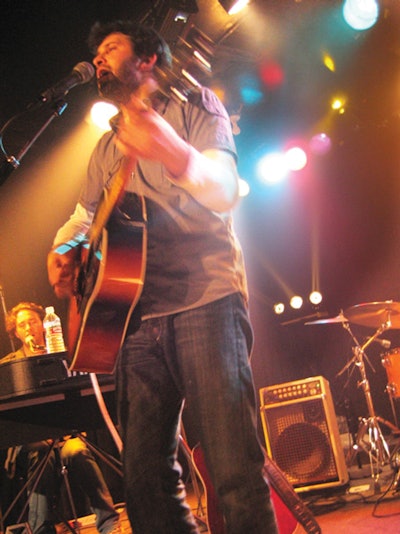 TP: If you can survive that [laughs], then you can work in any other context together.
SP: Even as kids, we got along really well and learned a lot from each other. We have a lot of respect for each other's talents. I feel like we are a really good team and we bring different things to the table. But sometimes, just because we are all very passionate about what we do, we can get into heated arguments.
TP: It's a double-edge sword with family. We won't hold back—if we feel something, we'll say it. But, ultimately, it benefits the final product or end result.
RP: We have high standards and we all want to make sure that we meet those standards. In a way, it's like having someone always looking over your shoulder—but in a good way.
NP: What new Orly products should we look out for?
SP: We have a lot of things coming up. We have more colors coming out in our Breathable line, which is really exciting because people have been asking for it. Also, in April, we launched our GelFX Easy-Off Basecoat that makes gel removal easier, faster and less damaging. We think this will revolutionize the category. GelFX is our main professional line, so we are planning to extend it as much as we can.
TP: Just as consumers are using digital to connect with brands, every piece of content we create will have a professional dynamic to it. For the release of GelFX Easy-Off, we had a teaser video that told the consumer why they should want their nail tech to use this product. The other side of that conversation is with the professional, so we have created a portal on our website just for professionals, orlybeauty.com/pro, where techs can access product and videos, and learn about upcoming educational events.
SP: When we create our products, we always have the professional in mind. Our focus is on how we can make the nail technicians' service shorter, faster, cost less and less messy. We've really figured out a lot of these things out in GelFX line, and that's what we are going to [build] on in the coming year.
TP: One thing that sets Orly apart is our focus on function as much as form. In our polish, that translates to the design of the brush and the cap and even the shape of the bottle; if you spend a lot of time as a professional using a product, these are the things you care about. We would never put out anything that looks great, but that doesn't work as it should.
SP: For example, our Gripper Cap features a rubberized texture to give nail techs more control and, most recently, the debut of our Genius Brush, which fans out perfectly for coverage at the cuticle. We really care, and this comes from my father. When he started the company, he really cared about providing something that had quality and gravitas. If you hold our bottle, you can feel the weight of the Italian-made glass.
TP: Additionally, the company was really born out of looking for solutions to problems. Manicurists were coming to my father and saying 'Do you have something that does xyz?' That conversation has always been with the professional, and that will always guide our product and design. —Jennifer Carofano
Catch our interview in the video below: 

What is your favorite Orly product? Tell us in the comments, below.
[IMAGES: (top) Photo by Jason Bennett; Courtesy of Orly]
This article was first published in the June 2017 issue of NAILPRO.