When it comes to Base Coat Salon, it truly is all about the experience. Opening its first location in Los Angeles in the Downtown Arts District, Base Coat is a refreshing retreat from the hustle and bustle of big city living for anyone looking to have a short spa moment.
In Base Coat's salon haven, the decor is bright and cheery while remaining on-trend with the up-and-coming neighborhood of the Arts District. Clients are invited to truly relax and take themselves back to the basics in the completely toxin-free environment while they sit and sip on their homemade drinks on a patio and let their manicures and pedicures dry. All of the products used in the salon are created pecifically for Base Coat, resulting in vegan friendly products including their custom eight-free polish formulated with essential oils and plant-based preservatives. Everything in the salon is safe for pregnant women and children, which inspired the opening of Base Coat in Denver. It's a wonder why Base Coat didn't open up shop in Los Angeles earlier.
We talked with the co-founders Tran Wills, Ali Elman, and Sarah Simon to discuss more about the new salon, their most popular services and more.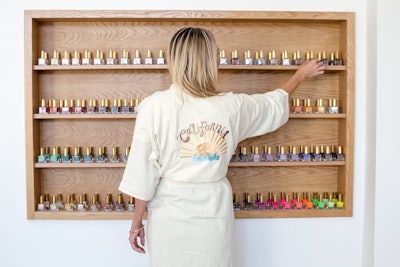 Tell us about Base Coat Nail Salon.
Tran Wills: The name Base Coat was inspired by the philosophy of the business and brand: Do simple things extremely well. A beautiful set of nails starts with a healthy Base Coat. We expect every set of nails that walks out the door to be flawless. We also demand the same of our staff, vendors and products. By stripping everything down to its raw essence we are able to deliver on the promise that the time you spend with us is the most relaxing part of your day.
Aside from its non-toxic features, what makes Base Coat special?  
Ali Elman: We really promote self-care because that is the most important to us at the end of the day. So no rushing you in and out of our salons. When you book with us, you know you are coming in to relax. That is why we use (the mantra) "Treat Yo Self" so much and (display it) in neon sign form in all our locations to remind people how important self-care is.
How can one get the full Base Coat experience?
Elman: An experience at Base Coat will always be a healthy, relaxing one. We want you to forget about the stresses of the day and literally "treat yo self." Immerse in our calm, inviting and luxurious space where you can expect modern conveniences, clean and safe products that don't sacrifice quality and unparalleled service. It's also essential that we encourage self-care, healthy and non-toxic practices in this industry, because at the end of the day what you put on your body is just as important as what you put in it. We appreciate the value of peace of mind and recognize that the difference is in the details
Base Coat Nail Salon is located on 704 Mateo St., Los Angeles, CA 90021 and will be opening a location in West Hollywood early 2017. Follow them on Facebook and Instagram.
—Dale Arden Chong
[Images: Courtesy of Base Coat Nail Salon]