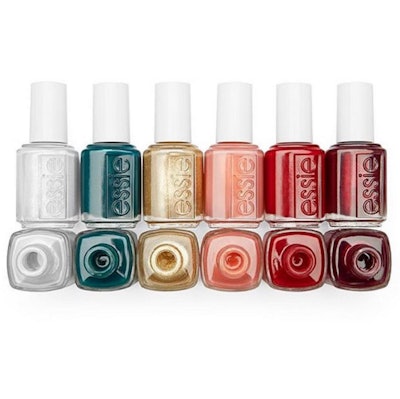 When it comes to making a name for yourself and building a brand and clientele, social media plays a key role for both your own work and inspiration. While sharing your work on social media platforms may seem easy, getting your name out there and creating a steady following can be hard to navigate.
Lucky for you, Sashanie Gray, lead educator for Essie Professional, shares her best and personal practices for nail techs to share their work throughout social media. Take a look through these tips, and try them out on your own accounts!
Let Your Social Media Reflect You
I wanted to curate a social media feed where my nail work is featured as the star player and also feature bits of my personality and personal life. I wanted to break-up the perceived monotonicity of only posting pretty nails pics. My audience is also interested in the face and the life behind the "nails." To keep my feed visually interesting, I also include posts about my travel adventures, motivational and inspirational content, as well as an occasional selfie.
Which posts usually get the most attention? Nothing trumps the pretty nail pics and videos, they still remain to garner the best response from my audience.
Know Your Audience and Post Accordingly
I utilize Facebook, Instagram, as well as Snapchat. For the most part, the content is the same but my audience isn't.
I post when the largest amount of my audience is browsing; which is normally two to three times for the day during the five-day work week. How do I know when to post? I utilize an app by the name of "When to Post." This app analyzes the activity patterns of my Instagram followers and turns that information into actionable insight.
Embrace the Power of the Hashtag
You have to love the hashtag; it is the cyber roadmap to new followers and inspiration! I addition to using my own hashtags #sashaniegraynails and #cloud9spalounge, I also use the top hashtags that are content-specific to my post.
Creating your own hashtag and listing it, points people specifically to all the posts that you've listed your hashtag under. Listing hashtags that are relevant to your post, points the audience who follow that hashtag to you and BINGO, you've got yourself exposed to millions, and hundreds of thousands of potential new followers!
For my nail pic posts I use, #nails #nailart, #instanail, #nailgasm, #nailartist, #naotd (nail art of the day) to name a few. Because my nail posts are all of natural nails, I also use #naturalnails. #gelmani, #gelart, #gelnailart, #essie, #essiepolish, #essiegel, #essielove are also examples of hashtags that I use, as the products you use and their name brands are a must to mention.
For social media inspiration, be sure to check out Sashanie Gray and NailPro on Instagram. Have any brand building tips of your own on social media? Let us know in the comments!
[Images: Sashanie Gray (@sashaniegraynails)]