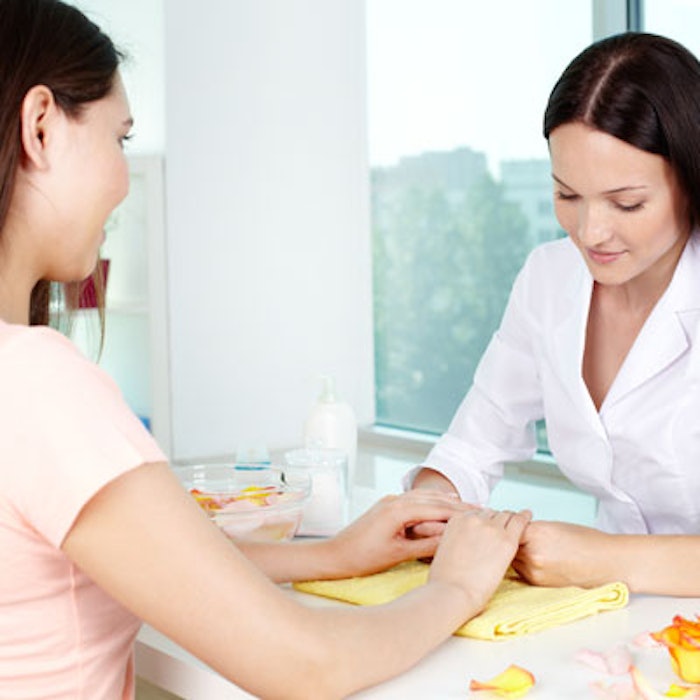 A client consultation may be the simple solution you need to ensuring your days run smoothly. Here, the importance of client consultations and the most important health-related questions to ask your client.
Consult for Results: Importance of the Client Consultation
Although it can be difficult to remember when in the throes of a busy day, many potential problems can be avoided with a simple technician-client consultation prior to a service. Yet, according to Janet McCormick, MS, educator, author and co-owner of Nailcare Academy, only about 20 percent of salons take this step. We asked McCormick to tell us the most important health-related questions to ask in a consultation prior to a mani or pedi.
Are you in the care of a physician? If so, why?
Are you aware of the presence of fungus on your nails or skin? If so, has it been diagnosed by a physician, has the area been treated and have you been released from care?
Are you pregnant and, if so, what trimester are you in?
Please circle any of the following condition that you presently have or have had: toenail fungus, diabetes I or II, circulatory disease, coronary disease, hepatitis A, B or C, thyroid condition, high blood pressure, immunosuppressive disease (the list can go on!)
And ask these two questions at every return visit:
When did you last shave your legs?
Has your health changed since we saw you last?
The answers to the above questions will affect the choices you make with regard to massage, scrubs, soaking and general handling of the client. McCormick urges techs to commit the information to paper and have the client sign to affirm that the information is correct.
Save yourself some strife by implementing client consultations prior to services to avoid potential health-related issues.
What are your thoughts on client consultations? Are they worth it or a waste of time for nail techs and/or salon owners? Sound off on Facebook!