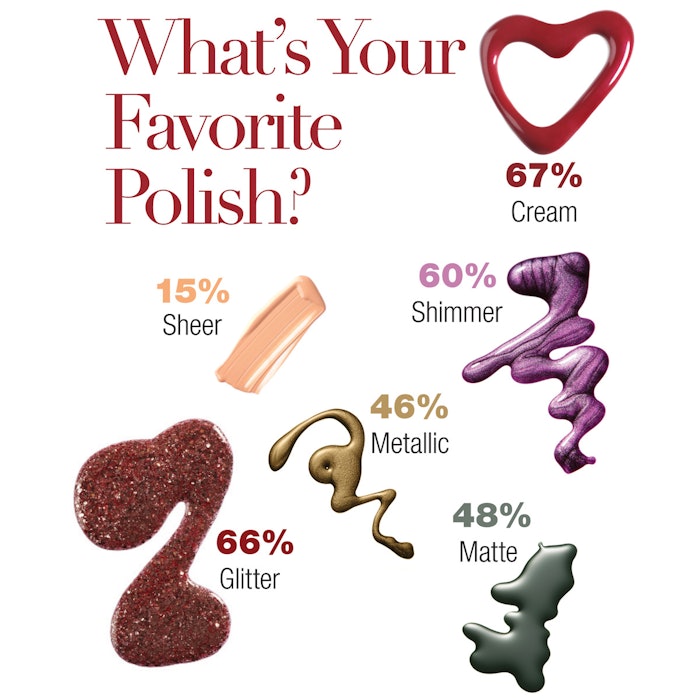 Nail enthusiasts have favorite brands and they spend money on specialty polishes. In fact, 47% look for specific brands when shopping for nail polish. 57% say salon brands are most popular followed by mass brands (18%), organic brands (15%),  and last, luxury brands (4%). Where are nail enthusiasts shopping? Superstores, including Walmart or Target (54%), specialty beauty retailers, such as Sephora or Ulta (51%), drugstores,
such as CVS or Duane Reade (39%) and online (27%).
We asked nail enthusiasts who read either NAILPRO or our sister publication Nail It! what type of polish is their favorite – and here's what they said!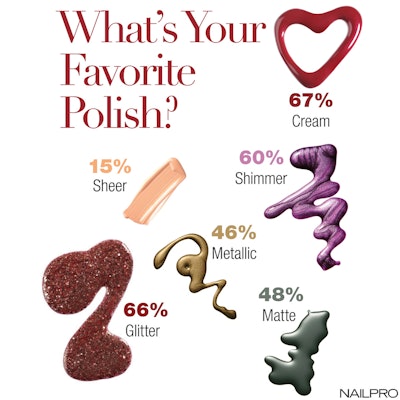 Classic cream finishes ranked the highest (at 67%), which makes a lot of sense – people want to have a lacquer that covers the nail in only one or two coats and leaves a glossy, vibrant finish. Creams are also the predominant finish in spring and summer collections – just take a look at the OPI Hello Kitty collection or CND Flirtation.
Glitter did come in a close second at 66%. Our favorite thing about glitter? You can use it to create incredibly easy nail art without having veteran painting skills. We rounded up a few genius ideas in our glitter gallery to help you get started.
Matte is also growing in popularity (they came in fourth place at 48%). We saw tons of velvety satin nails at New York Fashion Week – including this pretty sand manicure. A matte finish also works well over neon hues during the summer – like hot pink, orange, and yellow.
What kinds of polish do your clients ask for the most?
Images: Getty