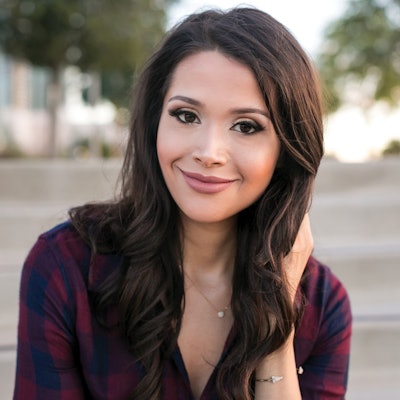 Meet celebrity nail artist Karen Gutierrez (@karengnails)! We asked her a few questions about how she got started and who she is beyond just nails!
My first job in the industry was…
A photo shoot for Nordstrom. I did six nail looks, and the photos and video came out amazing. After this shoot, I officially knew I wanted to do this for a living.
Who would you like to work with?
Victoria Beckham. I've always thought that her style was so chic. Everything about her exudes elegance and sophistication, including her collaboration with Nails Inc. She's gorgeous and has amazing nails 24/7!
What inspires you?
My city, Los Angeles. There's so much to see, from museums to the flower mart to the fabric district. If I see an interesting pattern, I stop and take pictures. I love creating nail looks from everyday objects.
My proudest accomplishment is…
Graduating from University of California Los Angeles with a bachelor degree in Psychology. Those were some of the best years of my life. I learned so much about others and myself.
Describe your perfect day.
Spending the day on my rooftop enjoying a chai tea iced latte, painting my nails and catching up on all of my TV shows.
I can't discuss nails without…
A smile on my face.
Are you a morning or a night person?
I get most of my work done in the middle of the night. I stay up late working on my nails, my website or thinking of new nail looks.
My most treasured possession is…
My 3-year-old Maltese, Nemo. He's the sweetest little dog with a big personality, and he manages to melt my heart everyday.
My favorite food is…
Pizza. I love pizza toppings, but I don't eat the bread, so I'm pretty sure everyone thinks I'm a little strange.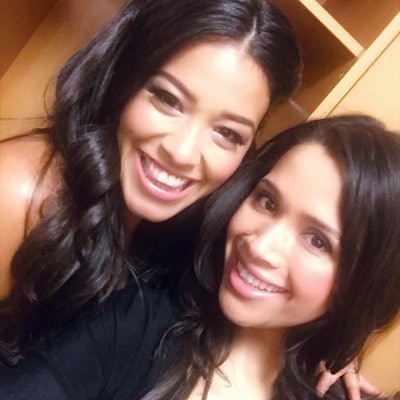 Backstage with Gina Rodriguez from CW's "Jane the Virgin."
Images: Karen Gutierrez