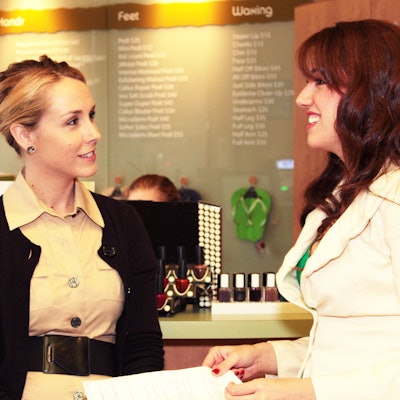 Life-changing behaviors can put you on the fast-track to business success.
What if you had a guidebook that told you exactly what steps to take to get you where you wanted to go in your business? Imagine all of the best practices laid out for you by some of the best nail techs in the industry, detailing exactly how they got to where they are now. Well, today is your lucky day. We asked several prosperous nail techs to spill the beans about the habits that helped them become the impressive business owners they are today. Read on to find out what they had to say.
Habit #1
Be Professional
As the saying goes, you never get a second chance to make a first impression. So, if you've ever wondered why a client didn't return, you might start looking at how you present yourself. "There are several key habits that I've picked up over the years," says John Hauk, award-winning nail artist and Artistic Director of Entity Beauty. "But, I think the most important habit is having a professional, positive attitude about the nail industry and your skills. You could be very talented at the nail table, but if you have a negative attitude while you're working on a client or you say something offensive, your talents might get overlooked. The same goes for when you're working for a nail manufacturer; always stay positive."
Keep in mind that presenting yourself as a professional nail technician means more than just proving to your clients that you can perform nail services. "Being professional includes your sanitation habits, skills, appearance and attitude," says celebrity nail designer and industry consultant Pattie Yankee. "Implement and follow all of your state guidelines for sanitation and carry these with you, even if you do jobs on-site. Just as important is your appearance and attitude. Clients don't want to be around someone negative, and they won't respect you as a beauty professional in sloppy sweat pants."
If you're too tired to put on a nice outfit to go to work, consider the message that you're sending to your clients. "Don't dress in jeans," says Amy Becker, owner of Masterworks by Amy Becker. "If you want to be treated like a high-end professional, dress like one."
"You'll be judged on everything with your name on it," reminds Jaime Schrabeck, owner of Precision Nails in Carmel, California. "Reach potential clients through professional quality marketing materials." Be fiscally responsible and pay your bills and taxes. Keep accurate records of all your clients, services, expenses and income, including tips. Use technology to manage your scheduling, payment processing, appointment reminders, inventory control, payroll, accounting, product research, ordering and travel planning."
Habit #2
Keep Your Area Pristine
Be honest, when was the last time you gave your nail station a good scrub down? Do you regularly sanitize all of your implements after each use like you were trained to do? "Whether it's a salon or booth, dirty or dusty stations and shelves scream, 'I don't care,'" Becker emphasizes. "It can be a daunting task, but there are easy dusters that take seconds to clean an area. Always put away and wipe down your entire workstation before you leave. Just as important, wipe down the station you are working on before every customer. Also, use an antibacterial wipe on her hands and yours before you begin."
When was the last time you read over your state board regulations—and made it a point to follow them? "Meet and, when possible, exceed your state board's regulations, particularly those related to health and safety," says Schrabeck. "A clean, organized salon environment attracts better clients willing to pay more."
Show your clients that you're serious about serving their needs by being prepared and organized when they arrive for their appointment. "Have a clean work space and arrive to work clean and put together," advises Dana Noesgaard, the Western Canadian educator for OPI Products. "Sanitation is key; have proper tools that can be sanitized and sterilized and place your tools where your clients can see them. Always be prepared at the beginning of your day for every service you provide. There should be a place for everything. If you share your workspace with other techs, talk about where you will keep your products and implements. It will make everyone's life run more smoothly."
Habit #3
Be Present
"I know it's no fun to sit at an empty nail table all day, but you should," says Shannon Chomanczuk, owner of A Polished Image in New Windsor, New York. "I did it for many years before I was fully booked. Use downtime to practice your skills, clean the salon, fold towels, watch other stylists or technicians and answer the phone. Being in the salon will show the other techs and their clients that you want the business. I gained many of my clients just by being friendly and eager." Being on hand, even when you don't have clients, will also help you formulate a structured schedule for yourself. You can begin laying the foundation of what will one day be fully scheduled days.
Time management is a big part of being present for successful nail techs. "Make sure to book the appropriate timing for your services," says Noesgaard. "When starting out, use client cards or forms to jot down which service they received, what product you used and how long the service took. This way, you can repeat the same service or tell them exactly what you did and ask them if they would like something different. I can't stress enough to beginner nail techs how important it is to work on timing. Call around to other salons to see how long their services last. Most people don't have an hour and a half to get their nails done. It's important to chat and connect with our clients, but it's more important to be efficient so we can book our days properly and make money!"
Habit #4
Value Yourself
While it's perfectly acceptable to offer appropriate gifts for referrals, nail techs should steer clear of discounting any of their services. Discounting is a slippery slope, one that's extremely difficult to get back up. "Do not ever discount your services," says Schrabeck. "Discounting undermines the value of your time, the most important factor in your pricing." Staying firm on this will benefit you immensely because it demonstrates the confidence you have in yourself and in your skill set, which will attract more clients.
Regarding yourself highly will help gain you clients because optimism and authenticity speak much louder than pessimism and fakery. Sometimes, just being open about the fact that you're trying to increase your business will inspire existing clients to send new people your way. "If everyone knows you are eager to grow your business, they will help you," says Chamanczuk. "Ask them to send their friends and family. Encourage gift certificate sales by offering a free gift with purchase, such as lotion or cuticle oil. Put it in a pretty gift bag."
Habit #5
Re-Book on the Spot
Far too many nail techs let the client walk out of the door without setting a future appointment. Successful nail techs schedule appointments for their clients months in advance, which benefits both you and your client. "Commit to your best clients by scheduling standing appointments one year in advance," says Schrabeck. "Your clients will appreciate your consistency."
"Always re-book the client before they leave the salon," says Chomanczuk. "If you let a client leave without setting the appointment, you've lost the opportunity to gain that client's business in the future. Give your clients two choices when re-booking, a morning and an afternoon choice. Do not say 'Well, I have no one booked on Wednesday.' People want to have their nails done by someone whom others want."
Habit #6
Stay Connected
Sitting at your station and waiting for clients to come to you won't do much to move your business forward. However, staying active on social networks, attending trade shows and communicating with other nail technicians in the industry can do wonders for you. "I have a website, shopping cart, Facebook account, Twitter account and other platforms," says Becker. "Regular monitoring is very important; if I don't monitor it, I lose opportunities. I also send out press releases to local media when I reach goals or receive an award or achievement."
Schrabeck suggests participating in beauty shows, networking events, competitions, online discussions and state board meetings to connect with the nail industry beyond your own salon. "Whenever I network with other nail stylists, I find out what works best for them and try some of those things for myself," says Becker. "I've also found that when I share and those things are implemented in my area, the level of nails increases."
Do you secretly admire the work of a nail tech you've seen at a trade show or on the cover of a trade publication? "Reach out and connect with technicians in the industry that you admire," says Yankee. "If you're open to their advice and wisdom, you never know where it will lead."
Habit #7
Never Stop Learning
New products and technologies are cropping up all of the time—prove to your clients that you're in the know. "Keep up to date on what's new with the current collections and products, upcoming trade shows, classes, etc.," says Noesgaard. "Nail techs love to stay in their little corner, doing what they do, and not challenge themselves. Get out there! Take a class, meet other nails techs and see what's new! The industry is evolving quickly. Being in the know and continuing your education is key to being a successful nail tech."
When was the last time you took a class? They're offered all of the time—and everywhere. It's time to stop making excuses. "Education, education, education," says Becker. "If I don't get out from behind my chair, I will work under the delusion that what I'm doing is the best out there."
If anyone knows about practicing your craft, it's award-winning manicurist Lynn Lammers. "No one who is successful doesn't practice," says Lammers. "When I started my competition career, I thought that I knew enough about nail enhancements that I could just walk into a competition and win. After a few times of having my head handed to me, I knew that I had to do something different. Once I got myself a model and started practicing regularly (every two weeks), my competition success skyrocketed. Other competitors will complain that they don't have time to practice—you can tell that they don't practice when they don't win."
Never adopt the mindset that you've learned all that you can. There's always something new to explore. "Keep your mind open to learn and adapt to new things," says Yankee. "Once you become complacent and think you have 'arrived,' you can no longer improve."
Most importantly, establish objectives for yourself and your business, and create a timeline to achieve them. "It's important to set goals for yourself," says Noesgaard. "Having something to work toward keeps us busy and working hard to achieve something new."
–  Liz Barrett
Image: Bellacures staff via SLM Photography/ Shortcuts Smarter Business Technology