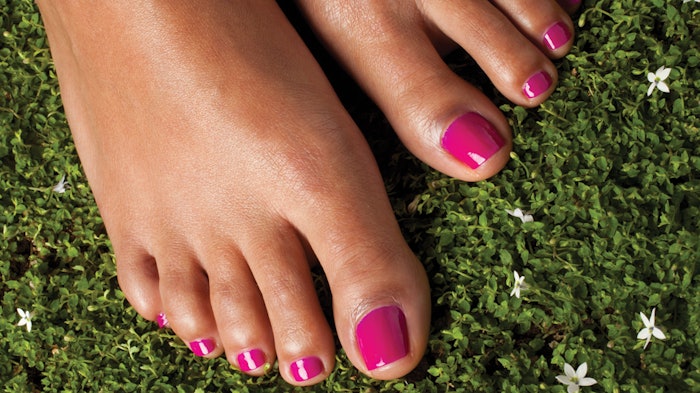 [Image: Armando Sanchez]
For most women, getting regular manicures and pedicures has become de rigueur—a treat as common as daily lattes and ordering in lunch.
Yet opting for a specialty pedi that includes extras like paraffin, aromatherapy and extended massage isn't nearly as common. But it doesn't have to be this way. Keep reading for the insider secrets that'll help you make specialty pedis a bigger part of your business.
1.) Create special pedicures that target your clients' specific needs.
 "For example, you might create a hydrating pedicure for especially dry skin and thick calluses," Shares Adeline Sarino, national director of nail services for Elizabeth Arden Red Door Spas. "You can [also] create a relaxation-focused service that soothes tired or inflamed feet with massage and reflexology."
2.) Tweak the scents of your specialty pedicures for each new season.
"We offer 'Fiji Coconut Pedis' in the summer, 'Pumpkin Pedis' in the fall and 'Gingerbread Pedis' during the winter," says Katie Cazorla, owner of The Painted Nail in Los Angeles.

3.) Get the price just right.
Kristina Saindon, a CND education ambassador in Denver, Colorado, says a good rule of thumb is to add 50 percent to your basic pedicure. So, for example, if your regular pedi costs $20, you might price your specialty pedi around $30.
4.) Incentivize employees to upsell specialty pedicures.
Cazorla runs contests among her 10 techs. "The tech that sells the most wins a $100 American Express gift card and a retail product set of her choice," she says.
5.) Make it extra refreshing.
Sure, a glass of H2O is refreshing, but an Arnold Palmer or wine spritzer adds an extra little touch that makes a specialty pedi feel even more special, says Jodi Shays, owner and founder of Queen Bee Salon and Spas.
6.) Do a 1-minute consult at the start of any pedicure.
Giving your clients a chance to talk about their concerns will help them feel comfortable and more confident in your capabilities. It also gives you a chance to mention the add-ons that will address their issues, says Sarino.
7.) Provide as much privacy as you can.
What most women are used to in nail salons is a crowded room with lots of people waiting in the wings, says Shays. If you don't have the setup for a separate waiting area, add a few curtains—and even consider adding curtains between pedicure chairs if they are close together. It'll help your clients relax and put them in a mindset where they'll be more likely to linger for a longer service.
8.) Put your special offerings front and center.
Patricia Freund, vice president of marketing for Cuccio Naturalé, recommends making a special laminated menu that lists your offerings, so that your clients can see exactly what's available—even if they initially intended on getting a basic pedicure and their feet are already soaking. You might even give clients a sample of what your specialty pedicure entails during your basic pedicure, adds Saindon, which can help you upsell next time. For example, use a little bit of the extra-luxurious moisturizing lotion or do a bit more callus softening so your client gets a taste of what she can expect during the service.
This piece was originally published by Nailpro in 2016.