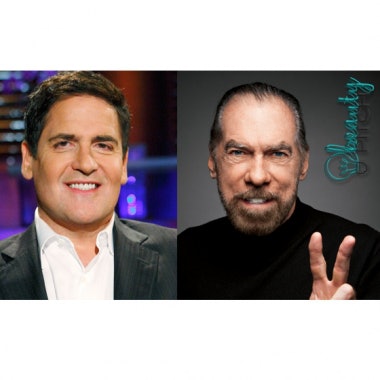 The Professional Beauty Association (PBA) and Cosmoprof North America (CPNA) are extending the application deadline for companies interested in entering the 2015 Beauty Pitch – the newest addition to PBA Beauty Week to be featured during the 2015 Business Forum.
Those interested in applying have until Tuesday, May 12 at 9 a.m. EDT to submit their pitch. The first of its kind, Beauty Pitch offers established and up-and-coming beauty or personal care product companies the unique opportunity to present to a panel of top investors including renowned entrepreneurs Mark Cuban and John Paul DeJoria. Five finalists will have the chance to pitch to the panel live as part of PBA's Business Forum on July 12, 2015, at the Mandalay Bay Convention Center. One winner will receive a one-year mentorship from Mark Cuban and/or another will receive possible funding from a reputable private equity firm.
"Due to such a positive response, we are excited to extend the Beauty Pitch deadline to May 12. We hope that this extended deadline will encourage additional beauty and business entrepreneurs to apply to pitch their ideas to our high-powered judging panel, including Mark Cuban of ABC's Shark Tank and industry legend, John Paul DeJoria," said Steve Sleeper, PBA Executive Director. "We are thrilled to be able to present this unique beauty opportunity to the professional beauty industry."      
Cuban served as the keynote speaker during PBA's Business Forum in 2014, but this year's event will be a first for DeJoria. To kick off the Beauty Pitch, Cuban and DeJoria will share their advice on business practices and answer questions from the audience with Scott Buchanan, Chairman of the PBA Board of Directors, serving as the moderator along with Neil Parmar, Journalist, Inc.com and Melissa Goldstein, Beauty & Lifestyle Director, Martha Stewart Living. The event will then be followed by a live pitch from each of the five finalists.
Beauty Pitch entries must be submitted online by May 12, 2015 at 9:00 a.m. EDT. For official rules, entry fees and details, see www.beautypitch.com/rules and follow #BeautyPitch for updates. Finalists will be selected by an internal panel of judges consisting of industry professionals, program hosts and investors. The panel of judges include Scott J Buchanan, Scott J Salon & Spa; Katie Fitzgerald, CircleUp; John Heffner, The Drybar; Harlan Kirschner, The Kirschner Group; Diane Miles, TSG Consumer Partners; Daniela Ciocan, Cosmoprof North America; and Steve Sleeper, PBA. The five finalists will be announced on May 21, 2015.
Those interested in attending and watching Beauty Pitch live will need to purchase an individual ticket to the PBA Business Forum or a package such as the PBA Beauty Week/CPNA All Access Pass and the Salon Professional Experience, both of which include admission to this event. Ticket registration is now open at www.probeauty.org/beautyweek. Tickets for the PBA Business Forum include a full buffet-style breakfast, which will be served at 7:00 a.m. Cuban and DeJoria will take the stage from 8:00 a.m. to 9:45 a.m. in the Mandalay Bay Ballroom on July 12, 2015.
[Image/video courtesy of PBA]