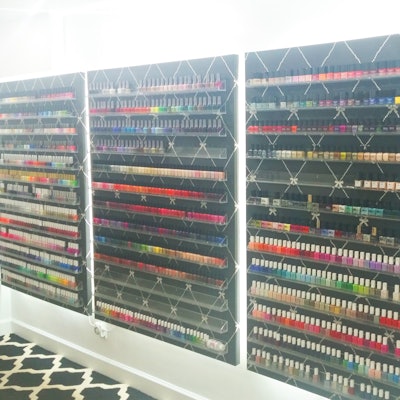 The House of Polish in Beverly Hills, CA isn't your run-of-the-mill salon. For starters, they live up to their name by carrying just about every professional lacquer brand you can think of, as well as several reputable consumer ones (like Deborah Lippmann, Butter London, and NCLA). Skyline Beauty Supply's David Ngo is the salon's co-owner – which means House of Polish receives and uses all sorts of new products before they are available to the public (or even other nail professionals).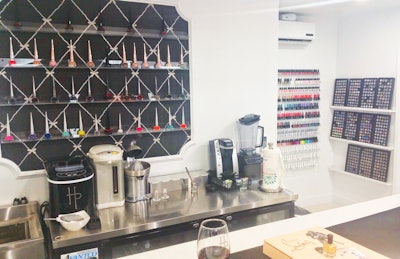 The salon has a chic illuminated interior and specialty products, including the entire Louboutin polish collection (each of the large, classic red bottles you see above are $750 a pop) and the $1 million Azature White Diamond lacquer, which sits on display behind velvet ropes.
The House of Polish isn't limited to lacquers alone – they also have an entire wall of rhinestones, mylar pieces, charms, studs, and rhinestones, most of which are from Ngo's signature Mr. Nail Art brand. When we stopped by, they even had a selection of Color Club gel polishes that haven't been released yet. In stylishly displayed jars with The House of Polish logo, you'll find a variety of scrubs and lotions to sample. Clients are offered free drinks and snacks to enjoy during their service.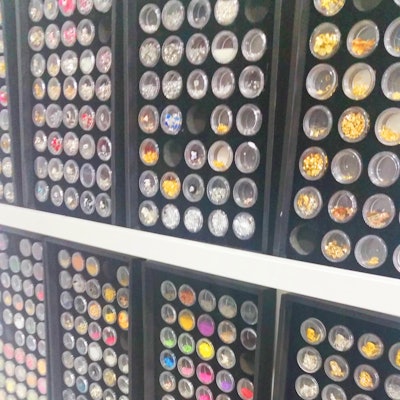 The House of Polish also has an ultra-talented staff, including award-winning artist and Co-Owner Robert Nguyen (@nailguytv), plus Chaun P. (@chaunpnails) who has done nails for Kylie Jenner, and detail-oriented Belinda Fountain (@sohotrightnail). As of this writing, they're still hiring, so if you're in the Los Angeles area, give them a call!
Even as a new salon (they opened their doors six months ago), their schedule has been packed. Their primary source of new business has been Yelp, where almost all of their 100+ reviews are five stars.
Nguyen patiently created this gel manicure for me using OPI Do You Lilac It? and a silver holographic shade from Color Club. He cut tiny geometric pieces from a gold sheet of foil and used clear gel to carefully adhere them to the nail.
See more by following us on Instagram (@nailpromagazine). Here's a sneak peek video of their polish selection.
-Sarah Emick