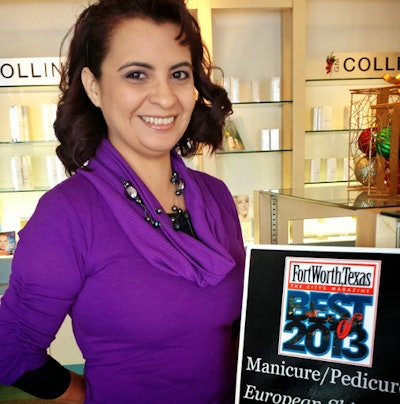 Andrea Garcia is the lead nail tech at the European Skincare Institute in Fort Worth, Texas, where she offers anti-aging services as part of her normal manicure and pedicure menus. She spoke with NAILPRO recently about what she offers.
NAILPRO: What are the benefits of offering an anti-aging service?
Garcia: By offering our clients an anti-aging, we are helping them to take care of themselves with reducing wrinkles and age spots.
NAILPRO: What add-ons do you offer?
Garcia:  At this time, we have limited anti-aging procedures such as microderm for the back of the hands or with us in the nail department, we offer a Thermal mani, which is the spa manicure with a paraffin finish. A paraffin add on w/express mani can be done as well.
NAILPRO: What ages are your clients that request it?
Garcia: We have all ages from mid 20s and on. You're never too young to take care and prevent winkles and age spots.
NAILPRO: Are there any specific ingredients you look for in anti-aging products?
Garcia: I like almond oil, avocado, jojoba, lemongrass, algae and Dead Sea salts.
[Image: Andrea Garcia]