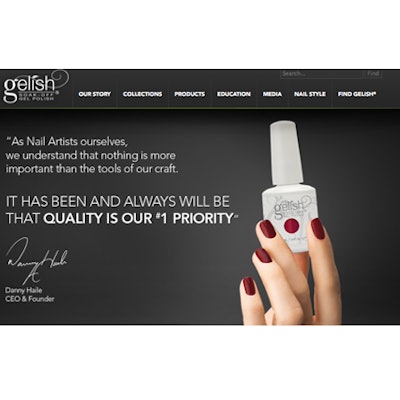 Gelish introduces a re-designed website developed with the nail professional in mind. The interactive site is complete with educational videos, step-by-step nail art and techniques, behind-the-scenes videos and detailed product information.
"We want the website to be completely interactive to provide our customers with the most recent news from Gelish," says CEO and founder Danny Haile.
The revamped Gelish website includes the following features:
• Educational and behind-the-scenes video gallery
• Digital access to newly published NAILSTYLE® magazine
• Updated salon locator
• Homepage slide show of the latest collections and news
• Seamless access to social media platforms
• Easy-to-use search engine at the top of every page
Gelish encourages all salons to register on the salon locator page so that customers interested in a Gelish manicure can easily find a Gelish salon in their area. To register a salon, click www.gelish.com/submit-your-store.
Visit the redesigned website at www.gelish.com.
[Image: Gelish]