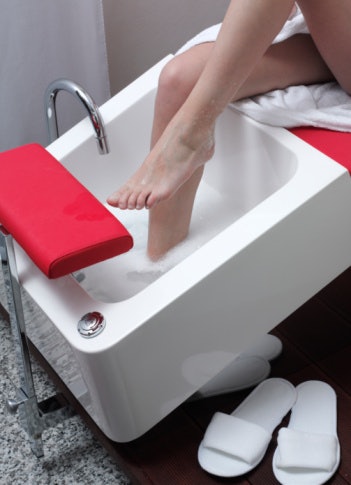 If you're looking for eco-friendly products, make sure to ask the manufacturer if they use recycled materials, recyclable materials (like plastic liners), or anything that is environmentally friendly. You can also find pedicure spas that use less water and less energy. The average pedicure spa uses 5 to 5 1/2 gallons of water; if you purchase one that has a smaller bowl or lower jets, you'll use even less!
When financing pedicure spas, try to partner with distributors or finance companies that are familiar with salons and their specific needs. At least one finance company out there adjusts salon payments according to busy and slow seasons.
Make sure to become acquainted with the exact terms of the warranty on any pedicure spa being considered; some cover labor AND parts. Some cover only parts, and some will charge shipping costs, which can cost hundreds—perhaps even thousands—of dollars over time."
image courtesy of thinkstock.com
Karen Raasch, marketing and sales director at Continuum
A new salon should try to have a build out so they can use a gravity drain. The need to buy a separate pump will be eliminated and working with gravity is easier and less expensive.
Look for features that will make the customer comfortable and the nail technician's job easier and more
enjoyable, such as adjustable leg supports, an easy-to-clean basin, and quality upholstery. Auto-fill is a great feature to consider: it fills the spa up to the proper level and the jets turn on automatically. Head supports that adjust also ensure client comfort.
There are so many different types of massage systems nowadays. Ask your clients and staff what kinds of massage are important to them.