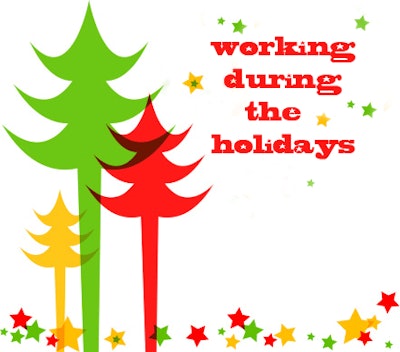 Don't be a "Charlie Browniest" just because you have to work. Lots of other people have to work during the holidays; it's easy to be appreciative of this when you're not the one on the job. Retail employees are heroes for ringing up last-minute gifts and mechanics become guardian angels for fixing car problems. But rather than be discouraged, learn to make the most of working during the holidays with the following 10 tips—you'll profit monetarily and personally.


1.
PLAN: Don't forgo a favorite family tradition just because you have to work. Call friends and family ahead of time to see if the timing of the gathering can be modified so that you can attend. If not, host your own pre or post get-together.
2.
PROFIT: Holidays are always a busy time for beauty professionals. Embrace where you are and do what you do best. Don't be surprised by the amount of women who will flock to you for services since not as many salons are open. Just make sure you market yourself.

3.
PULL IN: Offer your clients special discounts for bringing in out-of-town guests.
4.
PRETEND: Remember when you were a kid at Christmas or the very first time you saw snow? Lighten up a little by choosing to view things differently this year. Finding new perspectives is more challenging than it sounds but also the most rewarding.

5.
PERSONALIZE: Play your favorite music at the salon, wear festive clothing, decorate your station or create a special holiday-themed service that you become known for.
6.
PROVIDE: There's always someone who could use a little cheer. Furnish goodies for coworkers, donate your services at a local hospital, or contribute to your nearest shelter this year. Providing for others may help you realize the purpose already within you.

7.
POTLUCK: Organize a salon potluck for after hours. This is a great way to build your team, celebrate your hard work and not miss out on all the good food this time of year!
8.
PRACTICAL: Stay realistic. Nothing is perfect, you're not the only person in the world having to work and remember to count your blessings for what you do have.

9.
PONDER: Think of what you're not missing. When families and close ones all get together, it can sometimes remind us of whom we used to be or who we were "supposed" to become. Rejoice in the fact that this year you're marching to the beat of your own drum.
10.
PAUSE: Take a moment and remember what the holidays are really about. Just as it is silly that some women only take care of their nails for special occasions, so is it that we only practice peace on earth and goodwill toward others for a month or two.
Linus: Charlie Brown, you're the only person I know who can take a wonderful season like Christmas and turn it into a problem. Maybe Lucy's right. Of all the Charlie Browns in the world, you're the Charlie Browniest. —A Charlie Brown Christmas (1965)
—Megan James