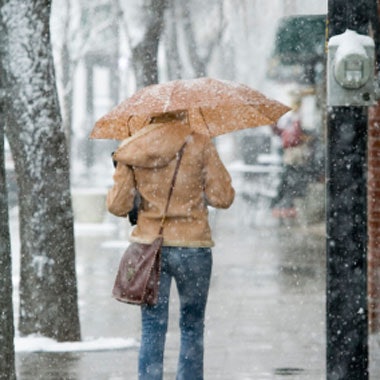 Salons across the country have had to deal with recent storms keeping clients and employees from appointments, leading to lost revenue and a slew of rescheduling efforts. However, you're not completely helpless in the face of Mother Nature—just use a few of these tips to help make up for time and money lost:
Be proactive. If you know ahead of time that a storm or other disaster might hit your area, get in action! "Watch the weather reports—if the event is three to seven days away, don't wait until the storm hits; start to communicate with your clients right away," suggests Larry Oskin, president of Marketing Solutions in Fairfax, Virginia. "Give them an extra-special incentive to come in the next day or sometime earlier to avoid a delayed appointment."
---
Post your nail art in our Users' Nail Art Galleries » and share, vote or link from your own nail art blog! Don't miss our  digital edition for step-by-step nail art » and check our website's nail art archives » for nail art you might've missed!
---
The proactive approach worked for Denise Provenzano, owner of Zano Salons in Naperville, Illinois, when 21 inches of snow blasted her area. "We started calling guests and staff a day early to anticipate and give options," she recalls. "Our staff came in early the next day, and staff members working the storm day were switched to a shift later in the week, to a day they weren't already working. Since they moved to a day before we closed the salon, we were able to recoup most of the sales lost from being closed."
Be flexible. When bad weather arrives, salon staff has to be able to accommodate guests however possible. "We're asking our general managers to look at the books very closely in the next month, to change technician schedules to shifts that have the highest utilization," relates Larry Silvestri, COO of Mario Tricoci Salons & Day Spas, headquartered in Chicago. "The technicians agreed to allow the company to change their schedules on a day's notice—she may come in early or stay late on a Saturday, or work a busy day she normally has off, or simply add hours to make up for lost time."
Also make sure rescheduling takes place as soon as possible. "Personally telephone each cancelled/postponed client immediately to rebook their appointments, so the gap between the lost visit and the next appointment is minimized," says Oskin. "You might even offer your VIP clients a free service (such as a deep-conditioning treatment with cut) or a discount ($10 off any $20 retail purchase with service purchase) if they rebook for the very next day."
Harness technology. Many salons have found that contacting their clients through texting and social media has made all the difference during inclement weather. Steven L. Marvin Salon in Holt, Michigan, ran Facebook promos such as half-off facials for one day only. "Despite the weather, we had a lot of people come in that day!" reports owner Steven L. Marvin. John A. Lauricella, president and founder of Capello Salons & Day Spa, with three locations in the Buffalo, New York, area, utilizes salon software to send out email and text blasts that urge clients to come in on bad-weather days.
Cheryl Kelley, salon manager and nail tech at Mr. Carl's Hair & Nail Design in Somerset, Massachusetts, is trying to recoup lost revenue through joining Constant Contact, sending out email specials and information about in-salon happenings, and posting on Twitter and Facebook. "We find that people are always on their computers or phones, so staying in contact with them seems to work," she explains.
Say thank you. For those clients who are braving the weather to come in to your salon, why not offer a little something extra? Tammie Lawson, owner and nail tech at Perfect 10 Nails in Burlington, Kansas, offers her cold-weather clients a paraffin dip to warm their hands. Oskin suggests providing free seasonal nail art with a mani-pedi combo, or free hot cider or cake for guests.
Bonnie Canavino, president of Red Cherry Certified Organic Labs in Park Ridge, Illinois, suggests creativity and quick action when rewarding clients: "Open just for rebooked clients on a specific evening or day; create a joyful winter celebration and offer added value. Call your vendors and ask for free small-size products to give each client, or offer extended massage on manis and pedis." She adds that you can even cross-promote by asking a local restaurant to bring in some food and offer dining coupons to clients. –Tracy Morin [Photo: iStockphoto.com]