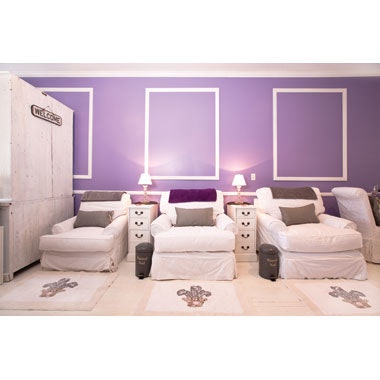 TV Guide Network is giving you a reason to tune in to its first original docu-soap set in a nail salon! The candid and effusive owner of The Painted Nail, Katie Cazorla, stars in the upcoming reality show The Nail Files. Created and produced by Sally Ann Salsano and 495 Productions, masterminds of Jersey Shore, the six-episode series will follow Cazorla and her star-studded salon.
"The Nail Files is a perfect fit for our audience, as it takes viewers on the star-powered fast track of Katie's life of luxury, love and entrepreneurial adventures," says Diane Robina, executive vice president of programming and marketing at the network. Tune in for the premiere scheduled to air mid-2011.
The Sherman Oaks, California-based salon also recently launched a product line-in partnership with Nubar that includes 18 shades of nail lacquer, organic sugar body polishes, shimmer crèmes and organic cuticle treatment oil. It looks like Cazorla is really on a roll!
---
Post your nail art in our Users' Nail Art Galleries » and share, vote or link from your own nail art blog! Don't miss our  digital edition for step-by-step nail art » and check our website's nail art archives » for nail art you might've missed!
---