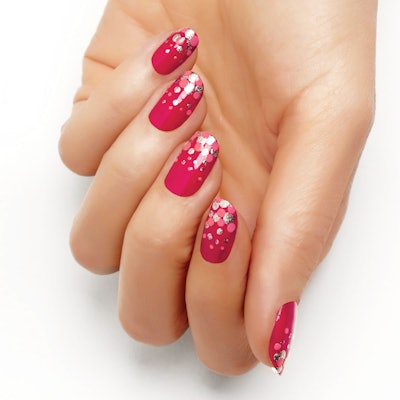 Fall and winter demand seductive shades: pinks, berries, reds. Essie shares how to create a festive dotted manicure that looks just like a glass of Cranberry Fizz. Note:  this look best served with champagne.
Step 1: Hydrate with Apricot Cuticle Oil.
Step 2: Clean then prep nails with an Essie base coat.
Step 3: Apply 2 coats of Double Breasted Jacket and let dry.
Step 4: Using a toothpick, bobby pin, or dotting tool dipped in Jiggle Hi, Jiggle Low, apply graduated dots at the tip of the nail.
Pro tip: begin with the largest dots at the tip, and finish with the smallest dots tapering off at the middle of the nail.
Step 5: Repeat step 4 with Bump Up the Pumps, overlapping the dots at the tip.
Step 6: Shine + seal with an Essie top coat.
[Images: Essie]