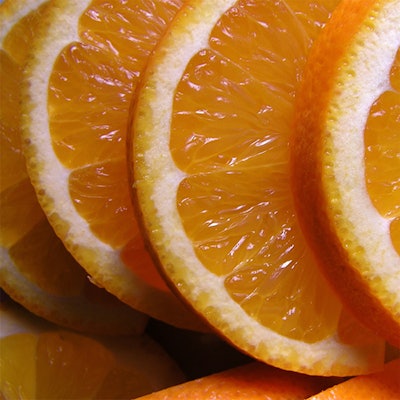 Kick-start summer in your salon by infusing invigorating citrus treatments into your pedicure services.
When you think of citrus fruits, you may think of summertime fare—adding ripe, juicy oranges to your picnic dishes, making fresh-squeezed lemonade and garnishing your chilled cocktails with fresh lime slices. But have you thought about putting a splash of citrus into your pedicure services? Not only are lemons, limes, oranges and grapefruit the perfect addition to summer recipes, but they also provide a number of benefits to the skin—and the spirit—when added to foot care products.
Due to their acidity, citrus fruits are effective skin cleansers. Their juices have antiseptic and antibacterial properties, meaning they destroy germs, inhibit the growth of microorganisms on the skin and reduce the possibility of infection. The juices and scents of citrus fruits can also have an energizing, uplifting and refreshing effect on a person's skin and mindset. So as you start to gear up for warmer days, try introducing some citrus pedicure options into your service menu. The purifying, revitalizing results from citrus-themed treatments are the perfect antidote to tired feet, and a great way to welcome summer cheer into the salon.
Custom-Made Citrus Products
Provide clients with a unique citrus-themed service by creating your own citrus products! Your clients will love receiving a customized product and service that is all-natural, fresh and made just for them. Here are a few basic recipes for homemade pedicure products that will give your clients' feet an invigorating treat. Look for these ingredients at grocery stores, natural markets and drug stores.
Refreshing Citrus Soak: Dissolve 6 tablespoons of epsom salt in a pedicure tub filled with warm water. Mix in two or three drops of any citrus essential oil, as well as fresh lemon, lime and orange slices.
Purifying Grapefruit Scrub: Combine 1 cup of sugar, 1 cup of olive oil and four drops of grapefruit essential oil, as well as the juice and pulp of half of a small grapefruit.
Moisturizing Orange Mask: In a food processor, pulse 1 cup of rolled oats until it becomes a fine powder. Combine the oat powder with 1/4 cup of food-grade cocoa butter, 4 tablespoons of honey and the juice of half of an orange.
Soothing Lime Lotion: Add three or four drops of lime essential oil to 12 ounces of your favorite unscented lotion or cream. For a soothing massage lotion, also add 2 tablespoons of olive oil.
Invigorating Lemon Mist: Pour 1 cup of distilled water, 1/4 cup of vodka, 1/2 teaspoon of tea tree oil, two drops of lemon essential oil, and 3 teaspoons of fresh lemon juice into a spray bottle. Shake contents to combine.
Experiment with these ingredients until you reach the textures, consistencies and scents that you desire. Feel free to swap out or blend citrus fruits and oils in each recipe, replace the olive oil with jojoba, almond or grape seed oil, or try introducing a drop of energizing peppermint essential oil into the mix.
Though you should have fun experimenting with your recipes, there are a few things you should keep in mind when creating homemade pedicure products. First, essential oils are concentrated and potent, so be sure to use them sparingly, measuring drop by drop. Never apply undiluted essential oils directly to the skin; doing so could cause irritation. Also, because these recipes contain natural ingredients, most of them are not suitable for long-term storage.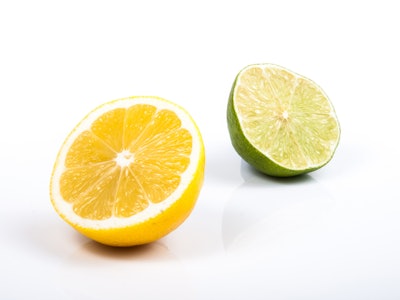 Service with a Slice
Whether you choose to create your own homemade products or choose to purchase citrus-infused products, your clients won't be able to resist this juicy summer service. Follow the steps below to perform an uplifting citrus-themed spa pedicure!
1. Offer your client a citrus beverage upon arrival. Try adding some club soda to lemonade or grapefruit juice for a fizzy pick-me-up.
2. Make sure all of your equipment and surfaces are properly cleaned, sanitized and disinfected. Spray your hands and your client's feet with citrus-scented sanitizing liquid or gel.
3. Soak your client's feet for 5 to 10 minutes in a cool or warm footbath with citrus bath crystals or foot soak.
4. Smooth your client's calluses, push back her cuticles and file her toenails.
5. Exfoliate your client's feet by rubbing them with a foot scrub that contains citrus. Rinse off the scrub and remove any remnants with a damp cloth.
6. Spread a citrus foot mask over your client's feet and ankles. Wrap each foot in a towel or pedicure sock. After 5 to 10 minutes, remove the foot covering and wipe off the mask with a warm, damp towel.
7. Perform a foot and ankle massage with lotion or massage cream containing citrus.
8. Prep and then polish your client's toenails with a lacquer that's the color of lime, lemon, orange or grapefruit.
9. After the polish dries, finish the pedicure by spraying your client's feet with a citrus mist or spray.
Personalize this revitalizing citrus service to meet your clients' needs. For example, create "citrus refresher" mini-services for clients who don't have the time or money to indulge in spa pedicure services. Or combine the service above with a citrus spa manicure to create a pampering "citrus escape" package. After experiencing your citrus services, your clients will leave the salon feeling refreshed and ready to jump feet first into summer!
– Olivia LaBarre