Silver sparkle isn't exactly a staple on the Spring/Summer runway – so these holiday-esque French tips stood out at Fashion Week. For Alon Livne, futuristic fashion inspired manicurist Holly Falcone for Kiss Products, Inc. to design a chrome manicure using well-defined lines. She simplified the process for herself quite a bit by using imPRESS nails to quickly give each model lengthy tips backstage. Here's how to get the same look:
You'll need to imPRESS Press-On Manicure by Broadway Nails in Vexed & Vicious and KISS Nail Artist Paint & Stencil Kit in Gala.
Step 1: Select the correct size imPRESS medium length nail to fit each nail and set them aside in order.
Step 2: Prep nails with the prep pad to remove all oils and lightly buff around the cuticles.
Step 3: Peel off and press on imPRESS nails.
Step 4: File nails, tapering to a point at the tip to create the desired pointed almond shape.
Step 5: Paint over the white French tip on the imPRESS nail with the KISS Nail Artists Paint in silver, leaving a thin white line at the top.
Step 6: Finish with KISS quick dry top coat and all to dry.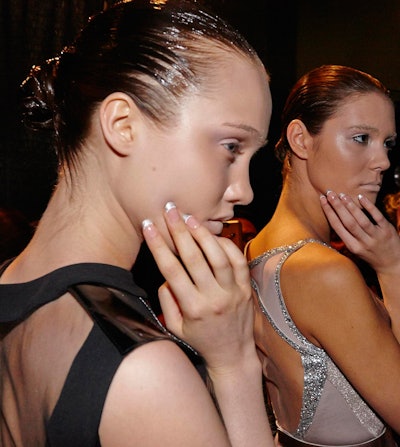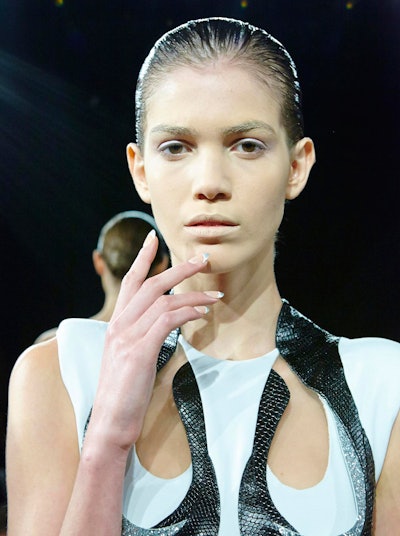 [Images: KISS Nails]