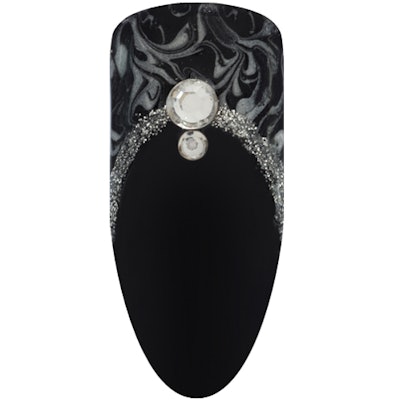 Nail artist Christian Mans with Bio Sculpture Gel used monochromatic black and white paired with rhinestones and glitter to create this elegant design. See how to do it step by step.
Step 1: Apply a layer of clear gel and cure for two minutes in a UV lamp.
Step 2: Apply a layer of black #2017-Licorice on the entire nail, and cure for two minutes.
Step 3: Apply a second layer of black soak-off gel on the nail, but don't cure.
Step 4: Using the Bio Sculpture Gel Dot and Swirl tool, place three or four small dots of white #2001-Silky Satin above the smile line. With the swirl part of the tool, marble the black and white gels together. Cure for two minutes.
Step 5: Use a nail art brush to paint a line a silver glitter mixed with clear gel along the smile line; cure for two minutes.
Step 6: Apply a thin layer of sealer gel (or equivalent in your system) on the entire nail and place gems.
Step 7: Finish with a finishing gel or top coat for shine.
[Courtesy of Christian Mans]