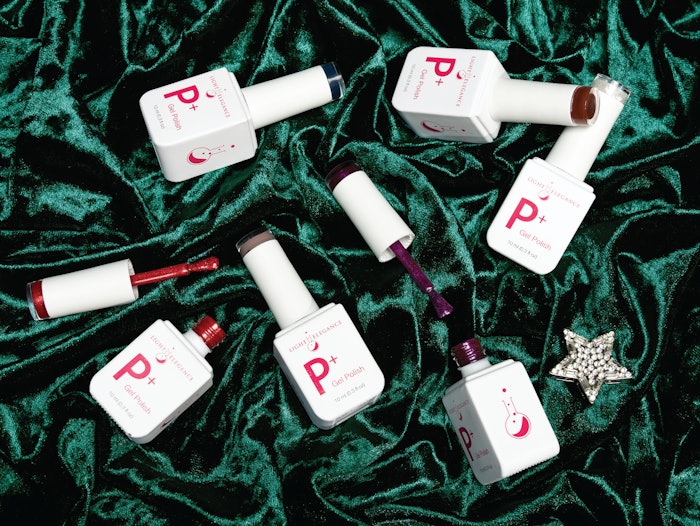 Courtesy of Light Elegance
Light Elegance has launched its new Winter 2024 collection: The Broadway Show. 
Make your nails the star of every winter soirée with fabulous new winter shades that will make your nails take center stage. The collection is inspired by the glamour, drama and dazzling elegance of Broadway.
The collection includes six new gel colors and six glitter gels: 
Break a Leg: This beautiful silver sparkle sits on a shimmery white background. The frosty white shimmer is extremely festive and will take you through all your holiday parties.
Curtain Call: A winter red filled with lots of tiny gold and red sparkles that sits on a bright raspberry red background.
Dress Rehearsal: A creamy, dark denim blue — or you could call it a muddled navy  —  that is wearable for any occasion!
Please be Seated: A deep chocolate, brick brown that has just a touch of red to make it creamy and luscious.
So Dramatic!: A vivacious purple plum that has small and subtle fuchsia shimmer that dances throughout. Rich, sophisticated and fun! 
Take a Bow: A creamy, taupe mauve that is a beautiful neutral with a touch of purple and grey undertones. Not really a purple, not a grey, but the perfect blend! 
All Eyes on Me:  This icy silvery lavender glitter is perfect for the cold winter nights!
Bravo!: A Christmas tree green with flashes of sparkly iridescent glitter.
Everyone's a Critic: This glitter is filled with fuchsia, red, green, blue and gold — a true party on your nails!
She's a Star: A soft and sweet, pink glitter filled with lots of iridescent pieces that dance.
Standing Ovation: The opaque blend of blue and green makes this perfect mermaid glitter.
Tough Act to Follow: A midnight blue and purple glitter with fun, iridescent pieces throughout. This glitter is perfect for putting over the top of a color— try it over blues, greens and black!
The collection is available in ButterCream, P+ Gel Polish, P+ Glitter Gel Polish and Glitter Gel. The polishes can be purchased separately or together in a bundle. 
You can preorder the collection on Light Elegance's website. It will be available on Monday, November 13.