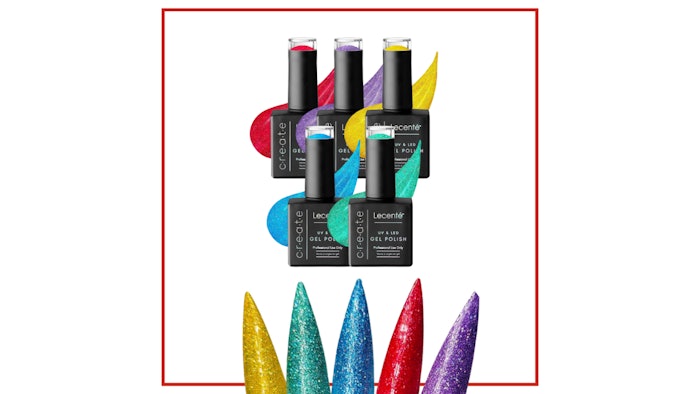 Courtesy of Lecenté
Nail professionals, get ready to add some festive sparkle to your clients' manicures with Lecenté's latest launch: The Christmas in Colour Collection.
This collection is set to launch on Monday, November 6 and is an absolute must-have for the holiday season.
Boasting an array of five glitter gels, each with their own unique shade and sparkle, this collection will make any client feel absolutely stunning. 
Whether your clients are after traditional Christmas-inspired looks or something playful and fun, The Christmas in Colour Collection has them covered.
Not only is this collection perfect for creating festive party looks, but it also offers endless possibilities for creating fun and whimsical holiday styles, as well as sophisticated and elegant manicures.
This easy to shop collection includes: 
Candy Cane Lane: red glitter polish 
Party Popper: yellow glitter polish 
Ice Queen: blue glitter gel polish 
Tinsel Town: purple glitter gel polish 
Holly Jolly: green glitter gel polish 
The collection is available now on Lecenté's website.