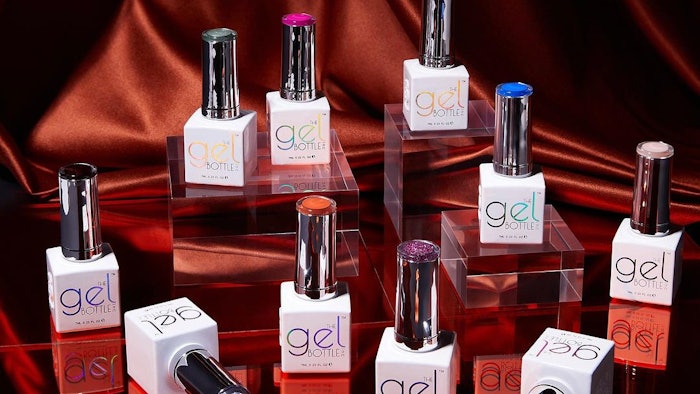 Courtesy of The GelBottle
It features 10 must-have gel polishes for Autumn/Winter 2023, launching alongside seven NEW highly pigmented chromes.
With Glamourati, the brand takes you from the vibrant blue of Anthem to the deep red of French Kiss, and the metallic sage of Liquid. The collection also includes two new ultra-modern flashing glitters, Disco and DecaDance, which are sure to add a touch of glamour and sparkle to any mani treatment. 
The collection includes the following colors: 
Crush: A pink gel truly unlike anything else. Bright, beautiful and vibrant, you're cordially invited to celebrate the finer things in life through the fuchsia-tinted glasses of Crush.
Liquid: In a world where everyone else blends in, dare to be different in a haze of metallic sage. Go with the flow, be bold and go with Liquid.
French Kiss: Set your world on fire with classic red gel nails to impress. Sophistication and finesse in a vision of striking, sexy red burgundy that bids adieu to the conventional with a French Kiss.
Decadance: An instant icon, this entrancing purple reflective glitter gel polish instantly captures the attention of everyone, day or night.
Precious: A bold yet delicate statement, inspired by the brand's Dolly BIAB. Open the door to a world of opulence and luxury — celebrate everything exquisite with the pale and pink gel polish... Precious.
Anthem: A vibrant and energetic blue gel polish that's unique to the range — it's the perfect accessory for those wanting to stand out. Get attention and evoke a sense of power and freedom with Anthem.
Savage: Stand out from the crowd with a flurry of rich Olive green on your nails. Be the first one on the dance floor and the last one to leave — be fierce, be independent… be Savage.
Disco: Are you ready for a euphoric '70s extravaganza? This reflective blue-purple glitter gel captures a true 'disco' vibe and is the ultimate companion for a glamorous night at the Disco. 
Bubbly: Taking inspiration from bestselling Baby BIAB, this ultra-chic pink gel polish invites you to mingle with the world's Glamourati. Introducing — the one and only — Bubbly.
Ignite:  An enigmatic burnished orange to light up the darkest night and earliest morning. Deep, rich, and utterly elegant. It's time to inject a fiery passion to your looks with Ignite.
The collection is available now in 20mL bottles and MINI sizes on The GelBottle's website.