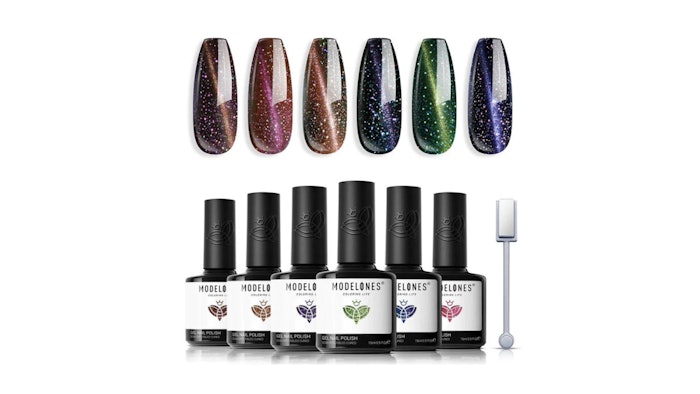 Courtesy of Modelones
Explore the celestial beauty of the night sky and bask in the radiance of the stars with Modelones' Celestial Shimmer 6-color cat's eye gel polish set.
Each of these mesmerizing shades will take you on a cosmic journey. From the deep Nebula Glint to the sparkling Mauve Mirage, every hue is infused with the magic of a cat's eye, leaving your nails shimmering like constellations.
Whether it's for everyday wear or a special occasion, this set adds a touch of celestial beauty to your nails. With Celestial Shimmer, you'll have a stellar and unique nail adventure every day.
Features:
Long-lasting: Up to 3 weeks+ of stay-true color and shine-intense wear.
Fast-drying: Cures in 30 seconds under an LED lamp or 60 seconds under a UV lamp.
Easy to Apply: Suitable for both home users and professional nail technicians.
Safe & Certified Health: 11 Toxin-free ingredients, no harm to your nails.
The six polishes included in the set are: 
Rose Quartz: Get ready to be entranced by the soft, mesmerizing beauty of Rose Quartz cat-eye gel polish. This delicate blend of rose and pink exudes a sense of romance and charm. Your nails will reveal a hidden depth as they catch the light, leaving you with an alluring and dreamy look. Let your nails whisper a tale of elegance and love with Rose Quartz.
Amber Glitz: Shine with the golden allure of Amber Glitz, a mesmerizing cat-eye gel polish. Its warm, golden hue is perfect for adding a touch of elegance to your nails. The cat-eye effect creates an entrancing play of light, revealing a rich and luxurious shimmer. With Amber Glitz, your manicure will exude opulence and timeless beauty.
The Wizard of Oz: Step into a world of enchantment with The Wizard of Oz cat-eye gel polish. This vibrant green hue captures the essence of emerald cities and magical adventures. As light interacts with your nails, they will showcase a captivating, ever-changing sparkle that's as enchanting as Dorothy's journey along the Yellow Brick Road. With The Wizard of Oz, your nails will be your own Emerald City.
Plum Velvet: Immerse your nails in the regal allure of Plum Velvet, a captivating cat-eye gel polish. This opulent shade, reminiscent of rich plum velvet, adds an air of sophistication to your manicure. Let the cat-eye effect dance like moonlight on your fingertips, revealing the deep, mysterious beauty within. Elevate your nail game with this luxurious choice that speaks of elegance and glamour.
Mauve Mirage: Dive into the enchanting world of Mauve Mirage, a cat-eye gel polish that shifts between blue and purple. As the light dances across your nails, it unveils a captivating iridescence reminiscent of a dreamy twilight sky. This shade takes your manicure to a whole new level, making your nails the center of attention with their mystical and mesmerizing beauty.
Nebula Glint: Explore the cosmic beauty of Nebula Glint, a cat-eye gel polish in a rich grape-purple shade. Like distant galaxies, the cat-eye effect reveals hidden depths and a radiant shimmer. With Nebula Glint, your nails become a celestial canvas, capturing the enchanting allure of the universe and adding a touch of cosmic elegance to your manicure.
The collection is available now on Modelones' website.