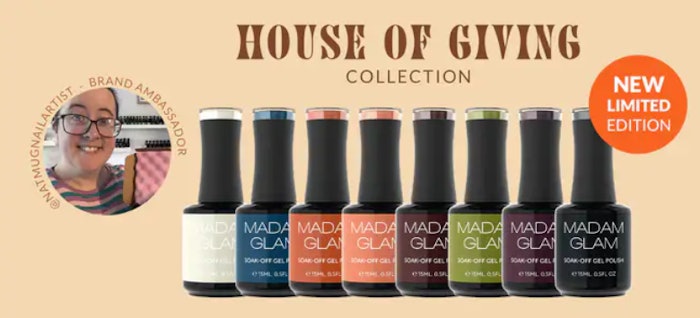 Courtesy of Madam Glam
As November paints the world with the warm hues of autumn, let your nails be a canvas for nature's beauty and the spirit of gratitude.
Embrace the essence of the season with the House of Giving Collection from Madam Glam in collaboration with Natalie Mugridge (@natmugnailartist). 
This November, Madam Glam and Mugridge joined forces to celebrate the new Thanksgiving collection. Ground yourself in color with the House of Giving Collection — a down-to-earth palette inspired by the healing colors of nature, Thanksgiving and the power of gratitude. 
The collection includes eight soak-off gels: 
Divine Glam: Achieve divine beauty with this glamorous nail polish. Its creamy finish and dark shade add an ethereal touch to your manicure, making you feel like a goddess.
Astro-pie: Indulge your sweet tooth and your love for astrology with this delightful gel polish. Its playful name and warm, pie-inspired color make it a fun and delicious addition to your nail collection.
Purple Era: Transport yourself to an era of elegance and sophistication with this regal purple creme gel polish. Its timeless charm and rich hue will elevate your style to a new level of glamor.
Astral Projection: Take a cosmic journey with this otherworldly nail polish. Its dark-blue hues evoke the vastness of the universe, allowing your nails to shine like distant constellations.
Scorpio Season: Embrace the intensity and mystery of Scorpio with this captivating color. A deep, sultry shade that captures the essence of this enigmatic sign, making a bold statement.
Milkyway: Dive into the cosmic depths with this mesmerizing color. A dreamy, milky white shade that adds a touch of celestial elegance to your manicure.
Pure Nature: Connect with the earth's natural beauty using this earthy, calming gel polish. Its serene shade brings the tranquility of nature to your fingertips, creating a sense of peace and balance.
Autumn Aura: Capture the essence of the Fall season with this unique shade. A peachy shade that reflects the power from within, wrapping your nails in a comforting aura.
The collection is available now on Madam's Glam website as a bundle or sold separately. 
⁠