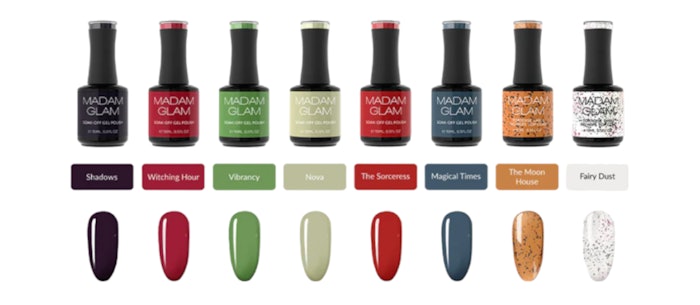 Courtesy of Madam Glam
If you can't get enough of Halloween and Spooky Season polishes, Madam Glam's House of Mystery Collection with Ginger Sparks will be perfect for you! 
Get ready to be bewitched by the new ensemble of colors, crafted for the season of magic, Halloween and cosmic revelation. The collection includes six gels with creme formula and two tortoise no-wipe top coats. 
Get to know the polishes featured in the collection: 
The Moon House: Achieve an otherworldly shine with this dark, tortoise shell no wipe top coat soak off gel. This special formula ensures your nails stay glossy and enchanting, ready to mesmerize on the spookiest of nights.
Fairy Dust: This No Wipe Tortoise Shell Coat adds a touch of magic to your manicure, making your fingertips shimmer and shine like the treasure of mischievous fairies.
The Sorceress: Transform your nails into a work of art with this orange soak-off gel polish. This enchanting gel polish will have you feeling like a powerful sorceress, ready to conquer the night with style and grace.
Nova: Embrace the cozy vibes of autumn while adding a touch of magic to your manicure with this off-white soak-off gel polish. Feel the crisp of the season right at your fingertips. 

Courtesy of Madam Glam

Vibrancy: Add a burst of fall vibrancy to your nails with this stunning green gel polish. The color captures the rich, autumnal colors that make this season so magical, ensuring your nails stand out with seasonal splendor.
Witching Hour: Casting a spell of dark elegance and intrigue over your fingertips with this red polish. Let your nails become the focal point of your fall look as you indulge in the mysteries of the night.
Shadows: Dive into the mysterious allure of Shadows, a bewitching purple gel nail polish that casts a spell of elegance and enigma over your fingertips. Embrace the darkness with this perfect Halloween accessory.
Magical Times: Let your nails embark on a journey through enchanted realms with Magical Times, a dusty blue gel polish. This captivating gel polish captures the essence of fall magic, making it the ideal choice for a mystical manicure.
The collection can be purchased as individual polishes or a bundle on Madam Glam's website.