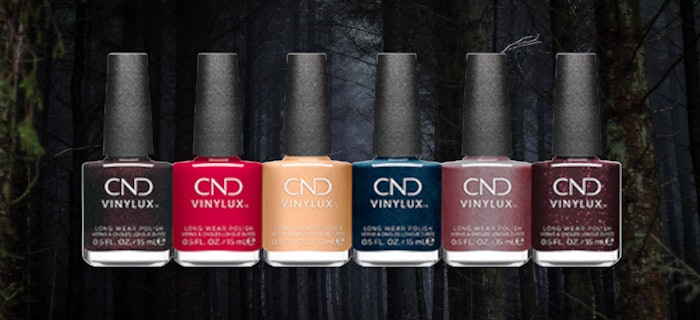 Courtesy of CND
Be inspired by holiday glamor and the enchanting essence of nature with CND's Magical Botany Collection.
The collection features six limited edition charming shades inspired by crystallized leaves, lush evergreens and iridescent gemstones – grounded in nature, yet glamorously celebratory to honor the mindset of this special time of year.
"We crave dark and moody shades moving into the winter months, and with Magical Botany, we wanted to curate a palette that pays homage to holiday classics but infused with an elevated twist - profound richness, dazzling shimmer and depth of color," shares CND Co-Founder and Style Director Jan Arnold. "Drawn by the enchanting elements of nature like glistening icicles and dew-covered forests, with each brushstroke these shades will add a touch of magic to your fingertips and toes!"
Midnight Flight: A slick, inky black-blue that casts a captivating dark sheen.
Forevergreen: A mystical green dusted with a subtle pink-red shimmer.
It's Getting Golder: A lustrous gold-bronze metallic that gleams and dazzles.
Frost Bite: A shade-shifting rose-taupe chilled with a heap of turquoise shimmer.
Poison Plum:  A deep burgundy glistening with striking red-maroon glitter.
Scarlet Letter: A dark, creamy red that tantalizes and romances.
Available Holiday 2023, the collection will be stocked in both CND SHELLAC Gel Polish and CND VINYLUX™ Long Wear Polish.