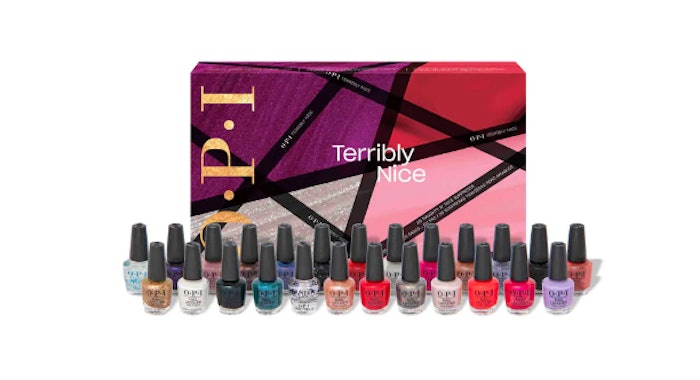 Courtesy of OPI
Make a list and check it twice, you're going to want all 14 limited edition shades from OPI's Terribly Nice Collection for Holiday 2023.
The collection embraces everyone's inner duality with seven playful, sweet, and cheerful "nice" shades and seven bold, sexy and provocative "naughty" hues. With a palette featuring a colorful mix of nontraditional and traditional holiday shades, Terribly Nice captures the feel-good energy of the season and allows wearers to unapologetically be themselves.
"The holiday season is a special time for people, and nails play a big role in creating that celebratory feel," explains OPI Co-Founder and Brand Ambassador Suzi Weiss-Fischmann. "Nails are bolder during the holidays, and even have a touch of camp this season, with nail art and embellishments ranging from elegant to over-the-top playful, accentuating and completing holiday looks. OPI's Terribly Nice collection includes lots of shades packed with glitter, shimmer, and metallic tones–I'm already thinking of what festive clothes I'll pair with these holiday hues! It's never too early for the holiday season."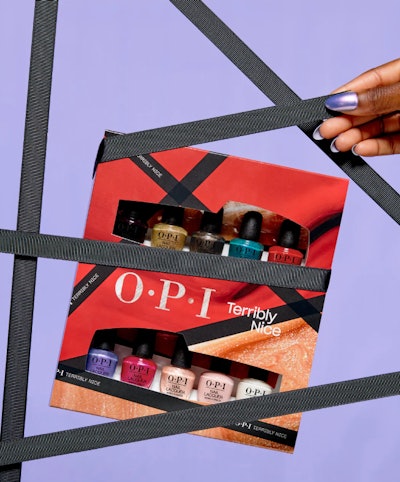 In the "nice" assortment, highly-saturated colors have a rainbow effect that's joyful and uplifting, including metallic shades of golden cream, rose gold, and lavender. Shimmering hues of white with lilac undertones and a jewel-toned fuschia give nails dimension, while sparkly lilac glitter and deep lavender crème offer one of the season's trendiest hues in different finishes. The "naughty" selection incorporates darker jewel tones and strong metals, including metallic shades of gray gold and warm gold, as well as a black multicolored glitter. Teal, brown, and forest green hues feature elegant shimmer finishes. The collection is rounded out with a classic red crème with burgundy undertones.
"With this collection, we're embracing the idea that each of us is both a little naughty and a little nice," adds OPI Global Director of Color Equity Jill Bartoshevich. "That's why we've selected two hero shades: Rebel with a Clause, a classic go-to holiday red with a provocative edge, and Shaking My Sugarplums, a trending metallic lavender that's perfect for holiday parties with its cheerful shimmer and shine."
Terribly Nice Collection shades will be available in GelColor, Infinite Shine and Nail Lacquer formulas, including:
Chill 'Em with Kindness: baby it's bold outside in white and lilac shimmer
Sickeningly Sweet: a deep lavender crème that's irresistibly sweet
Salty Sweet Nothings: a metallic golden cream that's the best of both worlds
Put On Something Ice: frost yourself in multicolored lilac glitter.
It's a Wonderful Spice: spice up the szn in metallic rose gold
Yay or Neigh: say yay to sleigh in this grey and gold metallic
Blame the Mistletoe: seal this shimmery fuschia with a kiss
Rebel with A Clause: a bold red crème that's naughty n' nice
Shaking My Sugarplums: gift 'em a shoe in metallic lavender
Let's Scrooge: a shimmery teal that's bah hum-fun
Hot Toddy Naughty: pour yourself a naughty brown shimmer
Peppermint Bark and Bite: a shimmery forest green with a sweet bite
Five Golden Flings: a metallic gold yule you'll wanna flirt with
Hot & Coaled: Make the naughty list #coals in black multicolored glitter
GelColor provides a salon-perfect finish with up to three-week wear, while Infinite Shine offers a high-shine finish and traditional lacquer application. Nail Lacquer features a highly-pigmented, rich formula for even application without streaking.
Beginning October 2, 2023, Terribly Nice Collection Nail Lacquers will retail at professional salons, as well as OPI.com, ULTA, ulta.com and Amazon Beauty via Amazon.com. GelColor is an in-salon professional service only.