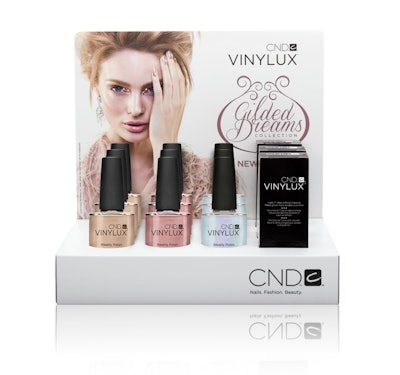 Just in case their Modern Folklore collection didn't have enough winter colors for you, CND has Gilded Dreams. In this complete line, you'll find three shades of matching Shellac and Vinylux in Chiffon Twirl, Dazzling Dance, and Grand Gala. Get them individually, as a whole collection, or as paired duos.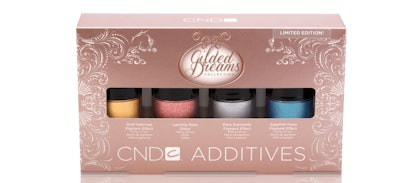 Play around with acrylic and the new Additives colors as well. The Gilded Dreams Additives set includes Gold Adorned Pigment, Lavishly Rose Glitter, Pave Diamonds Pigment, and Sapphire Hope Pigment.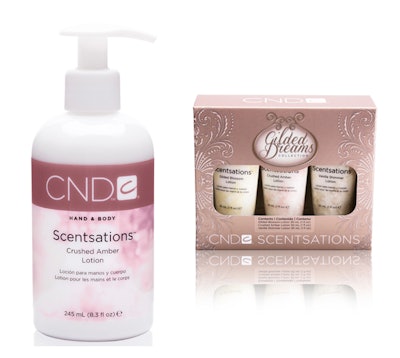 And don't forget to keep skin and cuticles extra hydrated this time of year! The collection has wintery Scentsations lotions (Gilded Blossom, Crushed Amber, and Vanilla Shimmer) in both full 8.3 fl. oz. bottles and in a mini box of 3 1 fl. oz. tubes. Plus pick up their irresistible box of SolarOil Minis. They can be retailed for a couple dollars by your register, or gift them to new customers who need a little cuticle help.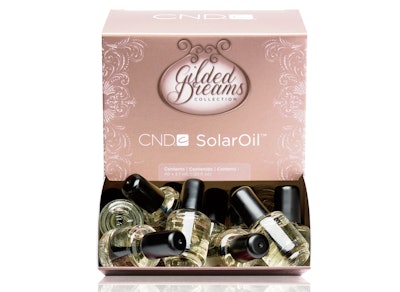 Get all these at your local beauty store or at cnd.com.
[Images: CND]